Hot Tub Filter FAQ
Spa Filters is the topic of the day, a simple product, but one that generates a lot of questions. Let's start with the general and work our way to the specific.
Hopefully you will find the answer to your vexing spa filter question below! Your edification is guaranteed - if you don't find an answer to your spa filter question, leave a comment, I'll add it to the list!
What is a Spa Filter?
A spa filter or hot tub filter is a pleated polyester cartridge that removes fine particles from spa water. The design of a spa filter forces the water to pass through the woven micro-fiber fabric, which traps dirt, debris, oils and other water clouding particulates. Hot tub filters look and function very much like the air filter in an automobile, and like a car air filter, eventually the cartridge becomes clogged and fibers separate, and it needs to be replaced.
What Alternatives Exist to Spa Filter Cartridges?
For aboveground spas (and pools), the cartridge filter is the predominant choice, because so much filter surface area can be packed into such a small filter, it's hard for designers to resist. Cartridge filters are also an easy filter to understand, use and maintain, as opposed to sand or DE filters, used mainly on pools. However, sand or DE filters can be added to any spa, see Carolyn's post on adding an external filter to a hot tub, however in most cases, the spa filter cartridge is the easy choice.
What Makes Some Spa Filters Better Than Others?
Spa filter cartridges have many features to provide added strength or longevity. The thickness of the end caps, the strength of the internal core, and overall structural rigidity lead to a better cartridge. The weight of the fabric and the particular weave that is used can also be a distinction between spa filters. A few popular spa filters are also available with more pleats per square inch, for a 50% increase in filter surface area. Microban spa filters (blue spa filters) are treated with anti-microbials and come in a blue color. There are cheaper imported filters on the market, but cartridges from the big three are always reliable (Unicel, Filbur and Pleatco).
When Do Spa Filters Need Cleaning?
As spa filter cartridges load with dirt, the circulation water flow rate is reduced, and soon after the water quality begins to suffer. For many spas, cleaning the spa filter cartridge weekly is the regular rate, for 2-3 users, 2-3x per week. For spas used more often, or less often, you can adjust the rate accordingly, but don't let it go too long, or the cartridge can be damaged, and your water quality will suffer and perhaps become unsanitary. On the other hand, cleaning your spa filter too often can lead to premature failure. Each time a cartridge is cleaned, the woven fibers separate a tiny bit, eventually opening up to allow small particles to pass through unfiltered. If your spa filter has a pressure gauge, wait until the pressure rises 7-9 psi, as an indicator of needed cleaning. Alternatively, you may notice that flow rate is reduced in the spa, from less ripples on the water surface, or lower jet volume - or, you may notice the water begin to look a little dull and gray.
When should Spa Filters be Replaced?
My rule of thumb is to replace your spa filter after 12-15 months, or 12-15 cleanings, whichever comes first, for the average residential spa. If your spa is used several times per week, I would recommend closer to the 12 month time-frame, that's how often I replace my cartridge, every December 31 actually. However, if you use the spa only once or twice per week, and only need to clean the spa filter every 4 weeks, you may be able to go closer to the 15-month time frame. As previously stated, each time you clean a spa filter, the fibers separate a little more and the filter loses a bit more effectiveness, and manufacturers recommend filter replacement after 12-15 cleanings. Spa filters that deal with heavy hot tub use, and/or poor water conditions will also have a shorter lifespan.
Where is a Hot Tub Filter Located?
The filter cartridge on many spas is located underneath the surface skimmer basket, and accessed from the topside of the spa. In other cases, the spa filter housing may be located underneath the spa, in a plastic cylinder that opens with a lock ring to access the filter cartridge inside. For spas that are top load, just remove the filter lid, and pull the cartridge straight out. For bottom load cylinders underneath the spa, look for two shut-off valves to close off water before loosening the filter lock ring.
Where to Buy Hot Tub Filters?
Well I thought you'd never ask! If you need one NOW however, and don't mind paying a premium for immediacy, you can call a few spa dealers in town, and give them the cartridge number printed on the end cap of your cartridge, to see if they have one in stock. In the rare case where there is no spa cartridge number on the cap, you can also order spa filters by dimensions, or length and width, and the diameter of the center opening. Or if you are away from home, yet know your spa 'make and model', you can find your spa filters by manufacturer.
How to Clean Spa Filters with an Acid?
Very Carefully, and only if needed! Acid bathing of a spa filter is best done only when calcium deposits or other minerals have restricted flow through the filter. Aggressively acid washing spa filters can do more harm than good, and is only necessary when dealing with very hard water noticeably clogging a spa filter. But how do you know? An acid solution can be sprayed onto a test area to see if it bubbles, indicating the presence of mineral deposits. No bubbling? No need to acid wash. If bubbles are seen, spray or soak cartridge in an acid solution for 5-10 minutes, or until bubbles stop forming. To acid clean spa filters, use a weak acid solution of 1/2 cup (4 oz) of Spa pH Down, added to 3 gallons of Water. If using a weak acid like Vinegar to clean spa filters, use 1 part Vinegar to 3 parts Water.
How to Clean Spa Filters with TSP?
Trisodium Phosphate, or TSP is a common and generic type of degreaser that works well for cleaning hot tub filters, specifically for the removal of oils trapped within a filter cartridge. TSP works best when mixed with Hot Water. Add 1 lb of TSP to 5 gallons of hot water. Drop in your spa filter and allow it to soak for a few hours or overnight. Remove to bucket of clean cool water for a few minutes, then remove and hose clean very thoroughly. Allow to dry fully before reinstalling to kill remaining bacteria; which is why it is recommended to have two sets of spa filters at the ready.
How Long should the Spa Filter Run Each Day?
That depends - on the size of your spa filter in relation to the number of gallons. It also depends on how well your water is balanced and sanitized, and how much the spa is used and by how many people. Lots of variables affect the number of hours a spa filter should operate each day. In general, most spas run on low speed for 12-22 hours per day, and run on high speed for 1-2 hours per day. For spas or hot tubs with high usage, or small filters, or poor sanitation - more filtering will be required to keep the water clear. For spas used very little, or with high volume filters, less hours per day may be needed. You can experiment by cutting back on daily pump run times, to find the tipping point, where the water quality begins to suffer, or sanitizer demand increases.
How to Clean Spa Filters with Spa Filter Cleaner?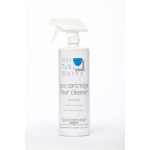 Spa Filter Cleaner is our one-step cleaning chemical for hot tub filters that both degreases and descales, doing the job of a mild acid bath and a degreaser at the same time. We have two types of spa filter cleaners, a spray-on filter cleaner, or a soaking filter cleaner. Use the spray on cleaner for a quick turnaround, spray-on and hose off after a few minutes. Use the soaking spa filter cleaner when you need to administer a deeper cleaning of your filter cartridges. Oh, and in case you want to ask about cleaning spa filters in the dishwasher - read my earlier post about such experiments.
Can I Run the Spa Pump Without a Spa Filter ?
Yes you can - for purposes of testing the heater, to see if the filter is the cause of the heater not turning on. And if your cartridge were to split in half - and you end up having to wait for a delivery of a new spa filter - you can run the pump without the filter for a short time. The water will not be filtered, so it's best not to use a spa without a cartridge in place, for healthy and clear spa water. But if you cannot filter the water, at least you can circulate the water, so that it won't be sitting stagnant while you wait for a new spa filter to arrive.
As promised, your satisfaction with this blog post is 100% guaranteed! If you have not received full value for your time spent reading this blog, I want to make it right! Leave a comment below about your particular spa filter, and I'll answer them personally!
Leslie's makes every effort to provide accurate recommendations based upon current ANSI/APSP/ICC-5 2011 (R2022) standards, but codes and regulations change, and Leslie's assumes no liability for any omissions or errors in this article or the outcome of any project. You must always exercise reasonable caution, carefully read the label on all products, follow all product directions, follow any current codes and regulations that may apply, and consult with a licensed professional if in doubt about any procedures. Leslie's assumes no legal responsibility for your reliance or interpretation of the data contained herein, and makes no representations or warranties of any kind concerning the quality, safety, or suitability of the information, whether express or implied, including, without limitation, any implied warranties of merchantability or fitness for a particular purpose.