Hard Water Issues in Spas and Hot Tubs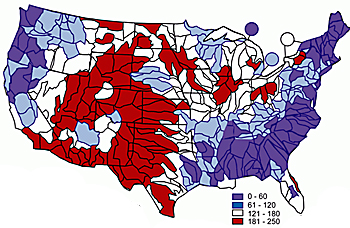 Do you live in the "Red Zone"? Having hard water means that you have a lot of calcium in your water, and soft water means that you have less, as it comes out of the tap. Hard water is less sudsy in the shower, and it can leave scale deposits in your sinks, shower and also in hot tubs.
In most cases, a little scale is no problem, but in some cases, calcium hardness levels can reach levels of 400 ppm or more, which can lead to problems.
Hard water problems in hot tubs start when calcium begins to come out of solution, giving you frequently cloudy water and scale deposits on your spa. Scale can deposit in out of the way places, like your heater element or less frequently used jets, or can build up along the water line of your spa or hot tub.
How Hard is Too Hard?
The water hardness map of the US shows the generally accepted maxim that anything over 180 ppm is classified as "Extremely Hard" water. However, many spas and hot tubs can operate effectively with much higher levels. If you have a test kit or test strips that measure for calcium hardness levels in your spa, you can easily check your spa water to see if you have hard (or soft) spa fill water. Most spas and hot tubs will be fine with calcium hardness levels of up to 400 ppm. After that, and you may begin to see signs of scaling and cloudy water conditions.
So What, Who Cares?
OK, fair question, and a great SNL skit phrase. How about this? You don't care if you don't have a calcium hardness problem. If your hot tub water is very hard, you've seen scale deposits before, and know that these salts leave ugly waterline deposits, but they can also scale inside of a spa heater, filter or ozone injectors. Hard hot tub water can be corrosive and when high enough, excessive calcium can interfere with sanitation and filtration. Hot water temperatures makes the calcium more active, causing cloudy water and scale deposits more easily, as opposed to cooler pools.
Treatments for Hard Hot Tub Water
They used to say there was nothing you could do, but nowadays there are several ways to manage hard water levels in a spa, so it doesn't become a problem. The most important thing is a LOW pH and Alkalinity, which helps keep calcium in solution, so it won't come out to cloud the water or deposit as scale. For hard water hot tubs, keep your pH in the 7.2-7.3 range, and Alkalinity in the 80-90 ppm range.
1. Filter the Calcium. Maybe you have an expensive home water softening system, and can fill the spa after it's been treated. Many outside hose spigots are not connected to home water treatment systems. Fear not, you can use the Pleatco Spa Water Pre-Filter, to take out minerals, metals, chloramines and other particulate contaminants in your fill water. Just screw it onto your hose and turn on the water, the Pre-filter traps sediment, metals, minerals, and removes foul odors! Good for 2-3 fills.
2. Combine the Calcium. There is a pool chemical called CalTreat, by United Chemical Co., which bonds to calcium carbonate, until a large enough particle is created to be removed by your filter cartridge. Follow the instructions carefully, and over a period of one to two weeks, you may reduce calcium hardness levels by up to 200 ppm (results and reviews are mixed for Cal Treat). Afterwards, soak your cartridge in a spa filter cleaner, or replace with a new spa filter.
3. Control the Calcium. Calcium and Scale control, like Spa Metal Out, are chemicals that keep calcium and other minerals (and also metals like iron and copper) tied-up in solution (sequestered), keeping them dissolved, so they don't precipitate out to make the spa cloudy or deposit as scale or crystals. After the initial dose, just add a maintenance dosage weekly, to keep minerals in a "sequestered" state. It will also loosen and dissolve some scale deposits from heater elements and filter cartridges.
Treatments for Soft Hot Tub Water
Hard water is a common issue for spa and hot tub owners, but so is Soft Water. If you live in one of the purple, blue or white areas on the map, add a Calcium Hardness Increaser to your spa or hot tub, each time you fill with new water. Whereas hard water can produce stains and scale, soft water can be corrosive to the soft and shiny parts of your hot tub. It also leads to excessive spa foaming problems.
Add Calcium Hardness Increaser when your spa or hot tub is less than 150 ppm. Try to maintain at least 180 ppm in your spa, for proper water balance, equipment and surface protection and preventing spa foam. Each time you drain and fill your tub, you'll need to add calcium again, but once you add it, calcium does not deplete, but stays in the water.
Leslie's makes every effort to provide accurate recommendations based upon current ANSI/APSP/ICC-5 2011 (R2022) standards, but codes and regulations change, and Leslie's assumes no liability for any omissions or errors in this article or the outcome of any project. You must always exercise reasonable caution, carefully read the label on all products, follow all product directions, follow any current codes and regulations that may apply, and consult with a licensed professional if in doubt about any procedures. Leslie's assumes no legal responsibility for your reliance or interpretation of the data contained herein, and makes no representations or warranties of any kind concerning the quality, safety, or suitability of the information, whether express or implied, including, without limitation, any implied warranties of merchantability or fitness for a particular purpose.