Food & Drink Disasters at a Hot Tub Party

This content was previously featured on the Hot Tub Works website. Leslie's is proud to partner with Hot Tub Works to bring you this helpful content on lesliespool.com.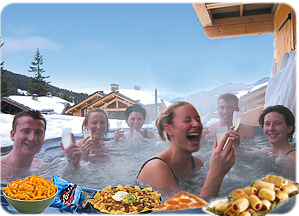 Hot Tub parties are a part of owning a spa - at least the occasional small, intimate affair with a few close friends. Or even if you are just enjoying your spa with that special someone, you may want to enjoy some wine and cheese, or other appetizers in the tub.
Now, you should always limit your soaks in water above 100° to no more than 20 minutes at a time, although after a 10 minute cool down, most people can take another session. And, although alcohol drinks in a hot tub are commonly enjoyed, our legal team would like me to remind you that using a hot tub while intoxicated can be dangerous.
With these disclaimers dispensed, let's get to the worst food and drink of all time, for a hot tub party.
WORST DRINKS FOR A HOT TUB
The problem with certain drinks is that they contain sugars and starches, which is a tasty food for algae and bacteria. Alcohol is particularly troublesome for sanitation, and it also sports a very low pH. Soft drinks are also low in pH. And some drinks are thick with creamy dairy products or stuffed with fruit.
Soda Drinks - coke, sprite, root beer
Smoothies - imagine that floating on the surface
Daiquiris - mostly ice, but also lots of fruit, alcohol and sugar
Beer - foams the minute it hits the water
Wine - too many ingredients to list
Energy drinks - could make your spa hyper
WORST FOOD FOR A HOT TUB
You can imagine the kind of foods that you wouldn't want around your hot tub, don't serve anything crumbly, powdery, crunchy or juicy. Food is not only messy in a hot tub, but like drinks that spill into your tub, food contains all sorts of junk that messes with your water balance, blocking sanitation while feeding the enemy (algae and bacteria).
:-) AVOID THESE SPA KILLERS:
Crackers, Chips, Cheetos
Fruit - unless served as Fruit Kabobs
Olives - oil slick on the surface
Cheese - unless served cubed and toothpicked
Hot Dogs and Hamburgers
BBQ Chicken or Pizza
Candy or Cake
BEST FOOD & DRINK FOR A HOT TUB PARTY
If you noticed, my lists above leave very little party food to choose from! If you're having a large party, it may be best to have a No Food or Drink sign posted, and place your food table far away from the hot tub.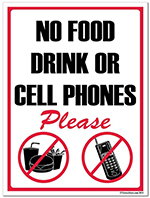 However, you don't want your hot tub guests to become dehydrated, so in addition to limiting session time, place a large pitcher of water with a stack of plastic cups - no glass around the tub, within reach of the tub. Be sure to keep it full throughout the evening, to keep your hot tubbers wet on the inside. Water is the best drink to imbibe while in the hot tub - there's going to be no problem if a cup of water spills over into the tub.
The best food to enjoy in the spa? Small food, which can be cubed and toothpicked. Avoid finger food, or food touched with hands, which then go down into the water. Avoid eating whole fruit, with the exception of grapes, which are one of my favorite spa foods to serve, or just eat myself. Frozen grapes are a special treat, just pop 'em in the freezer for about an hour. If you want to snack, try grapes, strawberries, or baby carrots - keep foods on a side table and not balanced on the edge of your spa!
WHAT TO DO WHEN FOOD OR DRINK SPILLS IN A HOT TUB
Drain the hot tub? Maybe, if enough food or drink got in. If it's just one drink, or a single potato chip, don't worry about it. But if it's the entire bowl of chips, or a plate full of rice and beans, you may want to drain the tub.
Alternatively, you could clean up any debris with a skimmer net (quickly!), balance the pH and then shock the spa. Chances are you'll need to shock the spa anyway, so just give it a little extra this time. If you suspect or find broken glass in the tub (!), definitely drain it, or vacuum it very closely.
The best way to prevent a hot tub food or drink disaster is to stick to water, in plastic cups.
FOOD & DRINK DISASTER STORIES:
I asked this question via chat, around our office, and got some funny responses from the dozens of spa owners here at HotTubWorks. Here's their best answers (warnings). Ugh!
Cheetos bowl flipped over into the tub
Bobbing for apples on Halloween
Pitcher of margaritas falling into the tub
Tray of Jello shots, which instantly dissolved
Pepperoni pizza found the next morning
XOXO;
Gina Galvin