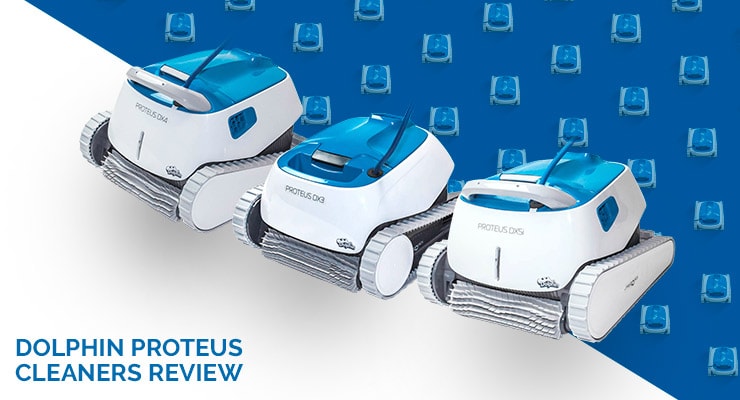 Dolphin Proteus Series - Robotic Pool Cleaners Review
If you have been dreaming for a lightweight in-ground robotic pool cleaner that does all the hard work for you and delivers exceptionally clean results, Maytronic's new Dolphin Proteus DX Series might end your search!
Having dedicated more than 30 years focusing on innovations that deliver the best performance and easiest solutions, there is no doubt that Maytronics is a global leader and early pioneer in the field of robotic pool cleaners.
Let's take a look at what makes the Dolphin Proteus different from its kind and which one is the right match for your pool.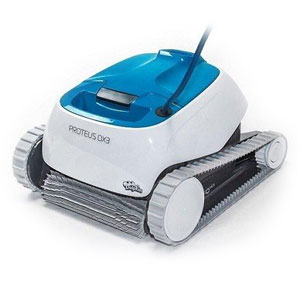 Dolphin Proteus DX3
This is your "small but mighty" in-ground robotic pool cleaner. If you are on a budget but need a reliable cleaner, then look no further. The Dolphin Proteus DX3 uses its trademark CleverClean™ Coverage Technology to ensure that every spot of your pool floor and walls are scrubbed within a two hour cycle. It starts by scanning your pool and adapting to its shape and size for an optimized cleaning coverage. Its powerful suction assists the DX3 to lift itself up the walls and seamlessly turn back down.

The DX3 holds up to 400 square inches of capacity to capture leaves, dirt, and debris into a large fine filter basket that can be removed from the top and rinsed clean! When you are ready to take a swim in the sparkling clean water, the fast water release makes it easy to lift the cleaner from your pool. Featuring a swivel cable design, weekly time, and one button operation, cleaning your pool has never been easier!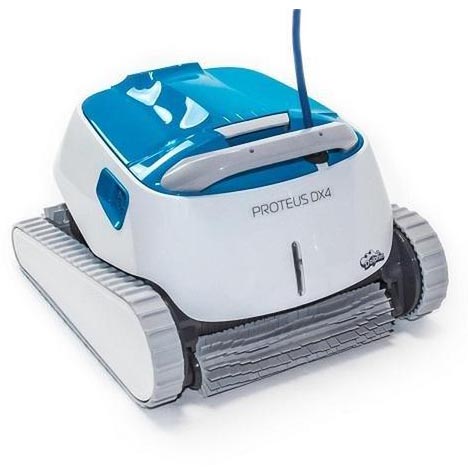 Dolphin Proteus DX4
You can expect the same great features of the Proteus DX3 in the Dolphin Proteus DX4, along with some notable mentions.
The DX4 takes full coverage cleaning to the next step by starting every cleaning session with a 20 minute pool mapping. This determines the most efficient cleaning route and prevents crossover during the cleaning paths. Nothing gets in the way of the DX4, as it can maneuver around objects blocking its path and return back to its original route.
The DX4 uses its PowerStream Mobility System to generate a multi-directional water flow for a strong vertical grip. This allows the cleaner to actively scrub away algae and bacteria from the pool floor all the way to the waterline. With the ability to filter ultra-fine particles, having a crystal clean pool is effortlessly simple to achieve.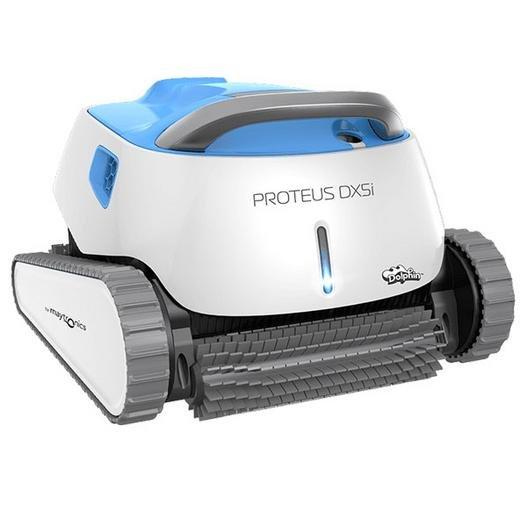 Dolphin Proteus DX5i
The Dolphin Proteus DX5i is an upgrade from the Dx3 and DX4 - encompassing all of its great features - along with more options for flexibility. There are more added functions on the power supply, including the option to choose a one hour fast cycle, which provides an efficient cleaning at half the time. For smartphone users with Bluetooth connectivity, you can download the MyDolphin app on your Apple or Android smartphone to put yourself in control of the DX5i.
Comparison Chart
Below you will find a side by side comparison chart that Leslie's has put together to highlight the main points of each cleaner.
| | | | |
| --- | --- | --- | --- |
| Model | Dolphin Proteus DX3 | Dolphin Proteus DX4 | Dolphin Proteus DX5i |
| Cleaning Area | Floors and Walls | Floor, Walls, Waterline | Floor, Walls, Waterline |
| Pool Size | Up to 35' | Up to 50' | Up to 50' |
| Pool Type | Inground | Inground | Inground |
| Filter | Fine | Fine or Ultra-Fine | Fine or Ultra-Fine |
| Cleaning Cycle | 2 Hours | 2 Hours | 1 or 2 Hours |
| Cord/Hose Length | 50 ft | 60 ft | 60 ft |
| Caddy | Not Included | Not Included | Not Included |
| MyDolphin App | No | No | Yes |
| Bluetooth | No | No | Yes |
| Warranty | 1 Year | 2 Years | 2 Years |
Summary
While these three Dolphin cleaners are different from each other, there are a few things that they have all have in common:
Works hard and smart to deliver the deepest clean
Full coverage cleaning that covers every spot
Energy efficient power supply with simple one button operation
Top Access Filter to capture dirt and debris, reducing the use of harsh chemicals
Swivel Cable Design to eliminate the frustration of tangles
Fast Water Release to easily remove cleaner out of the pool
Low Maintenance and Simple to Use
Dolphin Brushes that offers more friction and better cleaning performance than its competitors
Still have questions?
Leave a comment below or contact our friendly staff of pool and spa experts today!
Leslie's makes every effort to provide accurate recommendations based upon current ANSI/APSP/ICC-5 2011 (R2022) standards, but codes and regulations change, and Leslie's assumes no liability for any omissions or errors in this article or the outcome of any project. You must always exercise reasonable caution, carefully read the label on all products, follow all product directions, follow any current codes and regulations that may apply, and consult with a licensed professional if in doubt about any procedures. Leslie's assumes no legal responsibility for your reliance or interpretation of the data contained herein, and makes no representations or warranties of any kind concerning the quality, safety, or suitability of the information, whether express or implied, including, without limitation, any implied warranties of merchantability or fitness for a particular purpose.