Cloudy Hot Tub After Shocking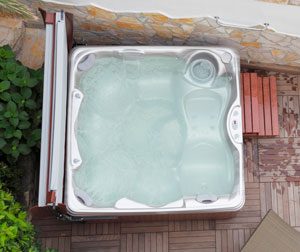 Getting cloudy water immediately after shocking your spa or hot tub is pretty common, and usually considered normal. After all, there are a lot of chemical reactions going on when you shock a spa! Clear water should return to a spa within just a few hours.
That said, when adding just ounces of a spa shock makes the water cloudy, there are probably other things going on. Here are just a few reasons you might be getting cloudy hot tub water after adding spa shock.
Swimming Pool Shock
Using pool shock will almost always make your spa or hot tub cloudy. It's not as refined and the particles are much larger, meaning they won't dissolve right away. Pool shock is also loaded with calcium, which can be a problem if you're in a hard water part of the country. If you want to use chlorine shock, use Spa 56 chlorinating compound, which is specially formulated for hot tubs. The best advice for shocking a spa or hot tub is this: DON'T use pool shock. Only use spa shock for spas and hot tubs.
High pH & Alkalinity
Before you shock a spa, it's always best to check the water's pH and alkalinity. This is especially true if you add shock right after using the spa - few sweaty bodies into your hot tub can spike the pH and alkalinity levels up too high. When the pH and alkalinity are out of balance, strong shock treatments can knock carbonates and bicarbonates out of solution and make your spa water cloudy. Keep some spa pH decreaser on hand so you can use it to lower both pH and alkalinity.
Hard Water Hot Tub
My water comes out of the tap with a calcium hardness of about 450 ppm. This is high, but not as high as some in nearby desert areas or those drawing from a well. When your spa water is hard, that means it has a lot of dissolved calcium in it. Spas and hot tubs operate best around 200 ppm, and when there is more than that, it can come out of solution as visible scale on spa surfaces. If your spa pH is high and you also have high calcium hardness, shocking can make the spa water cloudy. To avoid this problem in hard water areas, fill your spa with water that has gone thru water softening tanks, or use a pre-filter on your garden hose to keep calcium levels low.
Lotions & Potions
If you host a get-together and there are a lot of people using your hot tub, the water may get a little funky by the end. It's a common reaction to add spa shock once the party's over, but then the water turns cloudy. Why? It's because of all of the body oils, sweat, dirt, makeup, lotion, deodorant and who knows what else that has washed into your hot tub. Spa shock doesn't do very well with oily gunk. The shock has trouble breaking it down, which can turn your hot tub cloudy after shocking. To prevent this problem, keep your spa as clean as possible and encourage everyone using the hot tub to take a quick shower - or at least be reasonably clean - before stepping in. Using a spa enzyme once a week can also help to break down the oils and organic materials at the root of this problem.
For best results, keep the spa as clean as possible, make sure calcium hardness stays around 150-200 ppm, and maintain proper pH and alkalinity levels to lower the risk of cloudy water when shocking your spa. If cloudy water continues to linger after a few hours, keep reading. We have another blog that can help you isolate and fix the cloudy water culprits hiding in your hot tub: 10 Reasons Why Your Spa Water is Cloudy.
Leslie's makes every effort to provide accurate recommendations based upon current ANSI/APSP/ICC-5 2011 (R2022) standards, but codes and regulations change, and Leslie's assumes no liability for any omissions or errors in this article or the outcome of any project. You must always exercise reasonable caution, carefully read the label on all products, follow all product directions, follow any current codes and regulations that may apply, and consult with a licensed professional if in doubt about any procedures. Leslie's assumes no legal responsibility for your reliance or interpretation of the data contained herein, and makes no representations or warranties of any kind concerning the quality, safety, or suitability of the information, whether express or implied, including, without limitation, any implied warranties of merchantability or fitness for a particular purpose.