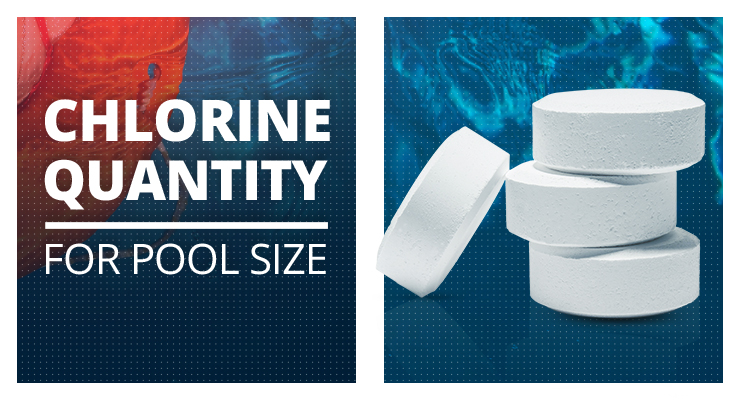 Chlorine Quantity for Pool Size
Having sparkling, clean water is every pool owner's dream. Using chlorine is one of the most crucial ways to kill bacteria, help remove algae, and destroy nonliving organisms like sweat, oils, and cosmetics. But just how much chlorine do you need? Leslie's has put together an easy to read chart that breaks this down by types of chlorine and pool size for normal maintenance. Here are a few tips before we dive into the chart:
If you are using chlorine products as your primary sanitizer, we recommended to maintain a residual chlorine level of 2.0-4.0ppm to effectively kill bacteria and prevent algae.
You may want to adjust the chlorine quantity depending upon the weather, seasonality, and your pool usage.
Stop by your local Leslie's store for a FREE AccuBlue® 10-Point Water Test or use a Water Test Kit. This will help you understand your pool's current chemical conditions and more specifically what your current Free Chlorine level is.
This chart is used for normal chlorine maintenance, so remember to adjust your chlorine levels during the peak season or as often as needed. Always read labels and instructions when using your choice of chlorine product and any chemical feeders.
Now you know how much Chlorine you need! Still have questions?
Contact our friendly staff of pool and spa experts today.
Leslie's makes every effort to provide accurate recommendations based upon current ANSI/APSP/ICC-5 2011 (R2022) standards, but codes and regulations change, and Leslie's assumes no liability for any omissions or errors in this article or the outcome of any project. You must always exercise reasonable caution, carefully read the label on all products, follow all product directions, follow any current codes and regulations that may apply, and consult with a licensed professional if in doubt about any procedures. Leslie's assumes no legal responsibility for your reliance or interpretation of the data contained herein, and makes no representations or warranties of any kind concerning the quality, safety, or suitability of the information, whether express or implied, including, without limitation, any implied warranties of merchantability or fitness for a particular purpose.