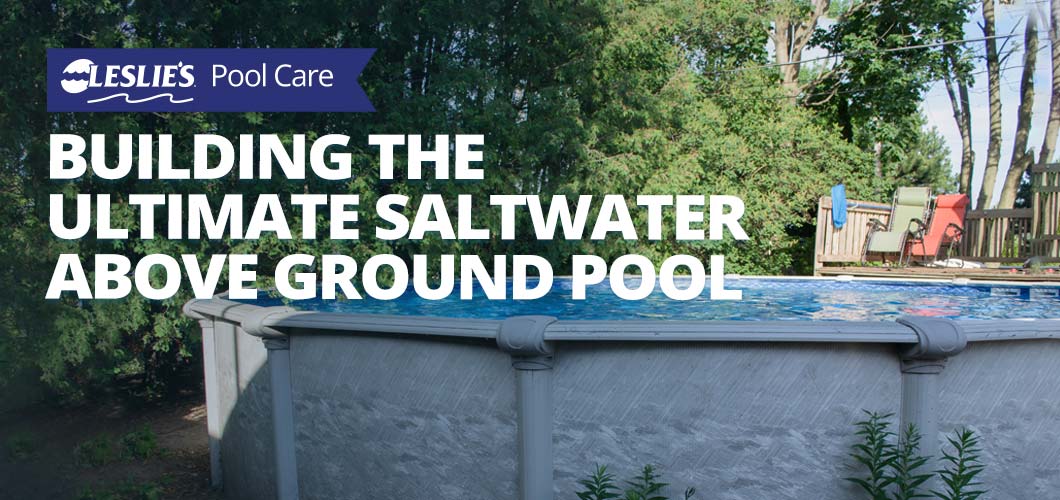 Building the Ultimate Saltwater Above Ground Pool
With the continued rise in popularity of saltwater inground pools, it's no wonder why so many above ground pool owners have also jumped on the salty bandwagon in recent years. Saltwater pools offer many benefits, like silky, smooth water and relatively simple maintenance. So, if you're dreaming of having your very own saltwater above ground pool oasis in your backyard, this is the article for you.
Above Ground Pools and Saltwater Compatibility
Before buying a new above ground pool and salt chlorinator, there is one important factor to keep in mind — compatibility. Unlike inground pools, which are typically made of concrete or fiberglass, not all above ground pools are compatible with saltwater. Why is that, you might ask? Well, because most above ground pools rely on metal frames and top rails to maintain their shape. And if you remember anything from your high school science classes, salt causes metal to corrode and rust! But thankfully, with the uptick in saltwater interest, many above ground pools are now made with rust-resistant resin.
So let's dive into what equipment and accessories you need to build the ultimate saltwater above ground pool.
Above Ground Pools
First, you need to pick out your pool! Leslie's offers a wide selection of high-quality above ground pools, in an assortment of sizes, shapes, and prices. Below are a few of the most popular resin above ground pools, all compatible with saltwater.
Verona 24' Round Above Ground Pool Package:
This classic, 24' round above ground pool is a top choice for a reason. The elegant, earth-toned pool comes equipped with a ladder, pump and cartridge filter, overlap vinyl liner, and thru-wall skimmer. All you need to supply is the salt chlorinator and salt! Not to mention, the limited warranty covers manufacturer defects for up to 20 years.
Marina 24' Round Above Ground Pool:
A Leslie's exclusive, the 24' Marina above ground pool includes the same features as the Verona pool, in addition to a coving kit and premium liner pad. The included sand filter provides optimal cleaning and filtering, and the impressive 50-year limited warranty keeps your pool covered against defects. Again, all you need to do to get this pool up and running is install a salt system.
Edge 24' Round Above Ground Pool:
The final above ground pool in our lineup is the Edge 24' round pool, complete with the same trimmings as the Verona and Marina models. Also a Leslie's exclusive, this higher-end pool features a unibead liner and pad, as well as a foam coving kit. The 5-year warranty ensures peace of mind and provides coverage against manufacturer defects.
Salt Chlorinators
Once you've picked out your new above ground pool, it's time to select the most important part — the salt system. Hayward AquaTrol salt systems are at the top of our list and offer top-notch salt chlorination for above ground pools up to 18,000 gallons.
Hayward AquaTrol RJ Above Ground Pool Salt System:
The Hayward AquaTrol RJ features return jet mounting, eliminating the need for a flow switch. Vertical installation, below the return jet, allows the gases produced in the cell to naturally dissipate into the pool. Seven diagnostic indicator lights on the display screen keep you up to date on the health and function of your salt system.
Hayward AquaTrol HP Above Ground Pool Salt System:
Slightly different than the RJ, the Hayward AquaTrol HP installs into your pool's return line and uses a separate flow switch. Other than that, the HP features many of the same specifications as the RJ, including the comprehensive display screen.
PRO TIP: Check out our resource center for more information on how to care for and maintain your saltwater pool and salt system! We have all the tips and tricks for balancing salt levels, caring for your salt cell in the winter, and even a salt chlorinator troubleshooting guide.
Saltwater Above Ground Pool Accessories
The final step in building your ultimate saltwater above ground pool is to invest in an automatic pool cleaner and a cover. Automatic cleaners and pool covers are tremendously helpful tools when it comes to keeping your pool clean and healthy.
Automatic Pool Cleaners
Specifically designed to be gentle on vinyl floors, above ground automatic pool cleaners are one of the best ways to up your pool cleaning game. Whether you want a pressure side cleaner, like the Polaris Turbo Turtle, or an adorable whale suction side cleaner, there's an option for everyone. If you're looking for a bit more technology and power, the Dolphin E10 robotic cleaner is the way to go.
Covers
Bundle your pool up for winter, or trap in extra heat during spring with the help of an above ground pool cover. Since most above ground pools are either round, oval, or rectangle-shaped, it's easy to find the perfect pool cover fit. Simply choose the winter, safety, or solar cover that matches your pool's shape and size, and you'll be set!
---
Building the saltwater above ground pool of your dreams is easier than you think. The most important part of the process is verifying that your new above ground pool is saltwater compatible. Use this helpful guide to steer you in the right direction, and you'll be swimming and splashing in no time! Stop by your local Leslie's to speak with one of our pool experts on all things above ground pool care and maintenance.
Leslie's makes every effort to provide accurate recommendations based upon current ANSI/APSP/ICC-5 2011 (R2022) standards, but codes and regulations change, and Leslie's assumes no liability for any omissions or errors in this article or the outcome of any project. You must always exercise reasonable caution, carefully read the label on all products, follow all product directions, follow any current codes and regulations that may apply, and consult with a licensed professional if in doubt about any procedures. Leslie's assumes no legal responsibility for your reliance or interpretation of the data contained herein, and makes no representations or warranties of any kind concerning the quality, safety, or suitability of the information, whether express or implied, including, without limitation, any implied warranties of merchantability or fitness for a particular purpose.