Raypak - 009269 Digital Cast Iron ASME Cupro-Nickel Natural Gas 266K BTU Heater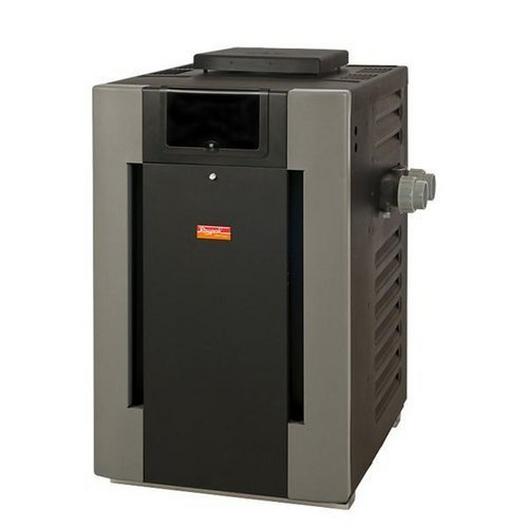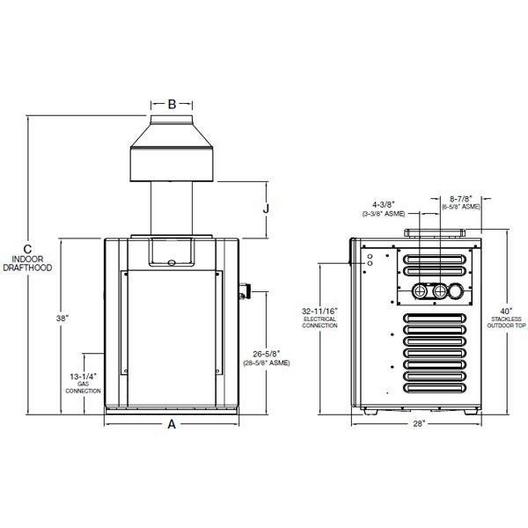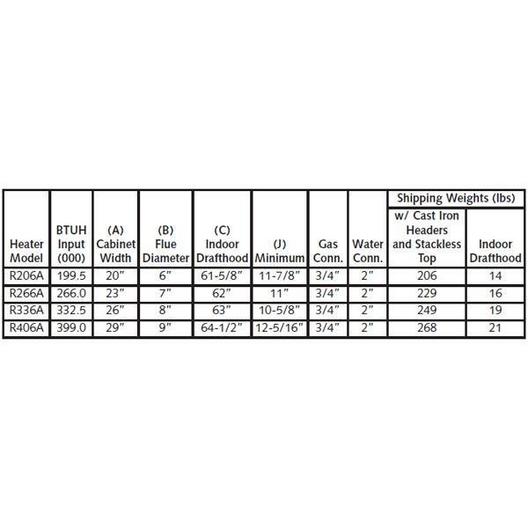 Raypak 009269 Digital ASME Cupro-Nickel 266,000 BTU Natural Gas Commercial Pool and Spa Heater with Cast Iron Headers, 0-2,000' Elevation, C-R266A-EN-C #50
More Details

Membership Available
Ship To Home
- Not Available for this item
In-store Pickup
- Not Available for this item
Earn at least $119 in pool perks for this item by joining Pool Perks.
Join/Sign In Now
Raypak 009269 Digital ASME Cupro-Nickel 266,000 BTU Natural Gas Commercial Pool and Spa Heater with Cast Iron Headers, 0-2,000' Elevation, C-R266A-EN-C #50
Part Number: 009269
Model Number: C-R266A-EN-C
Digital LCD for temperature control and heater settings
Microprocessor controls diagnostic readout and continuously monitors operational status
Unitherm governor eliminates condensation
Small footprint
High-wind reliability
125# pressure relief valve
ANSI Z21.56 design certified
Model Number: C-R266A-EN-C #50
0-2,000' Elevation
The Raypak Digital Cast Iron Glass-Lined ASME Cupro-Nickel Natural Gas Heater is engineered to last. Looking at the heater, you can see that it's designed different than most heaters on the market. The Raypak 009269 has a unique "pagoda design" to enable the heater to stay effective during high wind speeds and downdrafts. The cabinet of the heater is constructed from a stainless steel, then powder coated with a 7 stage process to outlast the elements and corrosion. Inside the unit, the heater boasts cast iron glass-lined headers and a cupro-nickel fin tube to stand up against harsh pool chemicals and prevent rust stains on you pool's surface.
The Raypak Digital Cast Iron Glass-Lined ASME Cupro-Nickel Natural Gas Heater not only lasts long, but is extremely easy to use and operate. The heater has a built-in Microprocessor Controlled Thermostat to set you pool or spa at the perfect temperature with the push of a button. It's also remote compatible and can connect to any two or three wire remote for added convenience. The heater also contains built-in diagnostic controls to alert users or pool professionals of any issues and the location of these issues. In addition, the heater contains built-in electronic ignition. This enables the unit to turn the pilot light off and on when needed, conserving gas usage and saving users money.


The Raypak Digital gas heater comes with a microprocessor based thermostat control. This control allows you to set your swimming pool or spa temperature precisely at your favorite setting just by pressing an up or down temperature control button. The digital display gives you a constant read out of your swimming pool water temperature.

Troubleshooting a gas heater has never been easier. The Raypak Digital has on-board diagnostic controls that let the user and the service professional know what is going on with the heater at all times. In the event that you would ever have a problem with the heater, the digital display will show where the problem is in the control circuit.

The Raypak Digital is compatible with most major swimming pool control and remote systems on the market today. Any two-wire or three-wire remote can connect to the Raypak Digital and be integrated into the pool control system of your choice.
| | |
| --- | --- |
| Pool Type: | In Ground |
| Fuel Type: | Natural Gas |
| Emission: | Standard |
| Ignition: | Electronic |
| Heat Exchanger: | Copper |
| Product Type: | Pool Heater |
| Installation Type: | Commercial (ASME) |
| Controls: | Digital |
| Heat Output: | 266,000 BTU |
| Elevation: | 0 - 2,000 ft |
| Manufacturer: | Raypak |
| Warranty: | 1-Year |
| Model Number: | C-R266A-EN-C |
One (1) Year Limited Warranty on Product, see Owner's Manual for a full description of warranty claims and coverage details.