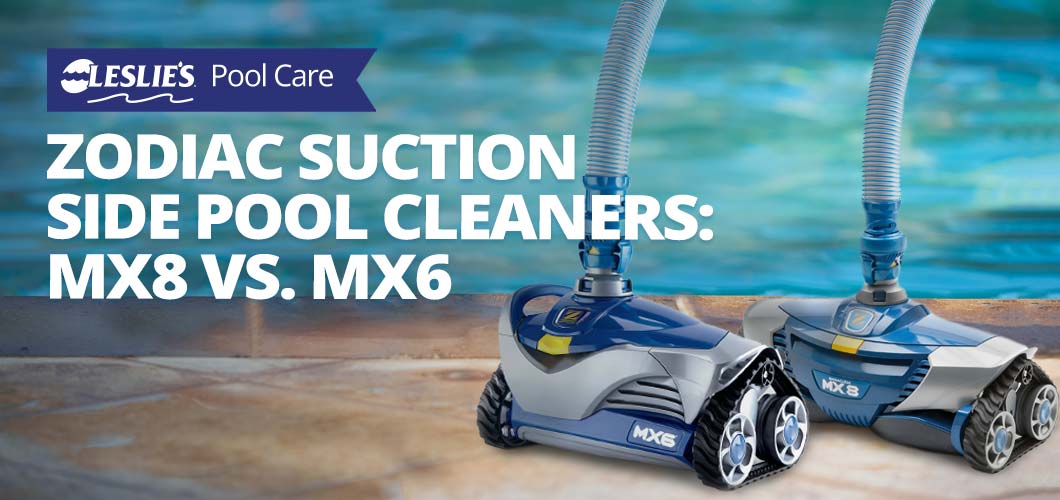 Zodiac Suction Side Pool Cleaners: MX8 vs. MX6
Selecting a new automatic pool cleaner can be a challenging feat. With so many great options out there, how do you know which one is right for you and your pool? Well, if you're looking for information about the best suction side cleaners, you've come to the right place. Today we discuss the features and differences between the Zodiac Baracuda MX8 and MX6 suction side cleaners.
Zodiac Baracuda MX8 Suction Side Cleaner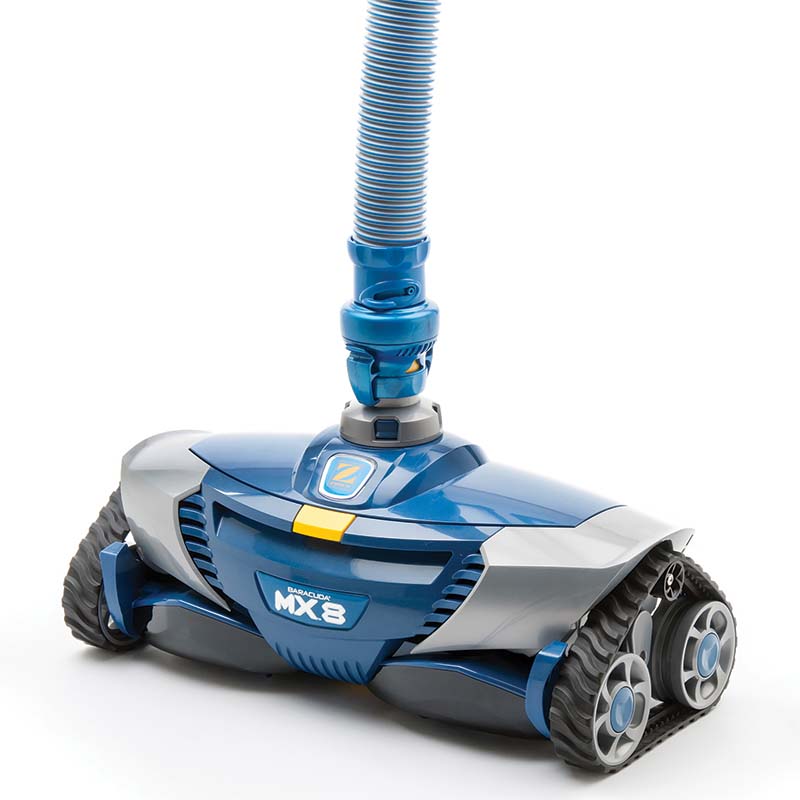 Zodiac's Baracuda MX8 is a powerful and efficient suction side pool cleaner with a long track record. While some now models are released only to see a short shelf-life, the MX8 has been on the market for years. This is a testament to it's popularity, and has given Zodiac time to expertly refine the mechanics. that cleans the floors and walls of your in ground pool.
Zodiac MX8 Cleaner Features:
Does not require an additional booster pump.
Suitable for all types of in-ground pools, including vinyl and fiberglass.
Thoroughly cleans the pool's floor and walls up to the waterline.
Twist-locking hose sections.
Energy-efficient and compatible with low-flow pumps.
Includes a 39-foot hose, making it ideal for larger pools.
Does not pick up stringy material like banana leaves.
The Zodiac MX8 picks up dirt and debris off your in ground pools floors and walls up to the waterline, keeping your pool clear and healthy. It's wide cleaning path allows it to capture more debris along its path, compared to it's counterpart, the MX6. The downside to the MX8 is its struggle with stringy debris. This type of debris can clog in the propeller, so we recommend using a pool net to scoop this debris out before using the MX8.
The MX8 uses a patented Flex Power Turbine technology, which allows the cleaner to perform at flow rates as low as 20 gallons per minute (gpm). This means reduced energy consumption and less wear-and-tear on your pool pump! There is a removable inlet assembly, which can be toggled to focus on large or small debris. The MX8 connects to your skimmer or dedicated suction line and passes the debris into the skimmer basket and through the pool filter. The MX8 moves both forwards and backwards to cover every nook and cranny of your pool surface – from floors to the waterline.
Zodiac Baracuda MX6 Suction Side Cleaner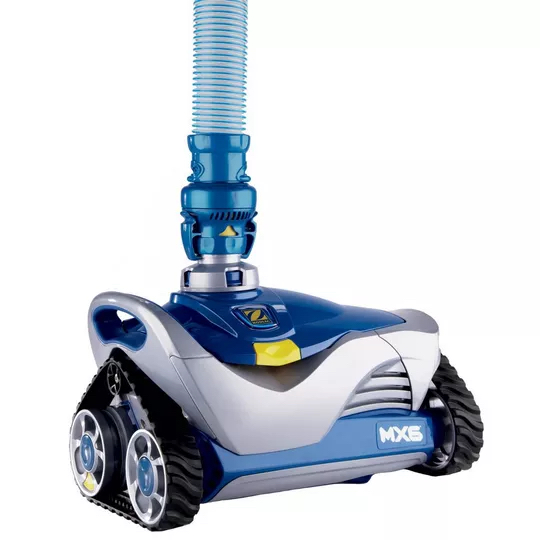 With its innovative low-flow design, the Zodiac's Baracuda MX6 pool cleaner consumes less energy, while still boasting best in-class vacuum power to deliver a sparkling clean pool with less energy consumption. It's very similar to it's big brother, the MX8, but is more compact and slightly more affordable.
Zodiac MX6 Cleaner Features:
Comes with its own pump and does not require an additional booster pump.
Energy-efficient and works well with low-flow pool pumps.
Cleans floors, walls, and can climb all the way to the waterline.
MX Flow Regulator controls excess flow.
Easy grip handle and features a twist-lock, 30-foot hose.
Like the MX8, it does not pick up stringy material like banana leaves.
The Zodiac MX6 Pool Cleaner is a compact version of the MX8. The cyclonic suction feature provides superior vacuum power, just like the MX8, doesn't skip a beat, cleaning your pool's floor and walls. The built-in X-Drive Navigation works as the brain of the MX6. Although this little guy does not move in reverse, the treads turn independently, allowing it to turn on a dime to reach the corners and crevices of your pool.
The MX6 offers optimal suction side cleaning, with less water flow. The MX Flow Regulator controls excess flow, eliminating wasted energy and allowing it to be efficient at lower speeds. The ability to run at a lower flow makes this suction side pool cleaner an ideal choice for pool owners with 2-speed or variable speed pumps. This allows users to run their pumps at lower speeds more often, using less energy and saving money on monthly operating costs.
The MX6 comes with a 30-foot hose, which is slightly less than the 36-foot MX8 hose. However, you can purchase extra hose sections, sold in 1-meter sections, if you need them for a larger pool.
So Which Zodiac MX Suction Side Cleaner is Best?
If you have a small to mid-sized pool, we recommend the MX6. The low flow rate will increase the lifespan of your pump. Additionally, the MX6 is a lower initial investment. If you have a larger pool, the MX8 is a great option and will keep every inch of your spacious pool spotless. Stop by your local Leslie's to chat with one of our pool equipment experts about selecting your new Zodiac pool cleaner!
Leslie's makes every effort to provide accurate recommendations based upon current ANSI/APSP/ICC-5 2011 (R2022) standards, but codes and regulations change, and Leslie's assumes no liability for any omissions or errors in this article or the outcome of any project. You must always exercise reasonable caution, carefully read the label on all products, follow all product directions, follow any current codes and regulations that may apply, and consult with a licensed professional if in doubt about any procedures. Leslie's assumes no legal responsibility for your reliance or interpretation of the data contained herein, and makes no representations or warranties of any kind concerning the quality, safety, or suitability of the information, whether express or implied, including, without limitation, any implied warranties of merchantability or fitness for a particular purpose.