Zodiac - MX6 Advanced Suction Side Automatic Pool Cleaner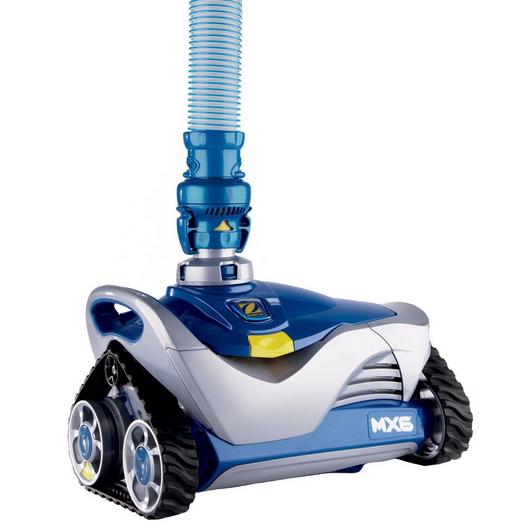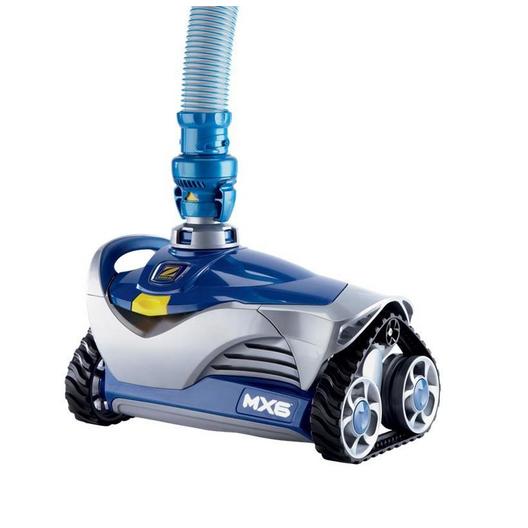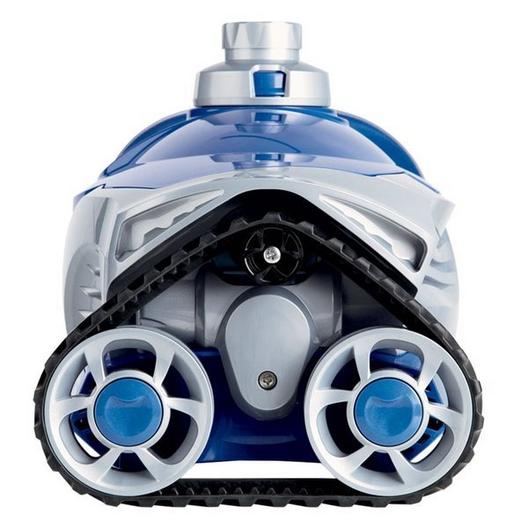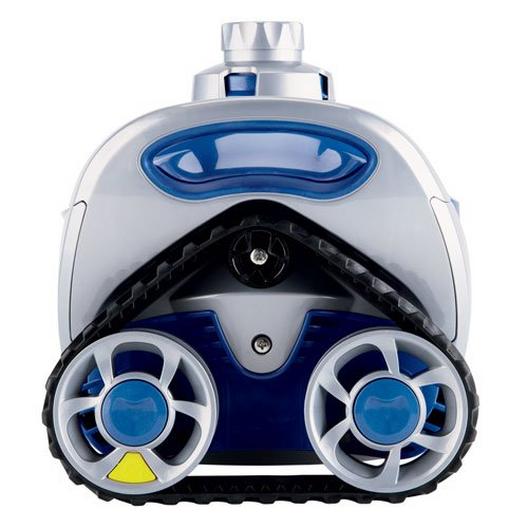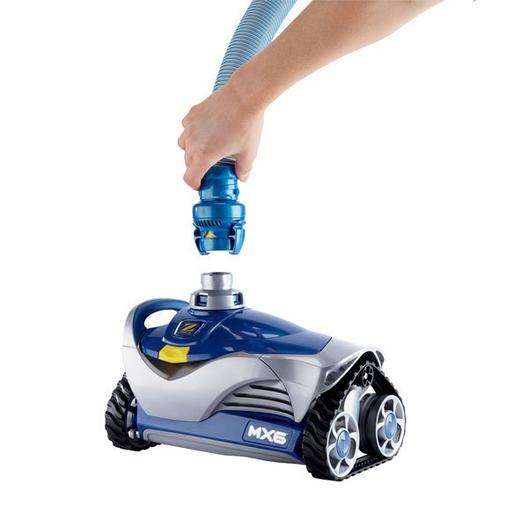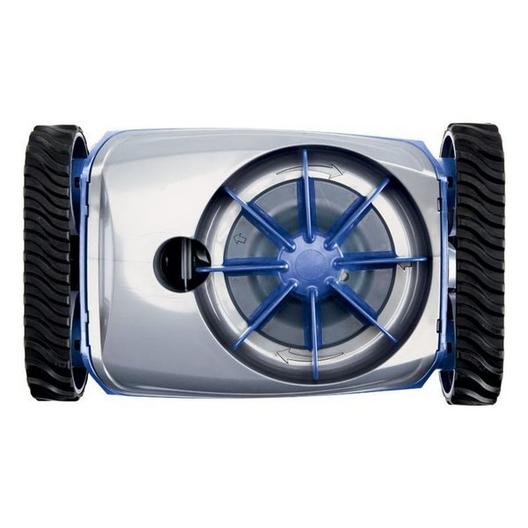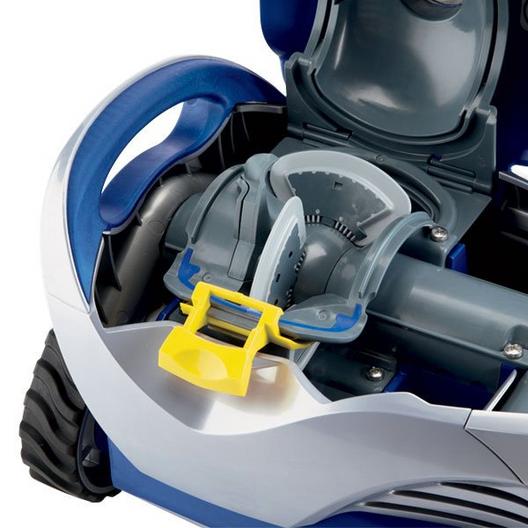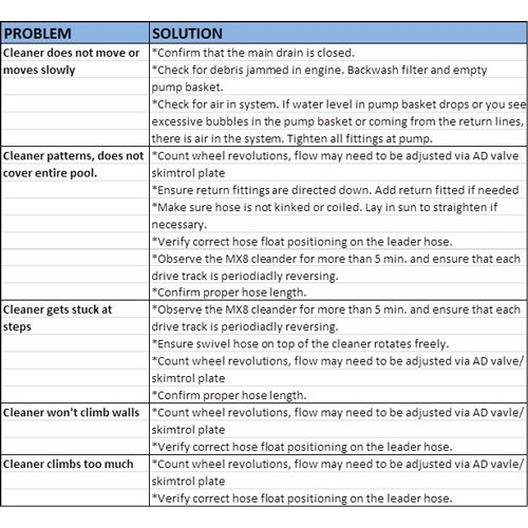 $299.00
Price reduced from

$349.00

to
Zodiac MX6 Advanced Suction Side Pool Cleaner is a low-flow automatic cleaner boasting best in-class vacuum power for a cleaner pool with less energy.
More Details

Membership Available
Store Pickup
Pickup In Store
Earn at least $14 in pool perks for this item by joining Pool Perks.
Join/Sign In Now
Zodiac MX6 Advanced Suction Side Pool Cleaner is a low-flow automatic cleaner boasting best in-class vacuum power for a cleaner pool with less energy.
Suction side pool cleaner
Cyclonic suction
X-Drive Navigation thoroughly cleans floor, walls, and waterline of smaller pools
MX Flow Regulator for optimized flow control
Includes 30' of Hose
X-Drive Technology with X-Trax
Low-flow energy efficient design
Easy grip handle for quick removal
Twist-Lock hose for simple connection and reduced vacuum loss
Not recommended for pools greater than 6 ft. deep or pools with a deep end or steep drop
The Zodiac MX6 Advanced Suction Side Automatic Pool Cleaner is a highly efficient pool cleaner that features best-in-class vacuum power and programmed navigation for a comprehensively clean pool without the hassle. The Zodiac MX6 is superior in cleaning while requiring less water flow to clean your pool's floor, walls, and up to the waterline. The Zodiac MX6 design is perfect for small to medium-sized pools no deeper than 6ft. The Zodiac MX6 suction side pool cleaner is self-propelled and cleans in a sweeping pattern motion with 360 directional changes. The built in X-Drive Navigation works as the brain of the MX6, assisting it as it traverses stairs, walls and around any obstacle in its path.
Zodiac MX6 Suction Mechanical Pool Cleaner Features
The Zodiac MX6 Advanced Suction Side Pool Cleaner is an ultra-efficient low-flow pool cleaner that cleans more aggressively than any cleaner in its class. With Cyclonic Suction Technology, the MX6 features increased vacuum power for powerful dirt and debris breakup and aggressive wall climbing. The Zodiac MX6 is equipped with dual tracks, single scrubber assembly, flex power turbine, and single side A gear box. Articulating turbine blades paired with the MX Flow Regulator provide ultra-efficient operation and control excess flow through the cleaner for optimal performance and longevity, even on low-flow pumps.
Low-Flow Energy Efficient Design
The Zodiac MX6 offers optimal cleaning ability at a lower speed than other suction side cleaners in its category, making it an ideal choice for 2-speed or variable speed pool pumps. The MX Flow Regulator helps reduce excess flow that can cause damage on the internal parts such as the gears inside the cleaner. In the situation that you have a single speed single motor, a flow regulator valve and FlowKeeper valve are suggested.
The MX6 Suction Side Pool Cleaner by Zodiac is an advanced low-flow suction side cleaner. This technology allows pool owners to take advantage of lower energy costs, while providing a thorough clean every time.
Common Questions:
Are there any additional accessories that I can add to my MX6 cleaner?
Yes! The CLC500 Cyclonic Leaf Catcher traps leaves before they reach your skimmer or filtration system helping your existing equipment last longer. A leaf catcher is recommended for pools with excessive amounts of leaves and debris.
How long is the hose that comes with the Zodiac MX6?
The Zodiac Baracuda MX6 will come with 3 ft. twist lock hoses (9 connector hoses, and 1 lead hose) totaling 30 ft. of hose.
How many gearboxes does the MX6 have?
The Zodiac MX6 comes with one gearbox side A. Again, due to the single gear box design the MX6 is suggested for pools no deeper than 6 ft. or pools with a deep end or steep drop.
How many scrubber assemblies does the MX6 have?
The Zodiac MX6 uses one scrubber assembly.
MX6 cleaner is riding on its side, what should I do?
Verify the hose float is positioned approximately 9" from the cleaner.

The MX6 runs at lower pump speeds, allowing the cleaner to reduce energy consumption and energy costs.

The Twist-Lock Hose enables easy connection while reducing vacuum loss for optimum performance.

The Cyclonic Suction allows the MX6 to provide superior suction and aggressive wall climbing for maximum versatility.
| | |
| --- | --- |
| Product Type: | Pool Cleaner |
| Cleaning Area: | Floor, Walls and Waterline |
| Pool Type: | In Ground |
| Installation Type: | Residential |
| Pool Cleaner Type: | Suction Side |
| Energy Efficient: | Yes |
| Cord/Hose Length: | 30 ft |
| Warranty: | 1-Year |
| Pool Surface: | Concrete/Gunite, Vinyl, and Fiberglass |
| Product Dimensions: | 14.8" Width x 40.4" Length x 8.9" Height |
| Product Weight: | 18.17 lbs. |
| Manufacturer: | Zodiac |
One (1) Year Limited Warranty on Product, see Owner's Manual for a full description of warranty claims and coverage details.