Your Hot Tub Cover Stinks!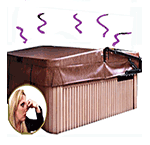 Hey, no offense, but your hot tub cover smells bad. Maybe you've gotten used to it?
Don't worry, it happens to most spa owners at some time or another; water is one of nature's most erosive substances. Moisture seeps in and becomes trapped between the outer vinyl shell and the plastic wrapped foam cores. The warm, moist environment is perfect for mold and mildew and other forms of smelly stuff.
If moisture has penetrated further into the plastic wrapped foam core, the cover becomes waterlogged, which can quickly grow all sorts of dark and smelly slime, but also make the cover really difficult to remove, and not as effective at keeping the heat in the spa. Time for a replacement spa cover.
Smelly Hot Tub Cover ?!?
Broken or damaged. Cracked foam cores, ripped or worn spots, torn seams. A spa cover that loses its arched roof line, to keep water draining off correctly, will eventually begin to puddle water, which is probably time to buy a new spa cover! A spa cover with threadbare spots in the vinyl is also bad news, and although you can stave off the inevitable with a duct tape repair, the water will win, eventually.
Not Removed Regularly. Remove your spa top weekly for 2 hours of airing out. A better cover can withstand longer periods, but it's a good habit to remove the cover and let it get some air on a weekly basis. If you can easily open the zipper to allow moisture to escape do so, but don't remove fragile foam panels unless absolutely necessary.
Poorly Made. It's easy to make a spa cover with tape and staples, but it won't stop moisture very well. The best spa covers have foam panels vacuum-wrapped in 6 mil PE, with a single, continuous heat welded seam. Some covers don't even try to keep the intense moisture from your spa from reaching the foam core, but a better spa cover uses a thicker vinyl cover, backed in 3 layers to keep outside moisture out, and on the inside, thick vinyl scrim heat welded to a thick internal barrier.
Bad Spa Water. If the spa water is not maintained regularly with sanitizer and filtering, or is not shocked often enough, bacteria and algae can take advantage of a hospitable environment to flourish. Low pH, high chlorine or high ozone levels can also deteriorate the underside of your spa cover. Because the cover is so close to the spa, it absorbs the chemistry of the spa. Clean, clear and sanitary water is the best environment to prevent smelly spa covers.
Not Cleaned / Conditioned. For outdoor spa covers, unless your back deck is covered or your spa is in a gazebo (which if it is, I'm jealous!), you have sun, rain, pollen, dust, pollution, and animals to contend with. If you have a partial roof, that can be worse than no roof at all, if an overhanging eave drains water onto the spa cover. Clean and condition a spa cover 2-4 times per year, so that it always looks great, and is protected from the elements.
Fix Your Hot Tub Cover!
Remove to Safe Location: This first step may seem obvious, but you need a good place to allow the cover to sit undisturbed from pets, wild animals, and winds. It should be a sunny location if possible, or a dry indoor location with low humidity can also be used.
Deodorize & Disinfect: You may not need to do both, it's best to be as gentle as possible. Don't use household cleaning products on your spa cover, strange chemicals can end up in your spa water. Gently clean all exterior surfaces with spa cover cleaner, and allow the panels to dry.
Remove the Panels: Again, this should be avoided if possible, because the panels could become damaged during removal or cleaning. But if you determine that there is something slimy inside, you can usually unzip and remove the panel for a cleaning inside and out.
Use a spa cover cleaner to gently clean and deodorize your spa cover without phosphates, bleach, alcohol or who knows what. Follow label to gently clean with a soft cloth or dish sponge, rinse clean and dry. It removes most anything, from tree sap and berry stains to bird poop, pollen and pollution. Used regularly, it also protects against stains and repels dirt.
For extreme mold and mildew stains, a stronger disinfectant may be needed. If the initial cleaning has still left dark spots of mildew or mold on the inside surfaces of the spa cover vinyl, or on the outside of the wrapped foam core, you may try a diluted mix of bleach. Pour 1/2 cup of bleach into 1-2 cups of water, and use a sponge to apply bleach to small areas. Quickly wipe dry with a paper towel, rinse off and dry again.
It's best to use as little water as possible on the spa cover during cleaning, and to do it as often as needed. How often? If your spa is protected from most sun and rain, maybe twice per year. If it's out in the open like mine, it should be 3-4 times per year. It only takes a few minutes to do honestly.
I clean my outdoor spa cover every 3-4 months, and then I let it dry. I come back a few hours later, put it on the spa and rub on the Spa Cover Conditioner, which goes on in under a minute. It always looks great!
And, I do remove my cover regularly, twice a week usually - and, I do keep my water balanced and sanitary. So, I've been lucky to have no odor problems with my spa cover lately!
Sometimes, the easiest cure for a smelly spa cover is to just buy a new spa cover - especially if the cover is 5 years or older. A smelly spa cover simply means that your cover is taking on moisture, and things are beginning to grow!
Leslie's makes every effort to provide accurate recommendations based upon current ANSI/APSP/ICC-5 2011 (R2022) standards, but codes and regulations change, and Leslie's assumes no liability for any omissions or errors in this article or the outcome of any project. You must always exercise reasonable caution, carefully read the label on all products, follow all product directions, follow any current codes and regulations that may apply, and consult with a licensed professional if in doubt about any procedures. Leslie's assumes no legal responsibility for your reliance or interpretation of the data contained herein, and makes no representations or warranties of any kind concerning the quality, safety, or suitability of the information, whether express or implied, including, without limitation, any implied warranties of merchantability or fitness for a particular purpose.