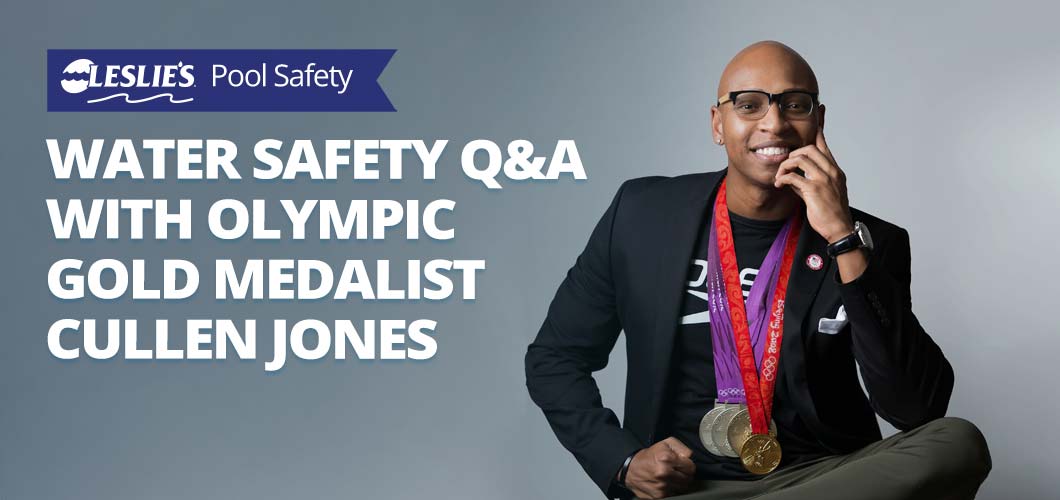 Water Safety Q&A With Olympic Gold Medalist Cullen Jones
Drowning has been listed as an epidemic in the US by the CDC. It is the second-leading cause of accidental deaths in children under the age of fourteen, with nearly ten people drowning a day. Globally, it is the number one killer of children under the age of four. The most effective solution to prevent drowning is to combat it, which can be achieved by providing formal swim lessons. To further emphasize the importance of swim safety, Leslie's teamed up with Cullen Jones, a four-time Olympic medalist and the first African American swimmer to hold a world record. P.S. ... he likes to swim just a little bit. 
Q: You've been an incredible advocate for swim safety and swim lessons. What makes you so passionate about swim education?
A: One of the big reasons behind my passion for swim safety was my own story of nearly drowning at the age of five. Having had a negative experience myself, I have so much empathy for people who are afraid of the water. Now I have a gold medal around my neck and teaching others to swim is my calling. I started looking at the statistics, and at that time, 70% of African Americans didn't know how to swim. That was my way of knowing how I can give back.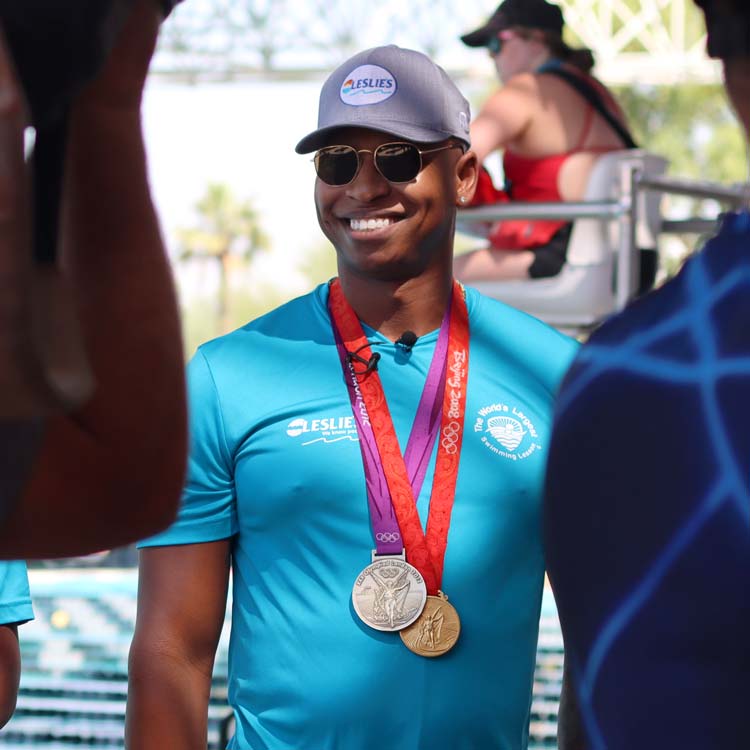 Q: Can you tell us what the road to the Olympics was like? 
A: It wasn't until I was twenty-one when someone told me for the first time, "Hey kid, you can go to the Olympics". At that time, I was at North Carolina State continuing to improve until the Olympic trials in 2008, where I placed 3rd in the 100m freestyle and joined Team USA. Little did I know that we would travel to Beijing, China a month later and I would be a part of a legendary moment known in swimming as the miracle race, the 4x100 freestyle relay where we set the world record.
Q: Who should learn how to swim?
A: Everyone! I don't care what background you come from, where you live, or how old you are. My mom is learning at seventy, and my son started at six months. No more excuses, get in that water!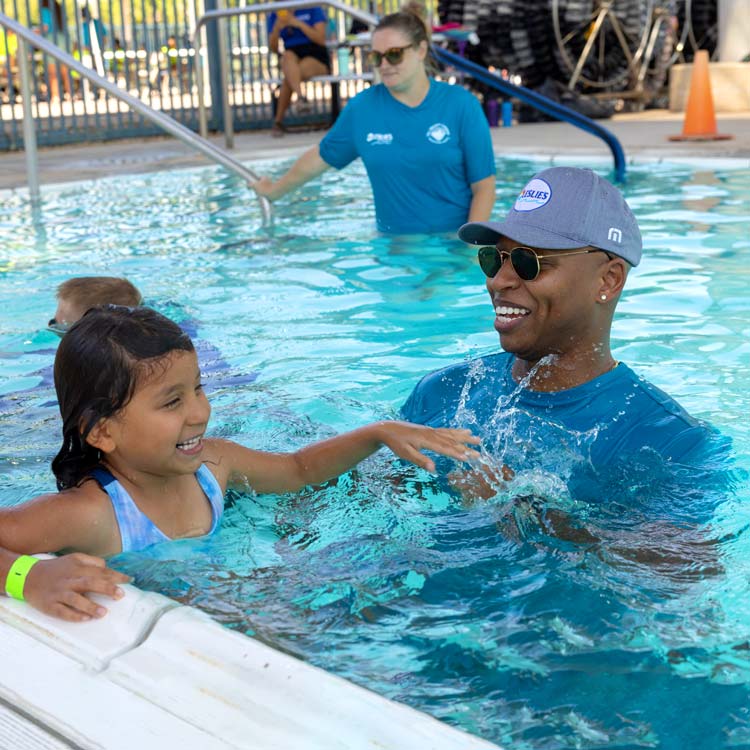 Q: What is the most important skill for a new swimmer to learn? 
A: In order to become a successful swimmer, you firstly must learn how to respect the water and recognize when you are not comfortable. Step two is knowing how to float, tread water, and gain forward momentum. Most importantly, have fun with it!
Q: Why should your kid take swimming lessons, vs. teaching them yourself or having a family friend teach them?
A: One of the big reasons why I took my son to swimming lessons is because he thinks of me as play time, and that's what I want. It is important to have a trained professional teach my son the fundamentals of swimming and how to be proficient around water, and then he can come home and practice with me.
Q: If you have a child who isn't confident in the water, what are some things you can do to help them along in their swimming journey?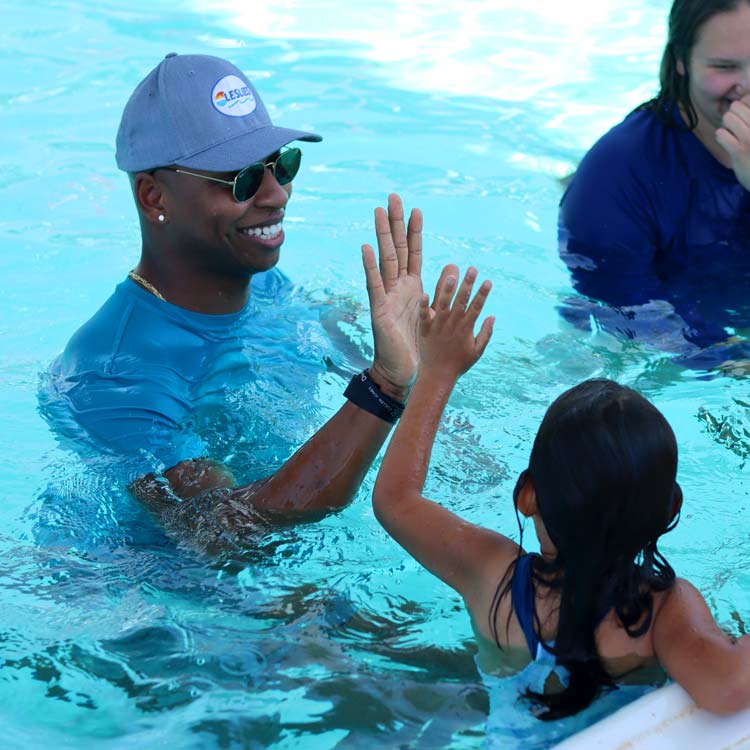 A: Have an open dialogue with your swimmer and understand what they're feeling and why they are nervous. They might be remembering the last time they had a bad experience and are not sure how to not let that happen again. As soon as your swimmer has a positive experience, you will see them thrive.
Q: What are your top three water safety tips?
A: Number one, learn to swim. Go find a licensed professional and have swim lessons. Number two, make sure your water is healthy. Grab a water sample and bring it to Leslie's to get a free 10-point AccuBlue water test and a customized treatment plan. Number three, secure the area with safety covers, fences, or pool alarms. We want to make sure our little ones are not getting near the water when no one is paying attention. 
Q: Where should people learn how to swim? 
A: Anywhere! You can go to a YMCA, USA Swimming, Boys and Girls Club or any aquatic facility near you. The most important thing is that you prioritize it and go learn how to swim. Let's start dropping these drowning rates.
Find an Aquatic Center Near You
Leslie's makes every effort to provide accurate recommendations based upon current ANSI/APSP/ICC-5 2011 (R2022) standards, but codes and regulations change, and Leslie's assumes no liability for any omissions or errors in this article or the outcome of any project. You must always exercise reasonable caution, carefully read the label on all products, follow all product directions, follow any current codes and regulations that may apply, and consult with a licensed professional if in doubt about any procedures. Leslie's assumes no legal responsibility for your reliance or interpretation of the data contained herein, and makes no representations or warranties of any kind concerning the quality, safety, or suitability of the information, whether express or implied, including, without limitation, any implied warranties of merchantability or fitness for a particular purpose.