The Secret to Hot Tub Water Chemistry
The secret to spa and hot tub chemistry? It's not sold in a bottle, or a fancy egg shaped container. It's not a magical potion that you drop into the spa, or pour in once a month.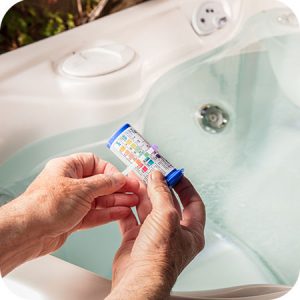 Listen closely, my friends — the secret to clean and clear hot tub water is a multi-faceted approach. It may not be easy, and it's not especially rapid, but it's truly a miracle.
Test & Balance Your Spa Water Chemistry Regularly
Of course, you also need good filtration, with a relatively new spa filter cartridge. Replace every 12-24 mos. And, you also need to run the filter pump every day.
Testing Spa Water?
Most people just use spa test strips, and they are a lot simpler to use than the dropper type of spa test kits. If you want greater accuracy, you can use the TruTest digital test strip reader, which is great for those with poor eyesight or some level of color blindness. Use a spa test strip that will test not only for pH and bromine, but also for calcium hardness and total alkalinity. I recommend the 6-in-1 test strips by AquaChek.
Balanced Spa Water?
"Balanced" spa water essentially means that your pH, Alkalinity and Calcium Hardness are within the proper range. Adjusting the levels should go hand in hand with testing. Use a pH decreaser if your pH or alkalinity is too high. If your calcium hardness is too high, as it is in many parts of the country, use a calcium control product.
Sanitation is also a very important part of water balance. Keep a consistent sanitizer (bromine or chlorine) level in your spa. Augmenting it with minerals or ozone will make the water more forgiving of slip ups or occasional low sanitizer levels. Use spa shock after every use to kill bacteria.
That's it - that's the secret. Test and Balance, with regularity. But you probably knew that already...