The Chlorine Free Spa - Is it Possible?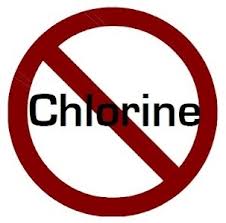 It's a common question that we get in our call center: "Can I run my spa (or hot tub) without chlorine?" The quick and smart answer is usually, "Sure, you can use bromine!" Then they say, "But isn't that the same thing?" It's not, really. Bromine has less of a smell, it's not quite as harsh on skin and hair, and it has other advantages over chlorine.
But seriously, the real answer is YES! You can run your spa without chlorine OR bromine, and still have a safe and sanitary spa. It requires using some modified methods to make sure that pathogens don't thrive, but it can be successfully done. Here's how.
Replace Your Filter Cartridge More Frequently
For most spas under halogen treatment (chlorine or bromine), I recommend that the spa filter cartridge be replaced every 12-24 months, depending on its size and how much the spa is used. For those who wish to go chlorine free in the spa or hot tub, I'd recommend that you double the frequency, and replace your spa filter every 6-12 months.
Some spa filters are available with more square footage. When you search for a replacement spa filter by dimensions, model number or cartridge number, you may see two spa filters listed. They both have the same dimensions, but one costs more. The more expensive spa cartridge will have more pleats and thus more surface area, which will do a better job of filtering.
Drain Your Spa or Hot Tub More Frequently
Draining the water out of your spa should be done every 4-6 months, depending on your rate of usage or if the water goes bad. For those using a non-chlorine method in the spa, increase the frequency to every 2-3 months, or at least every 4 months.
When draining a non-chlorine spa, be sure to use a purging product to remove any build up inside the pipes, hoses and jets of your spa. Without a halogen residual, biofilms can form faster and create a biohazard in your spa water. I use Jet Clean every other time I drain my spa to keep organics and oils from building up in hidden crevices.
Ozone + Minerals
For a spa that doesn't use chlorine or bromine, you need something to kill bather waste and bacteria. My recommendation is to use a spa ozonator and a mineral sanitizer, such as Nature2 or Spa Frog. The combination of these two - an ozone sanitizer and a mineral purifier - takes care of most disease-causing bacteria.
Check on your ozonator regularly to be sure that it's on and operational, and replace the mineral cartridge as directed, to keep a proper amount of silver and copper ions working. These two treatments working together will do most of the job in keeping your spa water healthy.
Non-Chlorine Shock
Ozone + minerals can do most of the job. But to be sure, you need to oxidize the water, or shock the spa. Non-chlorine shock has no odor, and does not affect water chemistry. You can use the spa immediately after treating the water.
My recommendation is to use a few tablespoons of non-chlorine shock after every spa use, or at least weekly to control and destroy any pathogenic microbes that are able to get around the ozone and mineral treatment. Also known as MPS, Zodiac Cense is a great product that will oxidize quickly and also adds a nice scent to the water.
Keep Your Spa Water Balanced
This is important no matter what your spa sanitation method may be. However, it's especially important when you are operating a chlorine free spa or hot tub. Maintain your pH level at 7.2-7.5, your alkalinity at 80-120 ppm and your hardness at 180-220 ppm. Use fresh test strips or fresh reagents and test your spa water at least twice per week, adding water balance chemicals as needed.
Shower Before Using the Spa
I know some people (ok, I've done it too) who treat their hot tub like a big bathtub. After working in the yard all day or dancing all night, they jump in the spa to "clean off." Well, when you bring perspiration, body oils, makeup, or if you've gone to the bathroom (#2), without washing yourself, this creates a large sanitizer demand in the water.
I'm not saying you must always shower before using the spa. But if you don't, be sure to give it a good shocking afterwards with MPS.
It can be awkward to ask your friends to shower before coming over, so use an enzyme product to help break down oils and organics, and retain healthy spa water that all can enjoy.
And that's it! You can successfully operate a healthy spa or hot tub without using chlorine and bromine if you follow these steps above.
Leslie's makes every effort to provide accurate recommendations based upon current ANSI/APSP/ICC-5 2011 (R2022) standards, but codes and regulations change, and Leslie's assumes no liability for any omissions or errors in this article or the outcome of any project. You must always exercise reasonable caution, carefully read the label on all products, follow all product directions, follow any current codes and regulations that may apply, and consult with a licensed professional if in doubt about any procedures. Leslie's assumes no legal responsibility for your reliance or interpretation of the data contained herein, and makes no representations or warranties of any kind concerning the quality, safety, or suitability of the information, whether express or implied, including, without limitation, any implied warranties of merchantability or fitness for a particular purpose.