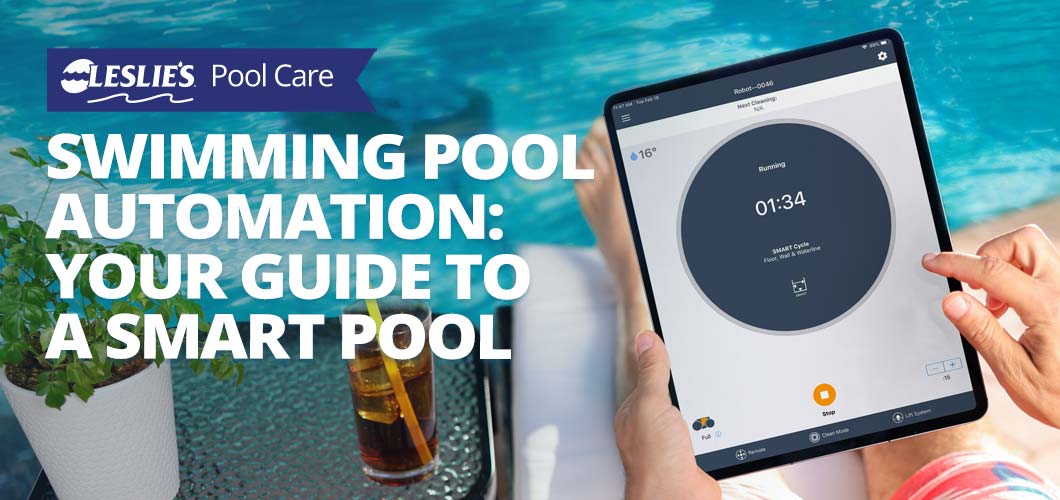 Swimming Pool Automation: Your Guide to a Smart Pool
You may have heard the saying, "work smarter, not harder." Modern technology puts this into action by automating the most routine aspects of our daily lives. With advanced robotic floor vacuums, smart doorbells and home security cameras, app-controlled thermostats, and even Wi-Fi-enabled light switches and door locks, you can control many aspects of your home from a single tap of a button on your phone. But what about the swimming pool in your backyard? Yes, even your pool can be automated to save time and simplify routine pool care. In this post, we'll take a closer look at the different pool automation options for your swimming pool. We'll even go over how to convert your regular pool into a smart pool.
What is Pool Automation?
An automated pool system enables you to connect multiple pieces of pool equipment to a central control hub. This makes it easy to manage many aspects of your pool from a single, seamless user interface. With an automated pool system, you can schedule and control equipment like your pump, filter, sanitizer, pool cleaner, heater, lights, and water features around the pool.
Is an Automated Pool the Same as a Smart Pool?
All smart pools are automated pools. But not all automated pools are smart pools. Allow us to explain.
Pool automation options range widely in the level of technology, and their prices reflect that. If you're looking to simplify some aspects of pool care for not a lot of extra dough, you can start your pool automation journey with something as simple as a mechanical time clock or pool timer to turn your pump on and off. It may not be controlled from your smart phone, but this simple automation can still help simplify pool care. Time clocks are the OG of pool automation, and have been around for decades.
Some of the more modern — and more costly — pool automation systems are Wi-Fi-enabled. This falls into the category of "smart" technology. These types of controllers allow you to change settings or initiate specific control modes with a wireless remote, central control interface, or through an app on your smartphone. Smart pool technology is gaining popularity as pool owners look for ways to optimize efficiency and bring their pools into the 21st century.
BONUS TIP: Planning to go on vacation? Smart pool automation makes it easy to monitor different aspects of the pool while you're away. If your pool automation system is connected to Wi-Fi and can be controlled through a smartphone, you're all set. You'll be able to schedule pool cleaner cycles and make sure the pump stays running while you're out of town. Pool automation makes it easy to check in, so your water is clean and clear when you return.
What's so Great About a Smart Pool?
There are many reasons someone might choose to automate their pool. One of the biggest reasons is because of the time saved on pool maintenance. As the saying goes, time is money! Pool automation systems can help you spend less time managing your pool and more time enjoying it. There's also the added peace of mind, which is priceless for busy pool owners.
Another reason why pool automation systems are so popular is because they help increase the energy efficiency of your pool. By syncing up all your pool equipment, each component can work together to produce the best results with the least energy consumption. Despite the high upfront cost, pool automation can actually save you money over the long term.
Can You Mix Pool Automation Components?
For the most part, each piece of equipment in your automated pool system will need to come from the same manufacturer or family of brands. This guarantees you won't have compatibility issues between the equipment and the controller. Of course, there are instances where different equipment may still work. Adapters and switch conversion may enable connectivity. Also, certain robotic pool cleaners and pool heaters come equipped with their own separate smartphone app control. Before purchasing any new equipment, double-check to see if they're compatible with your chosen controller.
What is the Best Pool Automation System?
Many of the pool industry's most trusted names offer complete pool automation systems. From simple entry-level options to complex multifaceted setups, there's a pool controller for every pool and budget.
One popular brand of pool automation is iAquaLink®, which easily pairs with up to 32 different pool and spa features from Fluidra-owned brands like Jandy®, Polaris®, and Zodiac®. Although not sold online, you can find iAquaLink systems at your local Leslie's. Their video demonstrates just a few of the things you can do with an automated pool system. Click to watch:
---
In addition to Jandy (iAquaLink), other trusted brands also offer smart pool controllers and equipment. These include Hayward® (OmniHubTM, OmniPLTM, OmniLogic®, ProLogic®, etc.) and Pentair (IntelliconnectTM, EasyTouch®, IntelliTouch®, etc.). You can find all these control systems at your local Leslie's.
BONUS TIP: For Wi-Fi pool automation controls to work properly, you'll need a good signal at the equipment pad. Check connectivity before starting your pool automation journey. If you're having trouble getting a reliable signal outside the house, there are a few things you can try. Start by moving your existing router to a better location or upgrading to a better router. If that doesn't work, look into a Wi-Fi extender or signal booster to increase the range of coverage.
The Cost of Pool Automation
Depending on how complex you want your smart pool automation to be, the price to purchase and install everything can vary widely. For example, if you only want a robotic pool cleaner to control from your phone, you'll invest about $1,000–$1,600. If you want to add additional components — a variable speed pump, saltwater chlorine generator, pool heater, etc. — the cost goes up with each piece of equipment purchased. But don't forget about the controller that ties everything together! The cost of the controller depends on the technology and the number of connections needed for your pool. It can cost anywhere from $500–$700 for a basic control system, to upwards of $1,500–$3,000 for something more robust.
In most cases, you'll also need to hire a professional to connect everything. Not only is this the safest option, but it's often required in the warranty conditions. However, DIY pool automation is possible if you have a firm grasp of connected technology, basic plumbing, and advanced electrical skills.
A complete pool automation setup can be a little on the pricey side. But the good news is you don't have to include everything all at once! Even if you start with one piece of equipment and upgrade over time, it's still possible to simplify pool care with automation.
Components of an Automated Pool System
So what all goes into an automated pool system? Automation can be as simple or as complex as you need it to be. There is no "one size fits all" solution. But what options are available? Let's see which pool equipment and backyard components can be automated.
Pool Controller
The pool automation controller is the brain of your smart pool. It connects each piece of equipment to a single point of control, and allows your pool's components to work together seamlessly. Some controllers are programmed in advance, then managed from their mounted location near the pool. Others are Wi-Fi-enabled, and can be managed right from your phone. Some can even integrate with your existing home automation software. Certain controllers require extra adapters to connect individual pieces of equipment or unlock specific functionalities. But again, pool automation systems are completely customizable. You can go as big or small as you want!
BONUS TIP: "Hey Alexa, clean the pool." It's totally possible with smart pool technology! Some pool automation systems can be integrated with voice-activated home automation software.
Pool Pump and Filter System
If the controller is the brain of your pool, the pool pump is the beating heart. Most pool pumps can connect to an automation system. However, not all automated pumps will have Wi-Fi capabilities right out of the box. Quite a few variable speed pool pumps on the market today are Wi-Fi enabled, making it easier than ever to manage the circulation and filtration in your pool. Automating the pool pump's speed and run time to maximize energy savings is the single largest benefit of owning a pool automation system.
Salt System
Receive an alert when salt levels are low in the pool or when chlorine production isn't high enough. You can also initiate higher chlorine production to keep up with sanitizer demand in your saltwater pool. The Hayward AquaRite® salt system is just one saltwater chlorine generator that can be connected with a pool automation system for closer monitoring. AquaRite is compatible with Hayward automation controls. Pentair IntelliChlor® is another, and it's compatible with Pentair automation controls.
---
Pool Cleaner
Schedule your pool cleaner to run when you aren't using the pool, and it'll always be clean and ready to use! If you have a suction side or pressure side pool cleaner, it'll run whenever the pump turns on. As long as it's connected and inside the pool, you're all set. If your cleaner requires a booster pump, you'll need to make sure it's set up for automation, too.
For a fully "connected" experience, upgrade to a Wi-Fi-enabled robotic pool cleaner. These advanced pool cleaners allow you to control the cleaner right from your smartphone. We recommend something like the Polaris VRXiQ+ or P965iQ, the Dolphin Proteus DX5i, or the Aqua Products EVO 614iQ.
Pool Heating and Cooling
Just like how you set the thermostat inside your home to maintain a consistent, comfortable temperature, you can set a temperature for your pool water to keep it at a steady temperature throughout the pool season. Connect your pool heater, heat pump, or pool chiller to your pool automation controller, and never swim in uncomfortable water again. You can also set up freeze detection to automatically turn on the pump and heater when temperatures drop below a certain point.
As we briefly mentioned earlier, some pool heaters come with their own wireless controls, which can operate independently of your pool automation controller. For some heaters, it's a simple remote. For others, it's Wi-Fi connectivity and a smartphone app. A few options we like to recommend are the Jacuzzi® line of pool heaters and heat pumps. These include the Jacuzzi JXN264 and JXN404 natural gas heaters and the JHX85 heat pump, among others.
Pool Lighting
Connect pool lighting to your automation control to keep things simple. Set a timer to schedule your lights to turn on at sundown, or turn them on right before a nighttime dip in the water. If you have color-changing LED pool lights, you can set your color to match the mood. Some lights even have a dimmer option for the perfect level of pool and spa illumination.
Connected Spa or Hot Tub
If you have a connected spa or hot tub, you can also use your controller to turn on the jets and bubblers. Pool automation makes it easy to plan ahead for a soothing soak in the hot tub. Use your smartphone app to turn on the spa heater while you're still at work, then relax the stress away in your toasty hot tub when you get home.
Fire and Water Features
Individually control the different fire and water features around your pool, or set them to turn on at the same time. From water fountains and waterfalls to bubblers and fire bowls, the options are endless.
Landscape Lighting
While we're talking about automation around the pool area, you can also connect your outdoor lighting. A clean, well-lit pool is a stunning centerpiece in any backyard oasis, but strategic landscape lighting surrounding the patio area can take everything up a notch.
Ready to Start Automating Pool Care?
When it comes to smart pool automation, the options are virtually endless. From circulation and filtration to sanitization and heating, you can control most aspects of your pool and spa area with the touch of a button. Many of the more advanced pool automation controls are only available in-store, so stop by your local Leslie's today to speak with one of our friendly pool experts. You can also browse our online selection of automation controls and connected pool equipment.
Leslie's makes every effort to provide accurate recommendations based upon current ANSI/APSP/ICC-5 2011 (R2022) standards, but codes and regulations change, and Leslie's assumes no liability for any omissions or errors in this article or the outcome of any project. You must always exercise reasonable caution, carefully read the label on all products, follow all product directions, follow any current codes and regulations that may apply, and consult with a licensed professional if in doubt about any procedures. Leslie's assumes no legal responsibility for your reliance or interpretation of the data contained herein, and makes no representations or warranties of any kind concerning the quality, safety, or suitability of the information, whether express or implied, including, without limitation, any implied warranties of merchantability or fitness for a particular purpose.