Swim Spa Covers - Big Spa Covers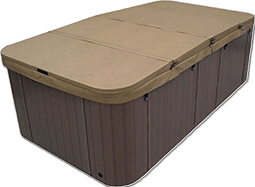 Swim spas are wonderful inventions. You've seen them, I'm sure - they are typically 12-16 ft long with a powerful 3-4 inch jet at one end of the spa. When the jet pump is turned on, one can swim against the adjustable current, in an "Endless Pool" - say goodbye to flip turns.
Michael Phelps has his own line of swim spas, manufactured by Master Spas, so you know they're good! Swim spas can be above ground or may be set into a deck - indoor or outdoors.
When it comes to covering a swim spa, a 4 panel or 6 panel spa cover is used. These are what we call custom covers, due to their size. Each swim spa cover we make, as are all of our spa covers, is created with computer aided design - CAD, even when we know the make and model of the swim spa. This ensures a precise fit, for maximum heat retention and strength.
A 3-panel swim spa cover, made of 3 individual panels, or of two bi-fold sections and a center single piece - is not a good choice for a swim spa. A 3 panel spa cover must span a larger distance, which places more stress on fewer panels, which have fewer cross braces. In addition, the run-off from rain is far from optimum when only 3 panels are used.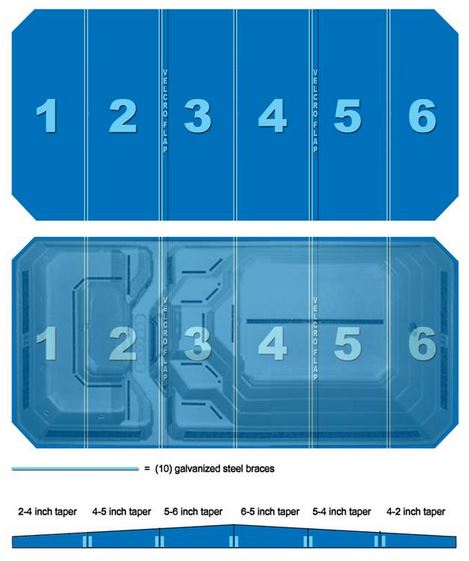 This is why we use a 4 panel configuration on our swim spa covers, and for larger swim spas, usually those with an attached hot spa on one end, we use a 6 panel layout, shown here.
If your swim spa is outdoors, or if you have animals or kids, a strong cover that cannot be easily removed would be highly recommended.
A 4 or 6 panel swim spa cover, with 8 or 10 galvanized steel cross braces is very strong, even under heavy snow loads, sleeping dogs or dancing children.
And, it really takes no time at all to remove, and are lightweight enough to be easily managed, even without a spa cover lifter. For a truly simple set-up however, many swim spa owners will use a spa cover lifter on each end of the spa, or some will use a spa side rack to store the covers safely, while the swim spa is in use.
Quite simply, if you are looking for a quality spa cover for your swim spa, one that will last for years, fit properly and provide a high level of safety - give us a call for our swim spa cover prices and options.