Spa Cover Lifter Buyer's Guide
We've recently added more spa cover lifts to our website. With over 10 cover lifters to choose from, it can be downright confusing. Today's blog post is a buyer's guide for spa cover lifters, designed to help you sort through the many models and options quickly.
We offer so many spa cover lifts, because there are so many types of spas, and because inventive people keep coming up with more ways to flip over and store a spa cover!
Here's a rundown and roundup of the considerations one should make when selecting a new spa cover lifter.
Spa Shape:
To start with, round spas or hexagon shaped tubs require a different cover lift than square or traditional hot tubs. Spa cover lifters listed as designed for "straight sided spas" would not fit round tubs, or spas with curved sides.
Spa Size:
Most spa cover lifters will fit a spa cover up to 96", or a 8 ft. diameter. For covers larger than this, look at the Cover Caddy or the Cover Shelf. Also, many covers don't work on spas smaller than 6 ft. diameter, or 72". Most spa cover lifter models will handle a 6 to 8 ft. diameter.

Spa Space:
How much clearance do you have available on the side that you flip the cover over? The clearance needed varies among cover lifts, but only some will require minimum space to flip and store the cover, such as the Cover Valet, which only requires 6" of back clearance. Also, spa cover lifters need 2-3 inches of side clearance as well, on both sides.
Spa Location:
Is your spa above ground, partially in ground, or flush with surrounding decking? Most cover lifters are made for fully above ground spas and hot tubs; in ground spas can use the Cover Valet and secure the mounting plates to the deck.

Mounting Types:
There are several types of cover lift designs. For those that don't want to drill into the spa cabinet, use the undermount cover lifts like the Cover Rock-It, or the Cover Rx. These spa cover lifts allow you to slide plates under the spa. Other models will require that you drill mounting brackets on one or two sides of your spa cabinet.
Here's a comparison chart of all of our spa cover lifters at Hot Tub Works. Use this to quickly narrow down a few choices, and then take a look at our spa cover lifters page!
I didn't have room for everything - other comparison factors may be price and warranty. Most of our cover lifts have 1 year warranty, but some have 5 years! Spa cover lifter prices range (as of this writing) from $108 to $297.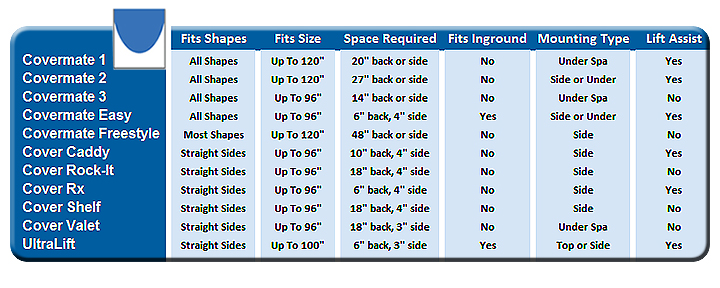 Leslie's makes every effort to provide accurate recommendations based upon current ANSI/APSP/ICC-5 2011 (R2022) standards, but codes and regulations change, and Leslie's assumes no liability for any omissions or errors in this article or the outcome of any project. You must always exercise reasonable caution, carefully read the label on all products, follow all product directions, follow any current codes and regulations that may apply, and consult with a licensed professional if in doubt about any procedures. Leslie's assumes no legal responsibility for your reliance or interpretation of the data contained herein, and makes no representations or warranties of any kind concerning the quality, safety, or suitability of the information, whether express or implied, including, without limitation, any implied warranties of merchantability or fitness for a particular purpose.