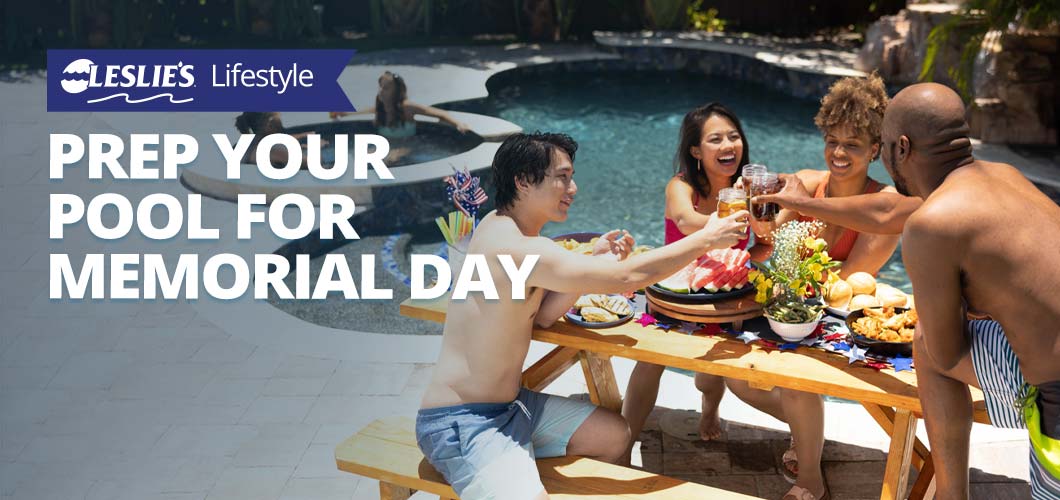 Prep Your Pool for Memorial Day
Memorial Day is special for several reasons, the most important of which is paying tribute to the brave individuals who made the ultimate sacrifice for our country. The holiday is also special because it marks the unofficial start to summer, which is prime swim season! To help you make the most of your Memorial Day holiday by the pool, we've put together a guide with of some of our favorite features. Enjoy!
Keys to maximizing your Memorial Day pool fun include: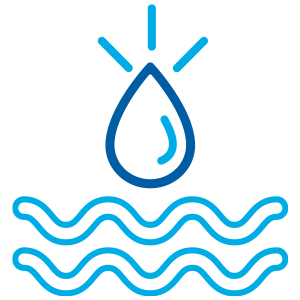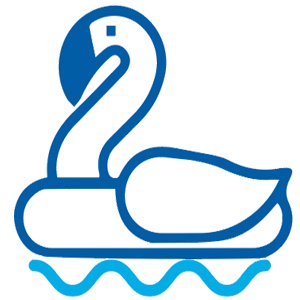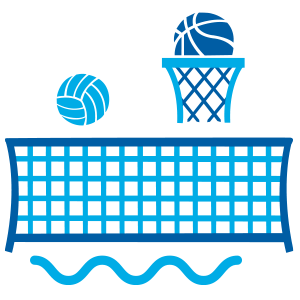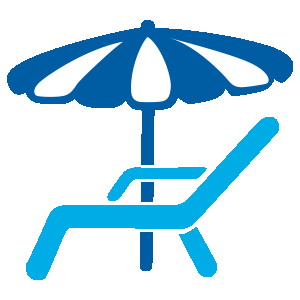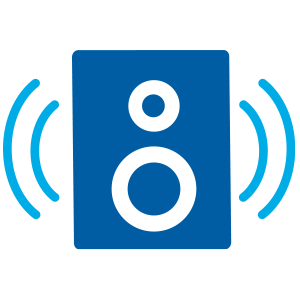 Clean, Safe, and Beautiful Pool Water
This is a fun post focused on how to best enjoy your Memorial Day by the pool, so we won't get too technical here. But we can't stress enough how important it is to have clean, clear, healthy water. Beautiful, balanced water sets the tone for all backyard entertainment. If you're planning a social gathering over Memorial Day weekend, test and rebalance the water at least a day or two ahead of time. That way, if you need to shock the pool or add balancing chemicals, you'll have plenty of time to treat the water and allow the chemicals to disperse in time for the party.
The most effective way to ensure balanced water is to test it regularly. The easiest way to do that is to bring a water sample to any Leslie's location for our always FREE in-store AccuBlue® water testing. We'll give you detailed 10-point water analysis in 60 seconds. You'll also receive a customized treatment plan with easy-to-follow instructions and precise chemical doses, so you can get back to what you enjoy the most — soaking up the sun in your perfectly balanced pool! Once the social hour is over and everyone goes home, we have a few after-party pool care tips that will help you clean up the pool.
Now, on to the fun stuff!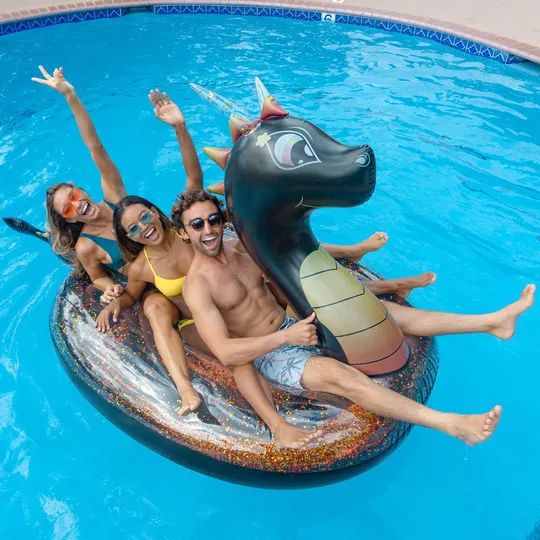 The Perfect Collection of Pool Floats
Whether you want to relax and float or key into your playful side with friends and family, the right floats are a must-have for any pool.
From classic foam floats to motorized floats (yes, you read that right...more to come), and everything in between, you can find just about anything you want if you know where to look.
This year's selection at Leslie's offers some serious style points. Some of the more popular options include an enormous glitter dragon, a gigantic T-rex, a tropical fruit island, an illuminated pool tube, and so much more.
No, we didn't forget about the motorized one. The Splash Runner Motorized Lounger allows you to zip from one end of your pool to the other, in case you forgot your sunglasses or need a refill on your drink.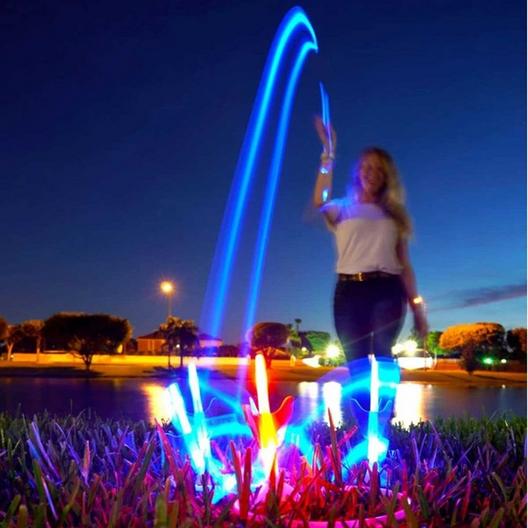 Backyard and Pool Games Galore!
For those with a competitive side, you can never have too many games in your backyard or pool to play on Memorial Day. The key is finding the right outdoor games to keep all ages engaged.
For the kids, you can't go wrong with the Bulzibucket game or the Park Play flying disc game. But who are we kidding? We all know these games aren't just for the kids. Either you know someone or you ARE someone who will spend hours trying to get the better of your friends and family with a little bit of friendly competition.
For those who want to up the competition — and possibly the stakes — the Park Play floating pong game offers a chance at some hopefully responsible fun.
If you're looking for something out of the water, YardCandy LED Lawn Darts provide bright and colorful fun long into the night.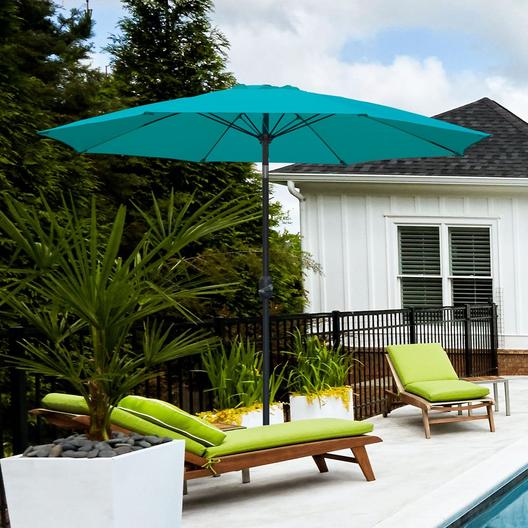 Patio Furniture and Accessories
Comfort and convenience are the name of the game when it comes to Memorial Day pool fun. To maximize both, be sure you've got all the backyard furniture and extras you need to enjoy long days and warm nights without needing to head back inside too often.
One key to enjoying a full day outside is staying out of the sun when you need to. A well-positioned patio umbrella will do the trick every time. Set it over your favorite lounge chair or even a section of the pool to help take the stress off your sunscreen for a while.
Don't want to get out of the pool or up from that aforementioned lounge chair to get another drink? The portable Pacific Cool Bar allows you to keep your favorite beverages chilled on ice. It also provides an adjustable-height tabletop surface.
Do the nights still get a little chilly where you live? The right fire pit can be a stylish addition to any backyard. It's an easy way to provide ambiance and warmth when the temperatures dip at dusk, but you still want to keep the party going.
With all your new toys, games, and other outdoor goodies, it's always handy to have some convenient storage. A large, stylish deck storage box is the perfect piece to keep your patio clutter-free. When the party's over, it'll help by holding all your items in one place until you're ready for bring them out again tomorrow.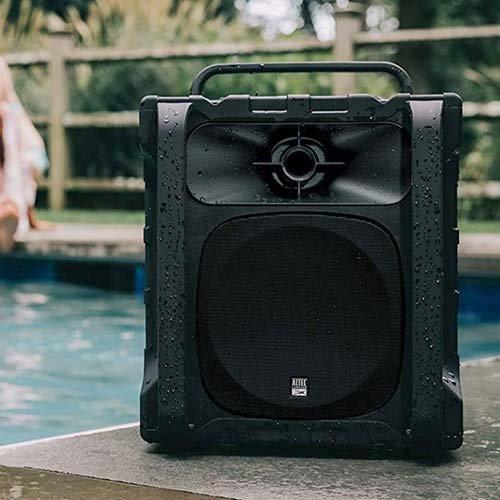 All the Right Sights and Sounds
When it comes to having the perfect setup for Memorial Day enjoyment by the pool, it's the extra touches that make all the difference for your backyard entertainment experience.
Nothing can make or break a get-together faster than great music, or the lack thereof. And as much as you might love it, your smartphone alone does not deliver entertainment-quality sound. To keep the mood upbeat and fun, you need the power of the right speaker. And since you'll be around your pool, it really helps if it's Bluetooth-capable and waterproof. The Sonic Boom 2 and the Super LifeJacket Jolt offer both of those features, and each deliver unique benefits depending on your needs.
But if you're really looking to get the attention of your friends and family, an inflatable projector screen is where it's at. When you've got a fully-inflated 20-foot screen, convincing everyone to stay outside for a special Memorial Day movie night by the pool won't be difficult.
What better way to end a great holiday than floating in your pool under the stars, enjoying some popcorn, and watching your favorite movie characters on a screen bigger than your first apartment?
Enjoy!
---
For more information on everything you need to best enjoy your Memorial Day by the pool, contact or stop by your local Leslie's.
Leslie's makes every effort to provide accurate recommendations based upon current ANSI/APSP/ICC-5 2011 (R2022) standards, but codes and regulations change, and Leslie's assumes no liability for any omissions or errors in this article or the outcome of any project. You must always exercise reasonable caution, carefully read the label on all products, follow all product directions, follow any current codes and regulations that may apply, and consult with a licensed professional if in doubt about any procedures. Leslie's assumes no legal responsibility for your reliance or interpretation of the data contained herein, and makes no representations or warranties of any kind concerning the quality, safety, or suitability of the information, whether express or implied, including, without limitation, any implied warranties of merchantability or fitness for a particular purpose.