Three Types Of Pool Shock: What's The Difference?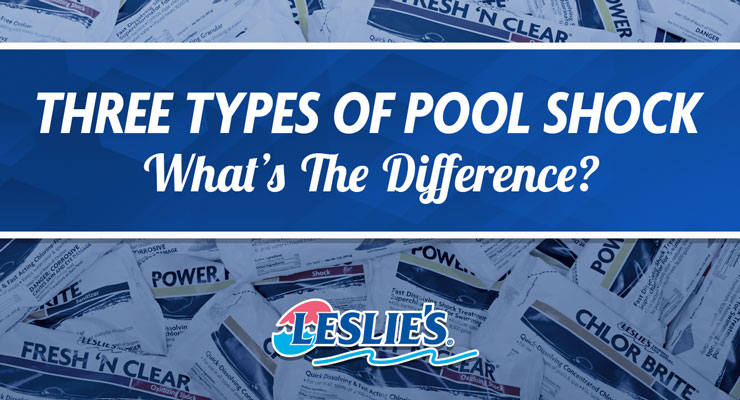 Whether you're a new pool owner or an experienced pool professional, it's important to understand the difference between the three main types of Pool Shock: Dichlor, Cal-Hypo and Chlorine-Free. Each of these types of shock has a different purpose.
Before we explain the different types of pool shock, let's go over the main reasons shocking is needed. Shock is used when the chlorine levels are low, chloramine levels are high, algae blooms are present, or there has been an accidental fecal contamination in the water. Shocking is also beneficial after heavy pool use or a major weather event, including heavy rains or high winds, which deposit dirt and debris into the water.
Below, you can compare the different types of shock, and what issues they address, to discover which one is right for your pool.
---
Power Powder Plus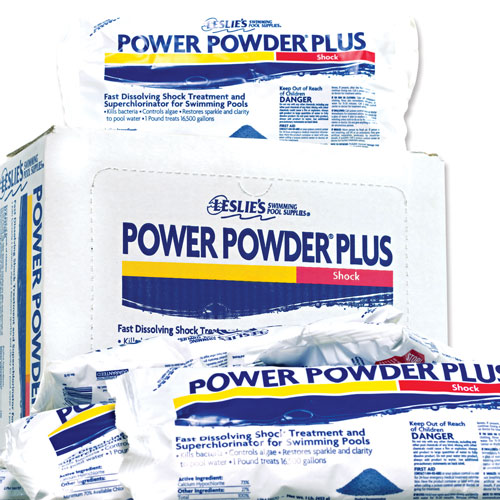 Power Powder Plus (Calcium Hypochlorite ) is our most popular chlorine pool shock, and for for good reason: it effectively gets the job done so you can return to the water faster. Leslie's Cal-Hypo shock is 73% calcium hypochlorite, which means that it can handle the toughest algae and bacteria problems. Rescuing your pool from an algae bloom or major contamination is a snap with Power Powder Plus; it gives you the highest dose of chlorine available. If you plan to use Cal-Hypo Shock all season long, we recommend purchasing Leslie's Power Powder Plus in the 25 lb bucket, which will save you time and money.
Cal-Hypo Shock Features
A powerful and effective form of pool chlorine.
70% Available Chlorine.
Quickly kills algae and contaminants.
Can be used in saltwater pools.
Great for pools with normal-to-low pH.
Ideal for all pool surfaces.
Things To Keep In Mind
May briefly cloud pool water, based on water conditions.
Has a high pH (10.8).
Contains calcium, which may slightly contribute to Calcium Hardness levels.
Always follow the label directions. Use, handle, and store with caution.
Shock Dosage
1 lb of Power Powder Plus for every 16,500 gallons of water. We recommend testing sanitizer levels 1 to 2 times per week, depending on CyA level and weather conditions.
---
Chlor Brite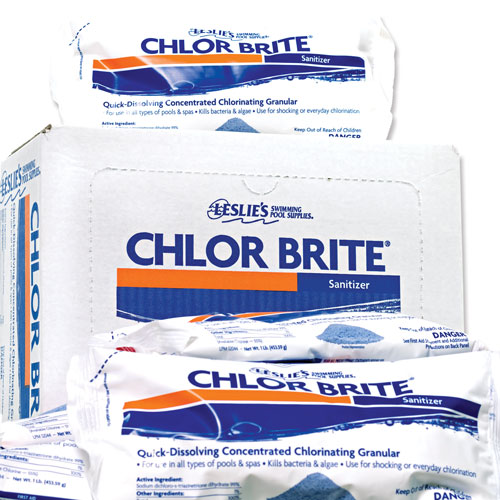 Chlor-Brite (Sodium Dichloro-S-Triazinetrione) is ideal for saltwater pools and for pools with vinyl liners, fiberglass, or other sensitive surfaces. If high pH and/or calcium levels are a concern, then this is the shock of choice. Dichlor contains Cyanuric Acid (CyA), so it's perfect if your pool has low CyA. Chlor-Brite can also be used for hand-feeding your pool.
Dichlor Shock Features
Fast dissolving at 55% Available Chlorine.
Stabilized so it lasts longer than non-stabilized shock.
Does not raise the pH level (6.0 – 7.0).
Perfect for all types of pools.
Won't cloud the pool water
Things To Keep In Mind
Dichlor contains CyA, which will increase residual CyA in the pool over time.
Monitor your CyA levels during the season and add fresh water or
a CyA reducer if needed.
Shock Dosage
1 lb of Chlor Brite Dichlor Shock for every 10,000 gallons of water. We recommend testing sanitizer levels every week.
PRO TIP: To make sure you're getting the most out of the chlorine products for your pool or spa, check out our post on How To Maximize Chlorine Efficiency in Your Pool.
---
Fresh 'N Clear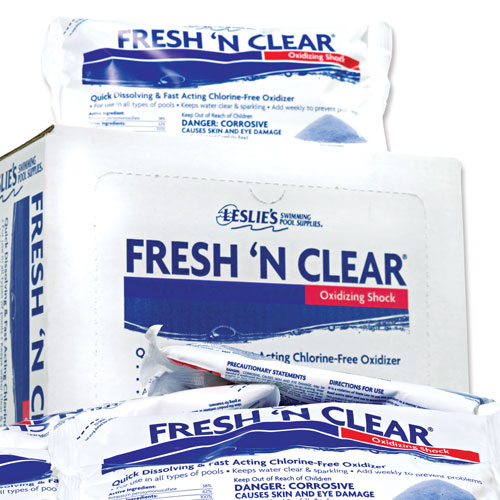 Fresh 'N Clear (Chlorine-Free Shock) is safe for all pool surfaces. Since chlorine-free shock doesn't contain chlorine, it must be used in conjunction with a water sanitizer like chlorine, bromine, or a saltwater chlorine generator. We encourage hot tub owners to add a small dose of Fresh 'N Clear after every use. Indoor pools can also benefit from chlorine-free shock! Not only does it leave pool water safe to swim in fifteen minutes, but Fresh 'N Clear shock is also safe to store.
Chlorine-Free Shock Features
Oxidizes contaminants in 15 minutes.
Improves chlorine efficiency if used weekly.
Reduces the amount of chlorine needed, saving money.
pH neutral, so it will not impact pH levels.
Improves water clarity and complements enzyme treatments.
Things To Keep In Mind
Chlorine-Free Shock will not kill germs or algae.
Follow label direction for use and storage.
Shock Dosage
1 lb of Fresh 'N Clear for every 10,000 gallons of water (initial dose is 2 lbs per 10,000 gallons of water).