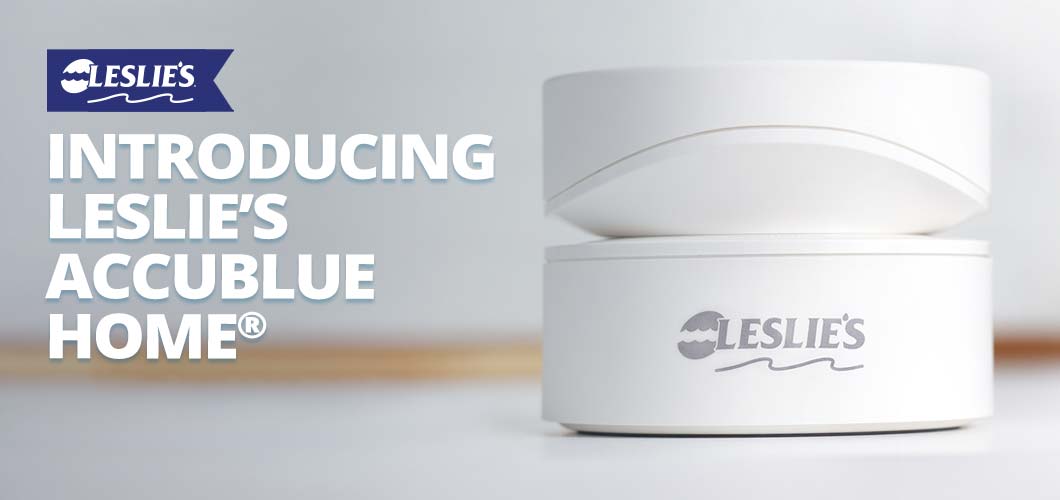 Introducing Leslie's AccuBlue Home®
When it comes to water testing, pool and spa owners have a few different options to help them keep track of water balance. Most use reagent test kits or test strips to test the water a few times each week at home, then get their water tested professionally at a pool store every few weeks. However, the biggest problem with traditional at-home water tests is that they leave room for error and can yield inaccurate results, which may lead to damaging or unhealthy water chemistry issues. Now for the good news — there's a new at-home pool chemical monitoring system that allows you to bring Leslie's industry-leading, in-store water testing technology and proprietary treatment software into your own home. Introducing: Leslie's AccuBlue Home®.
---
What is AccuBlue Home?
Leslie's AccuBlue home is the total solution for a clean, safe, and beautiful pool. It all starts with the testing device, which employs Leslie's state-of-the-art water testing technology to give you comprehensive water chemistry results and recommendations in 60 seconds — all from the comfort of your own home. It's the only at-home pool water test that precisely measures 10 different aspects of water chemistry.
Leslie's exclusive AccuBlue technology combines 60 years of expertise with the data from more than 50 million water tests to deliver precise water analysis results and a customized treatment plan you can't find anywhere else. It's the same water testing experience you've come to know and trust at your local Leslie's, and now it's more convenient than ever. AccuBlue Home is the most advanced at-home digital pool water tester on the market today, and it far exceeds other pool monitoring systems.
AccuBlue Home is a membership-based service that pays for itself. A membership is $50 per month, and in return, you receive a free testing device and $50 of monthly membership credit to use toward any products sold by Leslie's. The testing device is essentially a smart pool monitor that connects to the Leslie's app on your smartphone. If you only use your pool for part of the year and don't want to commit to a year-long membership, don't worry — our plans are flexible so you can pause or cancel your membership at any time.
How does AccuBlue Home work?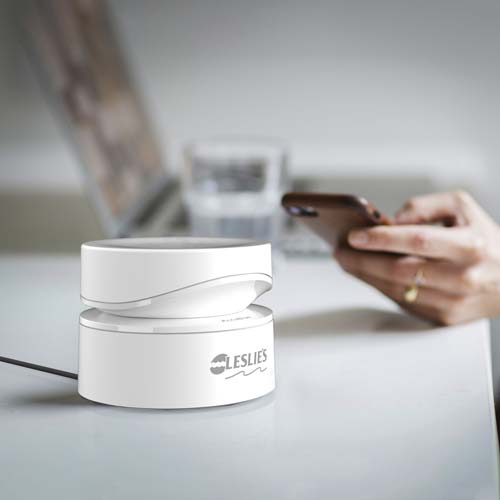 The AccuBlue Home testing device is a sleek, easy-to-use device designed to help take the guesswork out of testing your pool water. Simply fill the test disk with pool water, place the disk in the device, and start the test from the Leslie's app on your smartphone. Within 60 seconds, AccuBlue Home analyzes your water sample, calculates a water quality score, and delivers the test results with a step-by-step customized treatment plan right to the app. It's the most comprehensive and easy-to-use digital pool water test available.
AccuBlue Home goes beyond telling you what's wrong with your pool's chemistry; it offers a personalized treatment plan tailored to the unique specifications of your pool. And with the ability to shop from the Leslie's app with a single tap, you can have any recommended supplies sent directly to your front door. It's a water care experience that enables you to confidently test and treat your pool water without leaving the comfort of your home.
What's included in an AccuBlue Home membership?
The convenience and accuracy of AccuBlue Home is available with a $50 per month membership plan. This plan includes a free testing device and $50 worth of monthly credit to use on any pool supplies you need at Leslie's, whether shopping in store, online, or in the app.
Credits are bankable for up to 12 months, so you can shop when you want, how you want. Whether you spend your Leslie's monthly credit on recommended water treatment products, new equipment, fun pool floats, or backyard games, the choice is yours.
With a flexible membership plan that pays for itself in bankable credits, a free testing device that gives you precise 10-point water test results at home, and a customized water treatment plan delivered right to your phone, AccuBlue Home is changing the way pool owners think about pool care. It really is the total solution for a clean, safe, and beautiful pool.
DID YOU KNOW? The testing device comes with 5 single-use testing disks and a reusable water sample syringe. When you need replacement supplies for your AccuBlue Home testing device, it's easy to order them right in the app. You can even use your monthly membership credit to purchase them.
How is AccuBlue Home different from other at-home pool chemical monitors?
There are a number of other smart pool monitors and electronic pool water tests on the market. However, they all have one thing in common — they fall short of what AccuBlue Home has to offer.
Some of the more common pool chemical monitors stay in the pool or connect directly to your pool system, but only offer detailed readings for a few aspects of pool chemistry, such as Free Chlorine, pH, Total Alkalinity, and temperature. These devices have a high upfront cost — $325 to $500 or more — and some also require a monthly subscription on top of the initial purchase price. These testing devices may offer water balancing recommendations, but the results often aren't custom tailored to your specific pool size, surface type, primary sanitizer, or other important factors.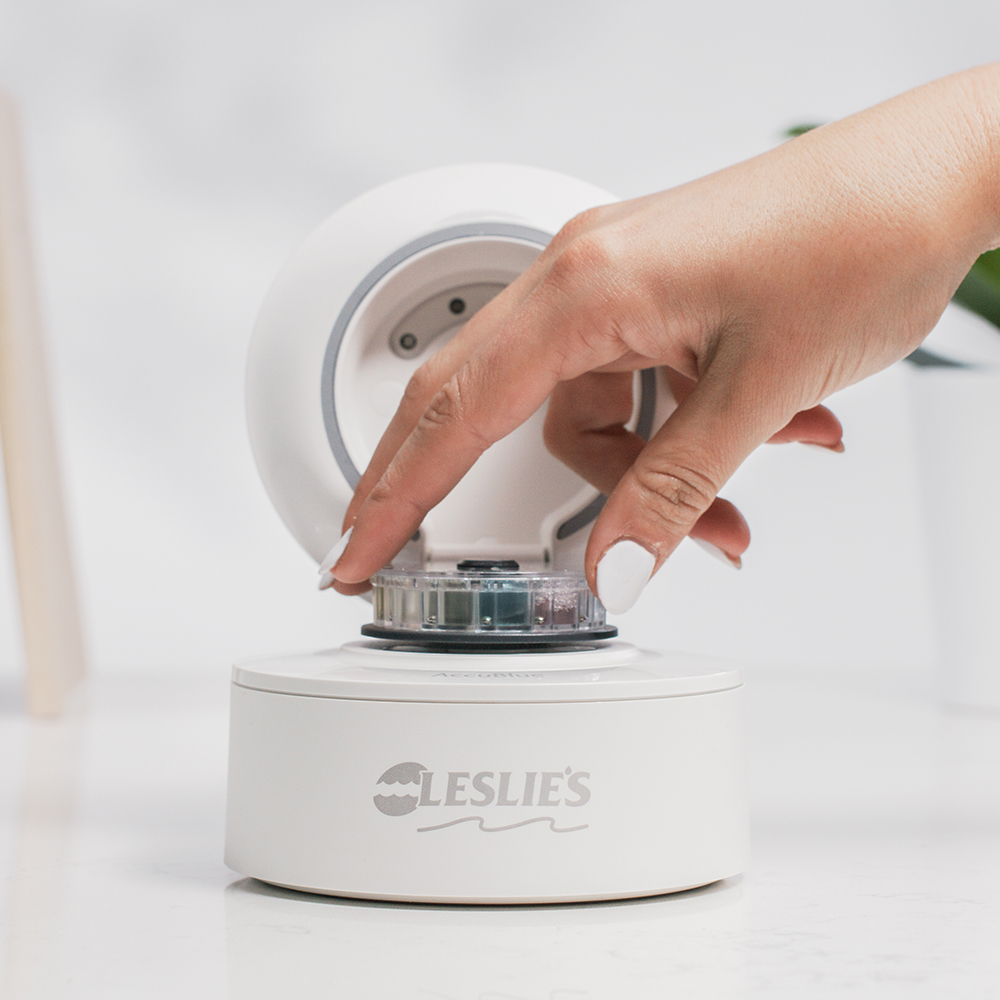 You don't get extra benefits or monthly credit for your investment with these other chemical monitors — you only own the device. You'll have to pay out of pocket for any pool chemicals you need, and you'll need to use additional test kits or get professional testing for a complete water health analysis.
If you're looking for the best way to monitor pool water chemistry and maintain a healthy pool, the answer is clear — just sign up for an AccuBlue Home membership. Your $50 per month membership includes $50 worth of Leslie's credit, which you can use to purchase any pool supplies you need or want. Those bankable credits are good for 12 months, and the testing device is included at no upfront or additional monthly cost. If you need to pause your membership, we understand. You can skip a month — or pause up to four months — without having to cancel.
At Leslie's, We Know Pools. And now with AccuBlue Home, you will too.
Leslie's makes every effort to provide accurate recommendations based upon current ANSI/APSP/ICC-5 2011 (R2022) standards, but codes and regulations change, and Leslie's assumes no liability for any omissions or errors in this article or the outcome of any project. You must always exercise reasonable caution, carefully read the label on all products, follow all product directions, follow any current codes and regulations that may apply, and consult with a licensed professional if in doubt about any procedures. Leslie's assumes no legal responsibility for your reliance or interpretation of the data contained herein, and makes no representations or warranties of any kind concerning the quality, safety, or suitability of the information, whether express or implied, including, without limitation, any implied warranties of merchantability or fitness for a particular purpose.