Hot Tub Covers: The Good, the Bad and the Ugly
When shopping for new hot tub covers, you should know your options.
But I'm not talking about spa cover options like Foam Density or a Double Wrapped Core, but I'm talking today about the types of spa covers on the market.
There are 3 main types of spa covers - Soft Spa Covers, Hard Spa Covers and Aluminum Spa Covers.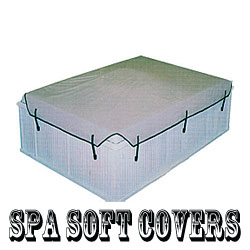 Spa Soft Covers (aka soft spa covers), are a durable vinyl fabric that is stretched over the spa top and fastened to the spa cabinet with rubber straps. They are used with an air filled vinyl pillow floating underneath the soft cover, to reduce pooling of rain water.
The Good: Lightweight and much less cumbersome than traditional folding spa covers. Lowest cost for a spa cover, $150-$200.
The Bad: Not a thermal spa cover, very low R-value which makes it unsuitable for most heated hot tubs.
The Ugly: Even with the air pillow used underneath, heavy rain can cause water (and stains) to collect on the cover.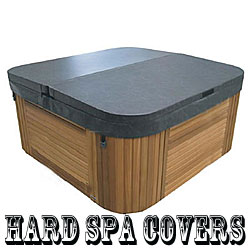 Hard Spa Covers are the traditional vinyl wrapped foam cores with a center hinge for folding. The most popular type of spa cover, hard spa tops are made to fit the spa dimensions exactly, and are fastened to the spa cabinet with straps and clips.
The Good: Seals tightly to spa edges to perform at the highest possible R-value for heated spas. Affordably priced from $294-$500.
The Bad: Larger hot tub covers may require two persons to remove and replace the cover, unless a cover lifter is used.
The Ugly: The foam cores can break under a heavy load or horseplay, and can absorb water if the foam core seal is cut or punctured.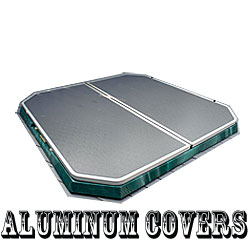 Aluminum Spa Covers are a close cousin to the Hard Spa Cover, and have been around for years. A Styrofoam core is sandwiched between two aluminum plates, and edged with a thick aluminum border. Can attach to spa cabinet with optional straps.
The Good: Lightweight and sturdy aluminum frame, Styrofoam cores that can't absorb (much) water, many attractive colors.
The Bad: Lower R-value. No skirt over the edge of the spa, heat seal is made by a 1/2" rubber gasket between spa lip and cover.
The Ugly: Hard to place without a spa cover lifter. Easily slips into the water, can scratch spa finishes. Highest cost of $1200-$1500.
So, when shopping for a new spa cover, take a lesson from the irony contained in Eastwood's great western epic, "The Good, the Bad and the Ugly" (1966). Not everything good is all good, and not everything bad is all bad, and maybe ugly is just that, and nothing more.
I've seen a lot of new spa covers introduced over the years, including many that were supposed to 'revolutionize' hot tub covers - but here we are, decades later, with the same 3 main spa cover options.
For most spa owners, the Hard Spa Cover is the most suitable cover, in terms of cost, ease of use, and thermal efficiency. You decide what's best for you.
Leslie's makes every effort to provide accurate recommendations based upon current ANSI/APSP/ICC-5 2011 (R2022) standards, but codes and regulations change, and Leslie's assumes no liability for any omissions or errors in this article or the outcome of any project. You must always exercise reasonable caution, carefully read the label on all products, follow all product directions, follow any current codes and regulations that may apply, and consult with a licensed professional if in doubt about any procedures. Leslie's assumes no legal responsibility for your reliance or interpretation of the data contained herein, and makes no representations or warranties of any kind concerning the quality, safety, or suitability of the information, whether express or implied, including, without limitation, any implied warranties of merchantability or fitness for a particular purpose.