Guide to Hot Tub and Spa Chemicals
Hot tubs and spas would be so much more fun if they didn't need any guides! One of those important care areas is managing the spa water chemistry.
Spa chemicals are used for water balance (pH, alkalinity and hardness), and then there are the sanitizer chemicals, and oxidizers for shocking the spa. And there's minerals, and ozone, enzymes and clarifiers. And half a dozen other spa chemicals.
It's enough to make you dizzy. To make it easier, we group our spa chemicals into five groups: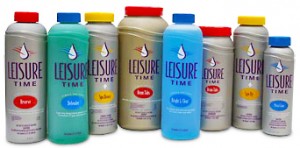 Spa Sanitizers
Bromine is the usual method, although you can sanitize with chlorine. Sanitizing a hot tub usually means adding sodium bromide, to establish a bromine bank, and then using enough bromine tablets to reach 2-3 ppm. Shocking the spa with an oxidizer is used to help reactivate the bromide ions. This is known as the 3-part system.
Free is a non-chlorine sanitizer by Leisure Time® that is completely chlorine or bromine free. If you want to operate a spa without either of these halogens, you can use this biguanide based system to sanitize the spa water.

Minerals can help reduce the necessary bromine level to 1.0 ppm in most cases, and provide extra power to fight and kill bacteria, viruses and pathogens in the spa water. Silver and copper ions will seek out and attack these contaminants, and they work continuously. Just replace the cartridge every 4 months. We have 3 major brands, shown below, plus mineral cartridges for Hot Spring and Sundance Spas.
MPS / Shock
MPS, or MonoPerSulfate, is a non-chlorine type of spa oxidizer, an option to using chlorine granules in the spa to remove contaminants and to boost up the bromide bank on a brominated spa.
Most people I know - will shock the spa after a group of people use the spa, but maybe not if it's just a quick single person dip. Shocking a spa is not like shocking a pool, in such a small vessel, only tablespoons of spa shock is used to quickly do the job.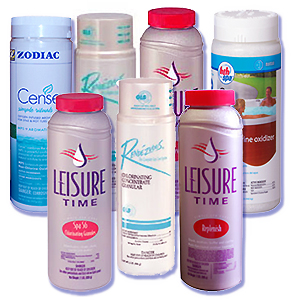 We carry many types of spa shock, all are either MPS or chlorine granules. A few of my favorite spa shocks are shown below.
Clarifiers
Clarifiers are helpful for small, marginal spa filters. If your water ever gets hazy or cloudy, or if you can see particles floating around in the water, above the spa light, you may want to use a clarifier to coagulate and improve filtration.
Algaecides work by invading the algae cells directly and disrupting their processes. An algaecide can be a good back-up to your spa sanitation, helping to reduce effects of low bromine levels or inconsistent chemical maintenance.
Foam Out is used when your spa becomes foamy, although it can also be an indication that it's time to drain the spa! If you have already drained it, and still get sudsy, adding a small amount will remove surface spa foam.
Enzymes are a great way to eliminate spa foaming. They also digest oils and suds, making your sanitizer more effective with less oily organics and detergents to deal with.
Metal Out is a chemical used to lock up minerals in the spa water, to keep them from staining or attacking shiny spa surfaces. Hard water areas, or spas filled from an untreated well, should use a metal sequestering agent.
Balancers
Balancers will help you control the water balance of your spa. Test your spa water at least weekly and make any needed adjustments to keep your spa water in balance. This is important for important for sanitizer effectiveness, protecting your spa components and for bather comfort.
Cleaners
The cleaners category has everything you need to clean your spa, top to bottom. Cleaners for spa covers, cleaners for the inside of your spa shell, spa pipe cleaners, spa filter cleaners.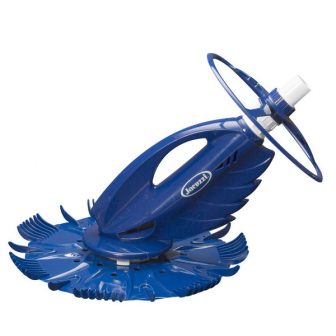 Don't use household cleaners on your spa, you don't want any residue from kitchen, bathroom or automotive cleansers to mix with your spa water. Use only products designed for use with spas.
And that's all there is to it! 5 categories of spa chemicals. You'll need to use at least some of these spa chemicals from each category at certain points during your spa maintenance.
I hope that this guide to spa chemicals was useful, and has made the plethora of spa and hot tub chemicals more manageable to think about and work with.