Flooded Hot Tubs - What to do Next
During a 50-year or hundred year rain event, spas and hot tubs that are normally high and dry in all types of weather, can become flooded or can develop problems with sustained moisture and humidity.
What do you do after the storm?
If your spa begins to flood, or has flooded - even if only a few inches deep, make sure to keep the spa power OFF, at the main circuit breaker. Do not use a spa that has flooded, and do not turn the power back on to the spa until you perform several important steps. You can add MPS or spa shock, to maintain the water while it is not being filtered.
inspect the cabinet equipment bay
If your spa is currently flooded, use a submersible pump like the Spa Drainer, to pump water downhill from the spa area, if waters are not receding on their own. Sand bags or trash bags filled with soil can be used around a spa or hot tub, allowing you to pump and clean the area around the spa or hot tub.
Open up the equipment bay, when weather permits, to inspect the possible damage. Flood waters are usually dirty waters, so there is usually a visible waterline mark, like a bathtub ring. Look for evidence of how high the flood waters were inside the spa cabinet, and look to see if it rose over any electrical equipment. Did the water rise high enough to submerge the jet pump or circ pump, or an air blower? Did it rise over the spa controller, and specifically was it deep enough to touch the (gasp!) circuit board?
Spa pumps and blowers submerged only slightly fair pretty well, once they are dried completely. Most spa jet therapy pumps that have been fully submerged, they will likely need to be replaced. If only partially submerged briefly, while not running, spa circ pumps can be removed and dried internally, and sometimes will still work.
Control panels - the motherboard, the PCB or main circuit board. If the spa control was not energized (power off), during the flood event, there is a better chance of survival, after a proper drying of the circuit board and connections. Most spa controllers can be opened up, to inspect the main board and connections. Look at the board and connections closely, for any signs of damage, specifically electrical burn marks or corrosion, on the circuit board and on the wire connections.
Spa heaters are often not harmed in a flooded spa situation, as long as the spa was not powered when the flooding happened. Flow through heaters are sealed pretty tightly, and do not have a circuit board or an electric motor, so the heater may be safe from harm.
Dry out the cabinet equipment bay
It doesn't just happen from heavy rain and flooding rivers, flooded spa equipment also happens people fill or top-off their hot tub, and forget about it overnight, as occasionally happens!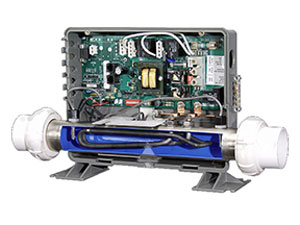 A wet/dry vac can be used to clean up puddled water, or use some old towels, to remove remaining water and clean the deposited silt and dirt. As weather permits, dry out the equipment bay by keeping the cabinet door open. Set up fans to circulate drying air into and through the cabinet.
If your hot tub equipment was completely submerged (water depths of 12" or more), remove the spa pack or equipment to a dry and cool area within the home. This will allow for faster and more precise drying of the electrical equipment and connections, but some motors or circuit boards may not recover.
You can replace individual spa equipment parts, like pumps, blowers, heaters or ozonators. Your spa pack controller can also be repaired, or if your spa system already has 10 years on it, a new spa pack may be the best decision.
There are other spa electrical parts in there too, like contactors, cords and connectors, and thermostats, time clocks and transformers. Everything has to be dry before you turn the power back on.
Turn on Power at Circuit Breaker
After a complete drying out of your spa equipment (please see above), you are ready to turn the circuit breaker back on. Flip the main spa circuit breaker back to on, and any secondary cut-off box between the breaker box and the spa.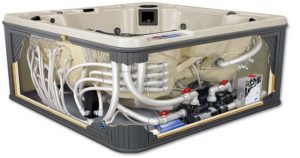 Check your topside control panel for any troubleshooting messages, or error codes. If your spa survived the storm successfully, you can proceed to put it through some paces, checking operation of lights, pump, heater, blower, etc.. If you find trouble however...
Circuit Breaker Trips: This usually points to damaged equipment, pumps or heaters. Disconnect electrical equipment one by one, to find out which load is causing the breaker to trip; heater, pump, blower, ozonator, light?
GFCI Trips: If the red reset button on the GFCI keeps popping out, it could be moisture related, be sure that everything has been completely dried out.
Nothing Trips, still won't work: Check for Fuses that may have blown on your spa pack. If fuses are ok, circuit board may be faulty.
Leslie's makes every effort to provide accurate recommendations based upon current ANSI/APSP/ICC-5 2011 (R2022) standards, but codes and regulations change, and Leslie's assumes no liability for any omissions or errors in this article or the outcome of any project. You must always exercise reasonable caution, carefully read the label on all products, follow all product directions, follow any current codes and regulations that may apply, and consult with a licensed professional if in doubt about any procedures. Leslie's assumes no legal responsibility for your reliance or interpretation of the data contained herein, and makes no representations or warranties of any kind concerning the quality, safety, or suitability of the information, whether express or implied, including, without limitation, any implied warranties of merchantability or fitness for a particular purpose.