Highwood USA - Spa Cabinets and Hot Tub Siding, Acorn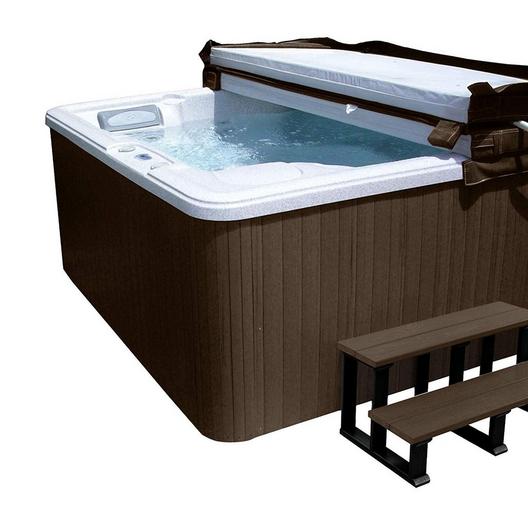 Membership Available
Store Pickup
Pickup In Store
Ship To Home
- Not Available for this item
Earn at least $41 in pool perks for this item by joining Pool Perks.
Join/Sign In Now
Highwood Spa Cabinets designs and manufactures realistic wood grain, recycled plastic hot tub siding. Spa Cabinet Replacement Kits are complete with new spa side panels, corner pieces and stainless steel hardware. If your wood spa cabinet panels are weathered and dry rotting, upgrade your spa skirting to high strength, rich color of Highwood synthetic spa panels in a convenient DIY spa siding kit.
Renovate your old, worn out spa cabinet and make your spa siding new again for a low cost with the easy to install Hot Tub Siding Kit, by Highwood USA, producer of well regarded recycled plastic products. The real-grain look of wood is a durable, eco-friendly, and lightweight hot tub skirting alternative to wood. Highwood spa skirts can be cut, drilled or nailed just like real wood, and the spa cabinet kit comes with an easy to follow installation manual and all the supplies needed to make it a hassle free, do-it-yourself weekend project.
Hot Tub Siding Panels Kit Includes:
8 spa skirting panels (2 per side)
4 flexible corner panels
12 cabinet panel trim pieces
72 stainless steel screws and grommets
Spa Cabinet Panel Kits Feature:
Innovative hot tub panel design for easy installation
Flex corner kit will fit any corner radius from 5"" to 12""
Same spa cabinet panels used by the worlds leading hot tub manufacturers.
Recycled synthetic thermoplastic is stronger than wood, and retains beauty longer.
Hot tub siding uses 3"" Tongue & Groove on side panels and 1.5"" Tongue & Groove on corners.
Available in 3 popular colors: Redwood, Gray or Acorn
Will this Spa Cabinet Kit fit my Spa?
Fits rectangular or square spas and hot tubs. Not for round hot tub shapes.
Replaces spa skirt or cabinet height of up to 33"" and width or side length of up to 96"".
Please refer to the Installation PDF provided for additional information.
How are a Hot Tub Siding Panels Installed?
Tools: Hammer, Power drill, Circular saw, Straight Edge, Utility Knife.
Remove old spa cabinet panels with claw hammer or pry bar.
Install the corner panels first, measuring and then screw in place.
Install the side panels by screwing in place, then secure trim pieces.