Presair - Pressure Switch, SPDT, 1/8in Thread, 1-5 PSI Adjustable, PM11120E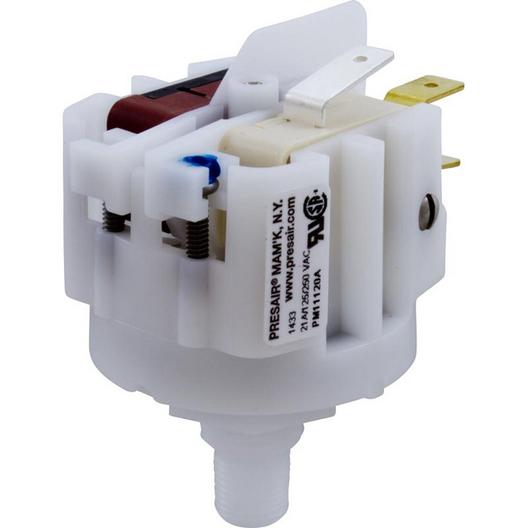 More Details

Subscription Available
Earn at least $2 in pool perks for this item by joining Pool Perks.
Store Pickup
Out of stock
Available at store in 1-2 weeks
Store Pickup
Pickup In Store
Standard Shipping
- Ship To Home
Select a store to check stock
---
---
Details
Pres-Air-Trol 21 amp pressure switch PM11120E has 1/8 in plastic threads (measuring 3/8"" OD) for connection to heater or header or water hose, and three wire terminals for common, NC and NO wires. Adjustable pressure switch is Normally Open and comes factory set at 1 psi but can be adjusted with a hex key, with a clean filter, to meet a variety of system pressures, as low as 1 psi up to 5 psi. Made in the USA by PresAir.
Pressure switches are used on spa, tub and bath heaters to measure the amount of water pressure inside of the heater, as an approximation of water flow. Pressure switches are safety devices intended to prevent heater damage and overheated water hazards. If your pressure switch is causing the heater to shut down, look for causes of low flow in and out of the heater, and remove the spa filter temporarily to improve flow. Pressure switches do fail eventually (which is why sell replacements), but first assume a flow problem, and not a switch problem.