Intex - Intex Deluxe Salt System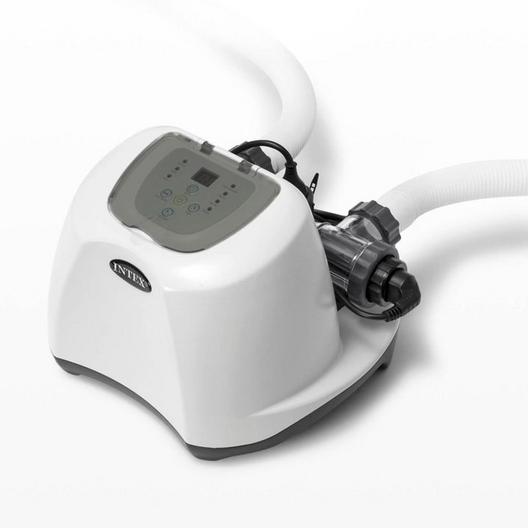 Introducing the All New Intex Krystal Clear Saltwater system
More Details

Membership Available
Earn at least $18 in pool perks for this item by joining Pool Perks.
Please note: This item is only available for in-store pickup and the selected store is out of stock. Please select a nearby store with available inventory to process your order.
Store Pickup
Pickup In Store
Standard Shipping
- Ship To Home
- Pickup at Chantilly, VA 13932 Lee Jackson Memorial Hwy Ste
Check nearby in-stock stores
---
Description
Introducing the All New Intex Krystal Clear Saltwater system
Intex Saltwater Chlorine Generator Features:
Redesigned casing is much smaller than previous models
LED displays output, buttons for Boost, Timer, Lock and Self-Clean
Status lights for Working, Boost, Sleep modes
Diagnostic Lights for Low Flow, Low Salt, High Salt, Service
Easily raise or lower chlorine output level with a push of a button
115V 3-Prong Cord included, with GFCI protection built-in
Self Cleaning salt cell with reverse polarity feature
24 hr. automatic timer clock built-in
Connects to your Intex filter pump of 800-3000 GPH size
Produces up to 12 grams of pure chlorine per hour
For Aboveground Pools up to 15,000 gallons
Intex 26669EG Supersedes previous model 28669EG
2 year limited Intex warranty
---
Details
Designed for Intex above ground pools up to 15,000 gallons, the New and Improved Intex saltwater system eliminates the need to store and handle chlorine tablets. Just add the right amount of pure salt to your pool, connect the Intex saltwater system after the pool filter, and push the button. The Intex CG-26669 (26669EG) salt cell begins to make pure chlorine, releasing it into the pool. Salt never evaporates, additional salt is only needed to replace salt lost to splash out or backwashing. In addition to breakpoint oxidation occurring constantly, to remove chloramines - the Intex Salt System 26669 also creates nascent oxygen molecules, which are highly effective sanitizers, in a process called Electro catalytic Oxidation, or E.C.O. for short. The combination of continuous chlorine production and E.C.O. technology makes this Intex Saltwater System superior to all previous models, and allows you to operate at a lower chlorine level.
Intex Saltwater Chlorine Generator Features:
Redesigned casing is much smaller than previous models
LED displays output, buttons for Boost, Timer, Lock and Self-Clean
Status lights for Working, Boost, Sleep modes
Diagnostic Lights for Low Flow, Low Salt, High Salt, Service
Easily raise or lower chlorine output level with a push of a button
115V 3-Prong Cord included, with GFCI protection built-in
Self Cleaning salt cell with reverse polarity feature
24 hr. automatic timer clock built-in
Connects to your Intex filter pump of 800-3000 GPH size
Produces up to 12 grams of pure chlorine per hour
For Aboveground Pools up to 15,000 gallons
Intex 26669EG Supersedes previous model 28669EG
2 year limited Intex warranty