Wi-Fi App Control for Spas & Hot Tubs
Control your hot tub from anywhere in the world!
That's how the tagline reads for a new generation of smart hot tub controllers that can communicate wirelessly to your mobile device. Super convenient, now that you don't have to shuffle out in the cold and lift the lid to turn up the heat. Just pull up the app where you can view current temperature and status, and operate all spa functions like pumps, heater, lights, music - like a topside control panel, in your pocket!
All of the major spa manufacturers and spa control makers now offer wifi-enabled spa paks with the software to connect to your spa controller via bluetooth and wifi. And, most spa techs now have a half dozen or more spa manufacturer apps on their smartphones, useful for bypassing control panels, and for certain diagnostics.
Arctic has OnSpa, Jacuzzi has ProLink and Sundance has SunSmart, proprietary wi-fi modules, control software and smartphone apps that operate with their control packs. And for those spa manufacturers using Balboa or Gecko spa packs, Balboa offers BWA module and app, and Gecko has the in.Touch system.
HOW DOES HOT TUB WIFI WORK?

A wifi-enabled spa control has a bit of software revision to communicate with a wifi module and to your phone or tablet via the app. The module allows for direct connection from a nearby phone or tablet, and also connects to your home wifi network, for connection to the internet. Balboa uses a single wifi module, good for about 65 ft, and Gecko includes two transmitters, one for spa mounting and one for mounting next to your home wifi router.
ADDING WIFI TO A HOT TUB?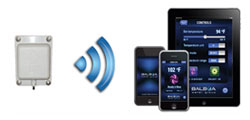 Well, there may be a little problem... you see, hot tub wifi modules only work on wifi-enabled spa controls, and these are still a standard feature only on luxury lines of spas, and for spas produced in the last five years or so. If you have a late brand name spa with all the bells and whistles, including Wi-Fi, see your dealer to purchase the wi-fi module kit, and you can then connect to your spa with the app.
For Balboa Controllers, only the BP line of spa controllers is wi-fi enabled as of current. The wifi module 50350 plugs into the BP500/BP600 circuit board and puts out a signal to connect with your home wifi and directly to nearby devices.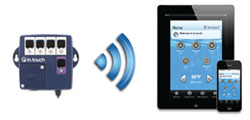 For Gecko Controllers, the in.touch remote control system uses two RF transmitters to connect to your home wifi network and to nearby devices. Gecko in.touch works with in.xe, in.xm and in.ye, in.yt controllers, with the new software revision for wi-fi.
Other aftermarket spa controllers, by ACC, Acura and Waterway for example, offer an add-on wifi module that fits select spa controls, for remote control from inside of the house or monitoring your spa while away from home.
HOT TUB WIFI - NOT SO SIMPLE?
Unless already equipped, you basically need a new digital spa control if you want to control your spa with your smartphone. And, it must be a wifi-enabled spa controller, and you must also purchase the additional module or transmitter to connect from the spa to your home wifi and nearby devices.
If your spa control or spa pack is fairly new, it may have wifi capability, check the owner's manual or contact the manufacturer for information.
Or maybe you'll have to continue to shuffle through the cold, to check-on, or turn-up your spa or hot tub - the old fashioned way!
Your next spa (or your next spa control) will likely be part of the Internet of Things, and more accessible. It is a nice feature I must admit, my new Sundance has wifi and I love it! I use it to play music from my phone, thru the spa speakers, and use it inside the house to turn up the temp (and turn it down, too) or for running extra filter cycles, or to check if I left the spa light on again?
Leslie's makes every effort to provide accurate recommendations based upon current ANSI/APSP/ICC-5 2011 (R2022) standards, but codes and regulations change, and Leslie's assumes no liability for any omissions or errors in this article or the outcome of any project. You must always exercise reasonable caution, carefully read the label on all products, follow all product directions, follow any current codes and regulations that may apply, and consult with a licensed professional if in doubt about any procedures. Leslie's assumes no legal responsibility for your reliance or interpretation of the data contained herein, and makes no representations or warranties of any kind concerning the quality, safety, or suitability of the information, whether express or implied, including, without limitation, any implied warranties of merchantability or fitness for a particular purpose.