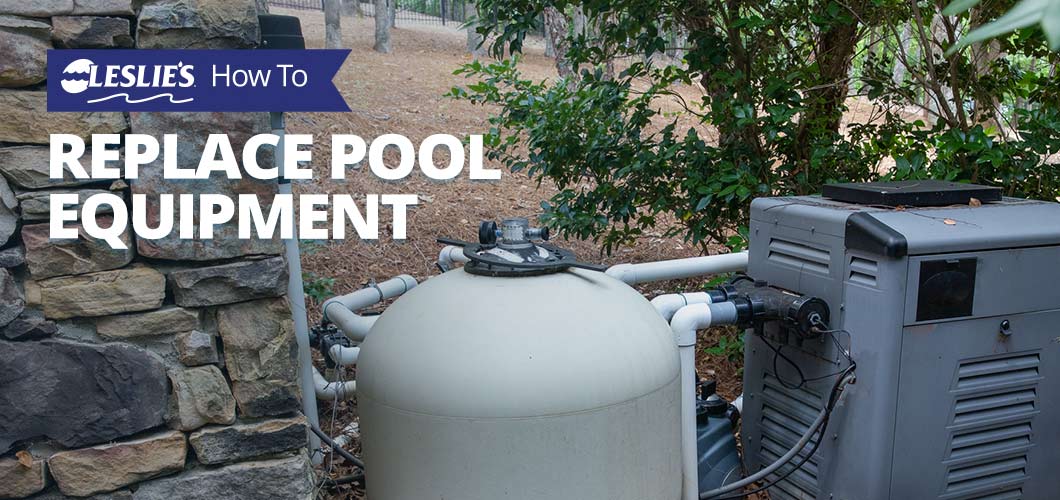 When & How to Replace Pool Equipment
Your pool equipment is the driving force of a healthy swimming pool. If any components on your equipment pad malfunction, you may find yourself unable to swim due to unhealthy water conditions. When it comes to your pool equipment, it's always better to be proactive with repairs and replacements. You don't want to find yourself in an emergency situation that requires a hurried, reactive response. But how do you know when it's time to replace your pool equipment? What is the best time of year to make the switch? And most importantly, how do you replace it? These are all important questions to understand as a pool owner. We'll help you learn the ins and outs of replacing your pool equipment so you'll be ready when the time comes.
When to Replace Pool Equipment?
This is probably the most important question: when should I replace my pool pump, filter, heater, cleaner, etc.? Unfortunately, the answer isn't a "one size fits all" response. The age of the unit, workload, hours of use, water balance, frequency of maintenance, and a few other factors all figure into the life expectancy of your pool equipment. Here are a few signs that it might be time to replace your pool equipment:
You're paying a lot for repairs. Just like a vehicle, there comes a time when you're shelling out more money on pool parts per year than you'd spend for a brand new unit. Before you get to this point, you should probably start shopping for new equipment.
It's old. Eventually, the model you're using will be discontinued. And as time passes, it will get progressively harder and more expensive to find the parts you need. Most types of major pool equipment have a total lifespan of about 10-20 years with proper maintenance, regular tune-ups, and repairs.
You want efficiency. With each passing year, manufacturers are producing pool equipment that is increasingly more efficient at conserving water and energy. If you have outdated and inefficient equipment, it's time to do some research. For example, you might be surprised by how much money you could save just by switching from a single speed pool pump to a variable speed pump.
DIY TIP: If you're not quite ready to replace your pool equipment, but it's not working as well as it used to, bring it to your local Leslie's store for a tune-up and repair. At Leslie's, we never charge a dime for labor. All you pay for are the parts, and we'll take care of the rest.
What's the Best Time of Year to Do This?
The best time of year to replace any piece of pool equipment is right before you open your pool in the spring. For most pool owners, the pool stays closed through the late fall, winter, and early spring months. While the pool is closed, existing pool equipment is typically disconnected, drained, and stored to prevent freeze damage. If you're going to replace your pump, filter, chlorinator, heater, or any other piece of equipment that connects to your pool's plumbing system, the off-season is the best time to do it. You'll have several months to do your research and ask for professional advice. You'll be able to find the best prices or wait for flash sale discounts. You can also schedule a professional installation just before you plan to open your pool.
DIY TIP: If you know you'll be replacing your pool equipment within the next 6-12 months, keep your eyes open for special offers and promotions on the equipment you need. Sign up for Leslie's Pool Perks so you'll be the first to know about online and in-store discounts on the chemicals, equipment, and accessories you use the most.
If you decide to change your pool equipment during the summer (or if necessity dictates sudden urgency), you'll have a little more mess and hassle to contend with. And if the plumbing doesn't align perfectly with your new equipment, you'll also have to worry about re-configuring the pool lines for your equipment pad. During swimming season, this can mean down-time for your pool.
How to Replace Pool Equipment
So you've purchased your new pump, filter, heater, chlorinator, or pool cleaner, and now you're ready for the next step. You've already made sure that the connections are the right size for your plumbing, and the capacity is sufficient for your pool's volume. Now it's time to install your new equipment!
If you purchased pool equipment that has unions in the exact same place as your old equipment, and the dimensions of the unit are roughly the same, the install should be fairly straightforward. On the other hand, if the connections don't line up perfectly, or if the new equipment doesn't fit well in the old spot on the pad, a bit of re-plumbing may be necessary. Electricity and water don't mix, so it's usually best to leave any rewiring work to the professionals.
If you're a handy do-it-yourself type who's comfortable with plumbing and electrical work, you're all set. You'll be able to easily follow along with the installation instructions from the manufacturer. On the other hand, if that sort of thing isn't your strong suit, there's no harm in asking for help. The highly trained, knowledgeable pool service technicians at Leslie's can help you with your installation. From pool cleaners and heaters to pool pumps and filters, we've got you covered. Visit our Services page for more information.
DIY TIP: If you're planning to install the equipment yourself, double-check the manual before starting. Some manufacturer warranties only cover products installed by a licensed contractor or certified pool professional.
Thinking about upgrading or replacing your pool equipment, but not sure where to start? We can help. Let us answer your questions and help you find the best solution for your pool. Use the live chat while you browse through our online catalog or stop by your local Leslie's store to talk with one of our knowledgeable associates today!
Leslie's makes every effort to provide accurate recommendations based upon current ANSI/APSP/ICC-5 2011 (R2022) standards, but codes and regulations change, and Leslie's assumes no liability for any omissions or errors in this article or the outcome of any project. You must always exercise reasonable caution, carefully read the label on all products, follow all product directions, follow any current codes and regulations that may apply, and consult with a licensed professional if in doubt about any procedures. Leslie's assumes no legal responsibility for your reliance or interpretation of the data contained herein, and makes no representations or warranties of any kind concerning the quality, safety, or suitability of the information, whether express or implied, including, without limitation, any implied warranties of merchantability or fitness for a particular purpose.