Troubleshooting Spa Topside Control Panels
The Spa Topside control panel is used on hot tubs, portable spas, jetted tubs - just about every spa uses a display panel to allow the user to easily control the functions of a typical spa - pumps, heater, lights, blower.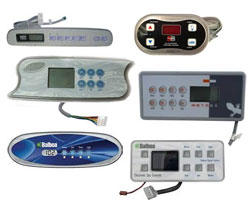 And that's all the topside control is - a control panel, think of it as a remote control for your hot tub, wired into your spa controller, which is really the brains of the spa system. The spaside control panel, it's just a convenient way to turn things on and off, and view equipment status lights and water temperature.
Topside controls typically consist of a small LED or LCD screen, touchpad membranes and LED indicator lights, topped with a pretty decal or overlay, as they are called. Topside controls can be digital, analog, or a combination, and are made for both air control systems and digital control systems for spas.
Topside controls will only work with a particular spa system control board(s). Another TV reference would be appropriate; you have to use the TV remote that is made for your make and model of television. It's the same with spa topside controls, they only work with the spa control make and model for which they were designed. And even more specifically, many topside controls only work with circuit boards that have a particular chip version, which is printed on the spa control circuit board main chip label.
Topside control panels are also not easily test-able. The best way to see if a topside control is bad, is to plug in another one and see if it works. Since spaside panels are not returnable, this entails some risk on the spa owner. But there are some ways to reduce the risk... read on.
No Display on Topside Control Panel
Reset Spa Controller, power down and restart
Check for condensation under display glass
Check cable for crimps or any visible damage
Clean plug-in cable connections on both ends
Check power at Transformer on control circuit board
Check power at fuse on spa control circuit board
Check that topside control number works with spa control chip version
Inspect circuit board for damage and correct power output
Replace topside control
Spa Control Panel Displays Incorrectly
Error messages or error codes may indicate the problem
Flickering display may indicate low voltage from transformer
Partial display may indicate dirty contacts or moisture
Blinking lights or flashing --- indicates a system reset is needed
Check that topside control number works with spa control chip version
Inspect circuit board for damage and correct power output
Replace topside control
Spaside Control Panel Buttons Not Working Correctly
Check for moisture under glass or on contacts
Check cable for any rodent damage, crimping or melting
Clean plug-in cable connections at both ends
Membrane or touch pad buttons may be faulty
Inspect circuit board for damage and correct power output
Replace topside control
Bottom line is - it could be a bad spaside control panel, or it could be a bad spa control board, or a bad cable that runs between the control panel and the control board. Or it could be fuse on the circuit board or the transformer, not sending the correct power to the topside panel. If you recently replaced the topside control panel and are having issues, check that your topside control panel is compatible with your circuit board and chip revision number.
If you need help identifying the correct topside control panel to use with your spa controller, first check the backside of the topside control for a part number. If that is missing, open up the controller and write down all the numbers on the circuit board, including the main chip number, and give us a call, we can help you get the right topside, or advise further on your topside control troubleshooting process.
Leslie's makes every effort to provide accurate recommendations based upon current ANSI/APSP/ICC-5 2011 (R2022) standards, but codes and regulations change, and Leslie's assumes no liability for any omissions or errors in this article or the outcome of any project. You must always exercise reasonable caution, carefully read the label on all products, follow all product directions, follow any current codes and regulations that may apply, and consult with a licensed professional if in doubt about any procedures. Leslie's assumes no legal responsibility for your reliance or interpretation of the data contained herein, and makes no representations or warranties of any kind concerning the quality, safety, or suitability of the information, whether express or implied, including, without limitation, any implied warranties of merchantability or fitness for a particular purpose.