Troubleshooting Spa Circuit Boards
Printed Circuit Boards, often abbreviated PCB, are the brain of a spa controller system, allowing intelligent switching on/off of spa components from a user friendly topside control panel.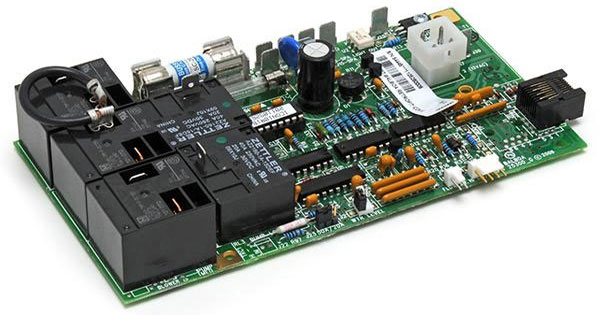 Circuit boards control your spa components (pumps, heater, blower, light, ozone) and apply the chip programming which controls safety circuits, user interface and operation modes for the spa. Hot tub circuit boards handle all of the spa program modes, monitors the operation of spa equipment, and most importantly, keeps the spa hot and ready to use.
To allow the spa user to communicate with the board and vice versa, a compatible topside control panel is used to view spa component status indicators, program modes, water temperature and error messages. Circuit boards and topside control panels must be compatible with each other, in order to communicate.
Circuit Board Troubleshooting Tip #1 - It's Not Usually the Circuit Board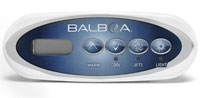 9 times out of 10, when your topside control panel has gone out-of-control, or one of your pumps, or heater stops working, it's not a circuit board problem. It's most often a problem with the topside control panel, and when it's not, it's a problem with the transformer, or a blown fuse, a tripped circuit breaker, or a problem with the component, like a bad pump or blower motor or a bad heater element.
Circuit Board Troubleshooting Tip #2 - What Does the Topside Panel Say?
If you have no display on your topside control panel, check the cable for damage, following it right to where it plugs in, on the circuit board. Unplug it from the board and the low-speed pump will come on within 1 minute, on both systems. If that doesn't happen, either the pump or the circuit board is bad.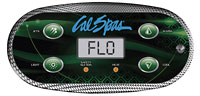 If you do have a display visible on the topside panel, what does it say? You can find common spa error codes for spa controls on our blog, or consult your spa owner's manual. FL, FLO or --- codes refer to low water flow, Sn, SnS or Sens refer to high limit or temp sensors, OH or HOT refer to overheating.
Aside from error codes, an important clue for spa troubleshooting is - when you turn on a component (heater, pump, light...) on the topside panel, does the indicator also turn on? An icon or indicator light should display, when you activate any component on your spa. If not, the trouble is with the topside control, but if you do see the icon/light come on, but the pump/heater/blower/light is not actually working, the issue could be with the spa component, or the spa circuit board.
Circuit Board Troubleshooting Tip #3 - Testing a Spa Circuit Board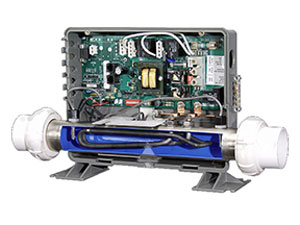 So assuming that your topside control panel is operating properly, and there are no error messages that indicate a water flow issue, overheating issue or other potential issue, the next step is to put your eyes on the circuit board itself.
First, cut off the power to the spa, then open up the Spa Controller, usually located under the spa, above the heater. You should be able to find the screws that allow you to remove or open the control box cover, to access the circuit board.
When you first see it, it's a confusing array of resistors, relays, capacitors and wires. The longer you stare at it, you'll begin to see where the power come into the terminal block, and where the heater connects to the board. You can also see where the other spa components are connected. A large square or rectangle computer chip is usually central, marked with the chip number and a date code. Circuit boards also often have indicator lights that can provide a clue that may not be displaying on the topside control.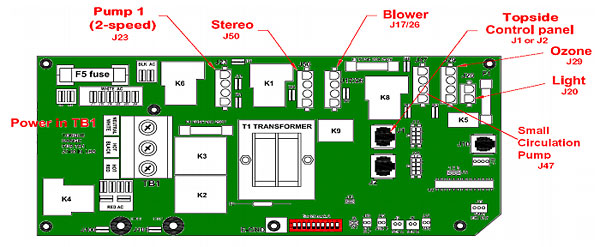 Take a long look at your circuit board to inspect for any signs of burning, melting or cracking. Often you can smell a burnt circuit board. Check all of the bits on the board for any signs of damage, looking closely also at the wire or cable connection points on the board. Check that all the wire connections are tight, and look for any signs of water damage to the board. Some damage may be only visible on the opposite side of the board.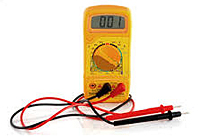 Transformers and fuses are often mounted directly on spa circuit boards. A transformer changes voltage (transforms it) to a lower voltage, whatever is needed to power the circuit board. Fuses are in place to protect your circuit board from irregular voltage, and if your fuses are blown, check all contacts, the GFCI, and incoming voltage.
Transformers and spa fuses can both be tested with a multi-meter, set on 220V for the transformer, and set on the lowest Ohms setting for fuses, to check for continuity. You can also test across the incoming terminals to verify transformers and fuses all at once. With power off, and meter set to the lowest Ohms setting, place one meter probe on L1 (line 1), and the other meter probe onto Neutral. On 120V wired boards, you should get about 20 Ohms, or 40 Ohms for 220V wired boards.
Circuit Board Troubleshooting Tip #4 - Replacing a Spa Circuit Board
If you find that your circuit board is damaged, pay close attention to where it was damaged, and think hard about why it was damaged. Common causes are loose wire connections, loose heater connections especially, insect or rodent damage, water damage, or relay or transformer failure. As mentioned above, blown fuses may seem like you dodged a bullet, but you still want to find out what caused fuse failure, or it may happen again.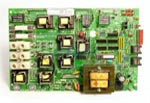 When replacing hot tub circuit boards, the most important thing is to make sure that you have the correct part number, serial number and chip number revision. Many boards are compatible with one another, however many spa circuit boards that look identical, are not. Most circuit boards are printed with the part number, and the chip number. If you have any doubt, call our spa techs to help you order correctly because, once a circuit board is removed from the sealed anti-static bag, they are non-returnable!
With the correct replacement spa circuit board in hand, you can carefully replace it into the control box, being careful to handle it only by the edges. Wire connections should be firmly connected, and heater wires should be torqued to 35 lbs, to prevent vibration problems. Be sure to correct any issues with moisture, insects or wiring that led to the original circuit board failure.
Bonus Tip - if facing replacement of your spa circuit board, consider replacement of the entire spa controller. Spa Controls are not much more (maybe double the cost) than the cost of a circuit board, but you also get a new heater and topside control.
Leslie's makes every effort to provide accurate recommendations based upon current ANSI/APSP/ICC-5 2011 (R2022) standards, but codes and regulations change, and Leslie's assumes no liability for any omissions or errors in this article or the outcome of any project. You must always exercise reasonable caution, carefully read the label on all products, follow all product directions, follow any current codes and regulations that may apply, and consult with a licensed professional if in doubt about any procedures. Leslie's assumes no legal responsibility for your reliance or interpretation of the data contained herein, and makes no representations or warranties of any kind concerning the quality, safety, or suitability of the information, whether express or implied, including, without limitation, any implied warranties of merchantability or fitness for a particular purpose.