Testing Spa or Hot Tub Heater Elements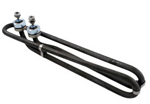 Good heater elements between 4.0 and 5.5kw should have the following results:
9–12 ohms of resistance
Good continuity
Draw 15-25 amps at 240v
You test the element by using an Ohm meter, or any multi-meter will work also. Just place it on Ohms, at 1000, and place your test leads on each of the terminals (power to spa heater should be off). As mentioned above, a measurement of 9-12 Ohms of resistance usually indicates a good element.
To test for voltage, use an Amp meter, and use your test leads to measure the amp draw for the element. Excessive amp draw indicates a bad element, and no amp draw indicates that no power is reaching the terminals.
Poor spa chemistry can harm your spa heater elements, as can operating without water flowing over the element (which the pressure switch is designed to protect against).