Testing Spa or Hot Tub Heater Elements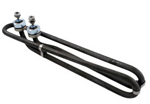 Good heater elements between 4.0 and 5.5kw should have the following results:
9–12 ohms of resistance
Good continuity
Draw 15-25 amps at 240v
You test the element by using an Ohm meter, or any multi-meter will work also. Just place it on Ohms, at 1000, and place your test leads on each of the terminals (power to spa heater should be off). As mentioned above, a measurement of 9-12 Ohms of resistance usually indicates a good element.
To test for voltage, use an Amp meter, and use your test leads to measure the amp draw for the element. Excessive amp draw indicates a bad element, and no amp draw indicates that no power is reaching the terminals.
Poor spa chemistry can harm your spa heater elements, as can operating without water flowing over the element (which the pressure switch is designed to protect against).
Leslie's makes every effort to provide accurate recommendations based upon current ANSI/APSP/ICC-5 2011 (R2022) standards, but codes and regulations change, and Leslie's assumes no liability for any omissions or errors in this article or the outcome of any project. You must always exercise reasonable caution, carefully read the label on all products, follow all product directions, follow any current codes and regulations that may apply, and consult with a licensed professional if in doubt about any procedures. Leslie's assumes no legal responsibility for your reliance or interpretation of the data contained herein, and makes no representations or warranties of any kind concerning the quality, safety, or suitability of the information, whether express or implied, including, without limitation, any implied warranties of merchantability or fitness for a particular purpose.