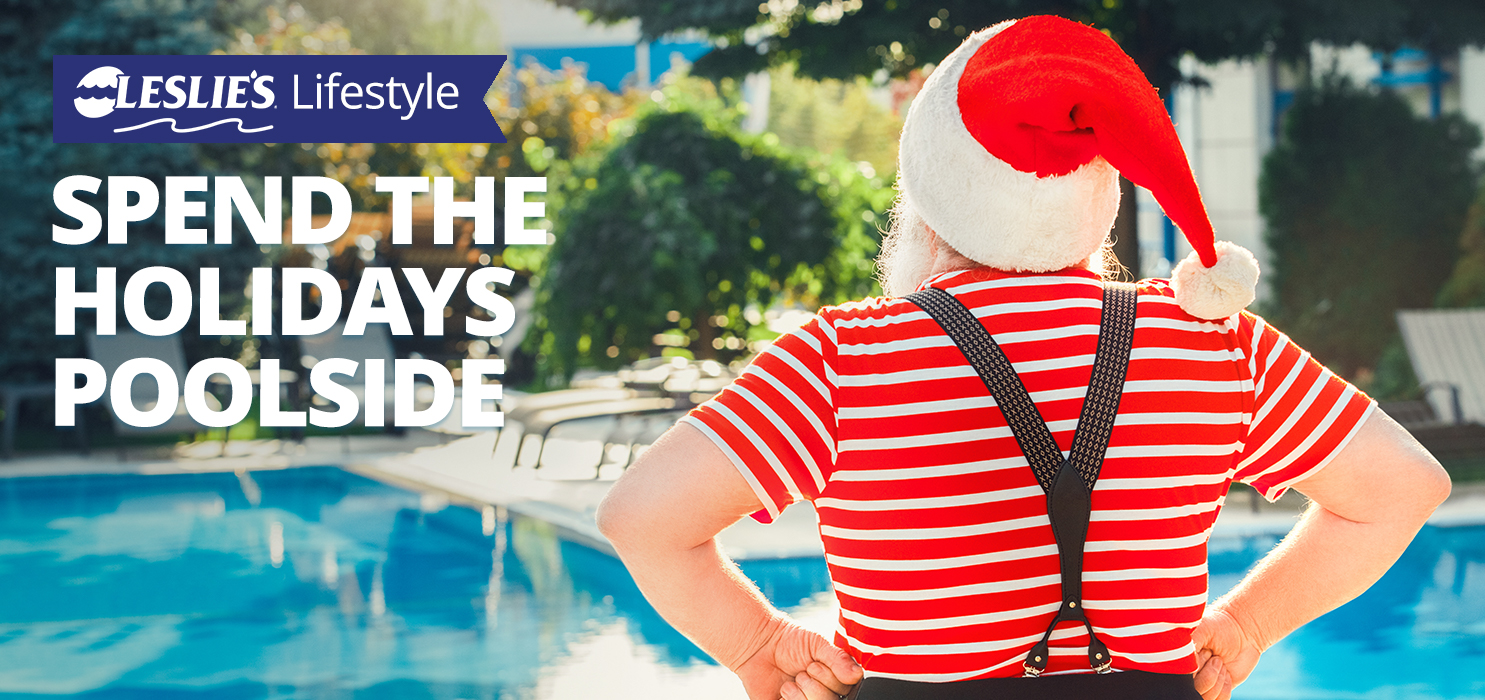 Spend the Holidays Poolside
Even if your pool is closed for the winter, that doesn't mean you can't spend quality time around the pool with those in your household. If you live in the warm sun belt and have a pool heater, you're all set! If you live in the snow belt, you may have to get a little creative, but it's still entirely possible. No matter what your situation may be, we have some fun and easy ways to celebrate the holiday season poolside.
WARM CLIMATES
Those in warmer climates have a little more flexibility when it comes to spending the holidays around the pool at home. A pool heater (or heat pump) and a solar cover are all you need to keep the water comfortable year-round. But even if the pool is closed, you can still enjoy the outdoors with a decorative fire pit, some comfortable patio furniture, a few festive decorations, and a couple of outdoor games and activities. Here are some ideas to transform your backyard into a winter wonderland.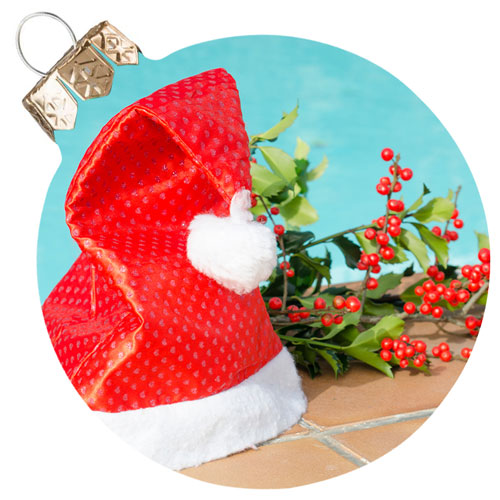 Deck the Halls...and the Pool Deck
You've already decorated the house. Why not decorate the pool and patio to match? Twinkling strands of lights look breathtaking in the nighttime reflections of a still and quiet pool. Drape some lights and holiday garlands around the edge of the pool or along the top of the pool fence for some extra holiday pool pizzazz. Wrap some lights around the tree trunks surrounding the deck for dramatic effect. Or, if you're looking for a quick and easy solution, just set up a lighted Christmas tree on the patio, and drop a couple of floating lights in the water.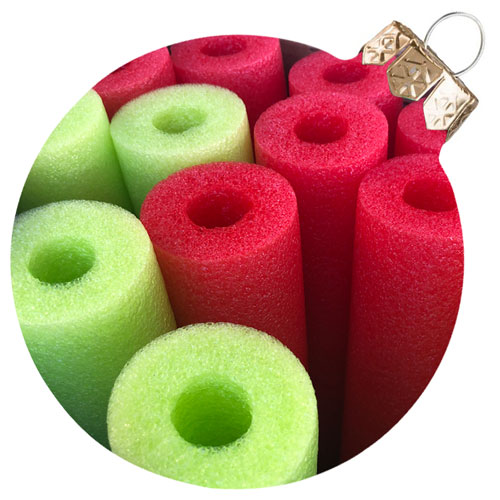 Use Your Noodle
Exercise your creativity and make holiday decorations out of pool noodles. Take a red pool noodle and wrap it with wide white ribbon or white masking tape to look like candy cane stripes. To make the cane shape, curl one end over, and secure it with clear fishing line.
To make a colorful garland, cut 1" or 2" slices of different colored pool noodles. Then string them together in alternating patterns along a section of rope. For a cute elf, fold a pool noodle in half, and stick a festive hat over the fold. Then add some cute stockings and elf shoes (you can make these out of felt or extra sections of pool noodles) to make the ends of the noodles look like legs. As another idea, you can even tape a noodle (or two) in a circle for the beginnings of a large holiday wreath. The options are endless, and Pinterest has tons of great ideas.
Yule the Pool
A poolside holiday is not complete without some decorations in (or around) the water. Set a few pretty wrapped boxes (with or without presents inside) atop a pool float in the middle of the pool. Blow up some red and green balloons to float on the surface, or use white balloons and styrofoam balls to mimic snowballs. Glue the tops of some round ornaments to make them water-tight, and toss them in the water to float around. Be sure you only use plastic ornaments around the pool, though. Glass ornaments can shatter and become a hazard.
Speaking of ornaments, you can create a holiday diving game with little more than a miniature tree and a few plastic ornaments. Weight the base of the tree so it sinks to the bottom, and fill the ornaments with aquarium rocks and water so they won't float to the top. To play the game, swim to the bottom of the pool, and decorate the tree one ornament at a time. Fastest time to decorate the tree with all the ornaments wins!
COLD CLIMATES
If it's cold and blowing snow outside your window, the last thing you probably want to think about is spending the day outdoors, let alone playing in the pool. But there are options!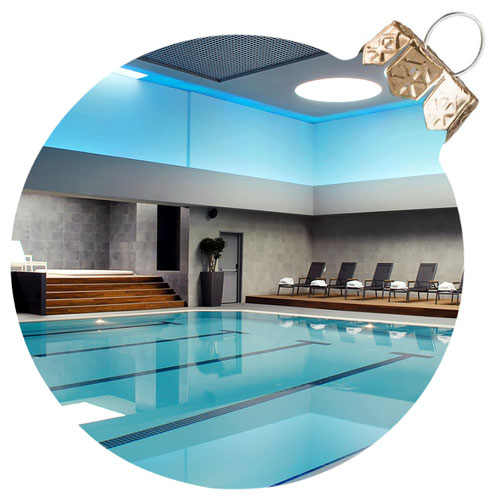 Oh, The Weather Outside is Frightful
When it's too cold to swim outside, swim inside! Look online to find a nearby indoor pool that can be rented for private events or can accommodate small family groups. Most often, these types of pools are found at a fitness club or an indoor water park. Some hotels and resorts also have indoor swimming options, making them perfect for a poolside staycation.
Some locations may even have conference or event rooms available for private games, activities, and meals. Rather than staying home this year, going to an indoor pool can be a fun and easy way to do something out of the ordinary with the whole family. This time of year is especially popular for indoor pools, and most places will have special hours over the holidays, so call ahead to confirm your reservation.
Kiddie Pool Christmas
If a public indoor swimming pool is out of the question, try something inside your own home. Does your basement or garage have a drain installed in the floor? If so, you may be able to set up a kiddie pool for them to splash around in. Young children will get a big kick out of this unique playtime idea, especially in the middle of winter when outdoor playtime is scarce. Use some of the decoration ideas above to create a holiday oasis in the comfort of your own home. Oh, and don't forget to crank up your favorite holiday music playlist! A small waterproof speaker is perfect for this type of setup.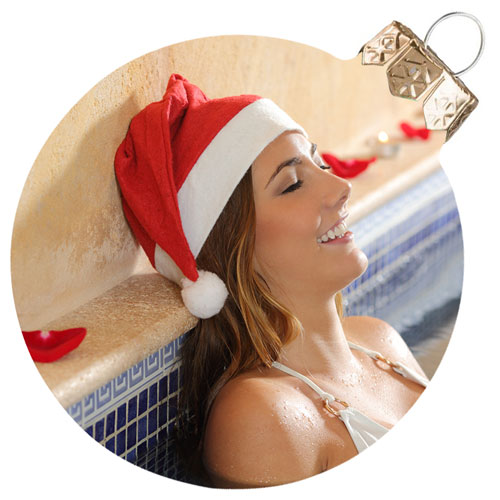 Ho-Ho-Hot Tub
Spas and hot tubs get more use in the fall and winter than they do any other time of year. Why not use it through the holidays? If you're entertaining guests this year, they may enjoy the opportunity to relax and enjoy the spa, also!
Enhance the atmosphere with your favorite aromatherapy fragrance, whether fresh and fruity or crisp and minty. If you wear a hat to keep your head warm outdoors, turn up the festivity and make it a Santa hat. 'Tis the season, after all! Does your spa have different colored light settings? Then turn on the red and green to really get into the holiday spirit. If you're feeling extra festive, add a decorative garland around the outside of the spa or drape it across the spa cabinet. A few holiday-scented candles near the spa can also boost relaxation and help set the mood of your holiday party.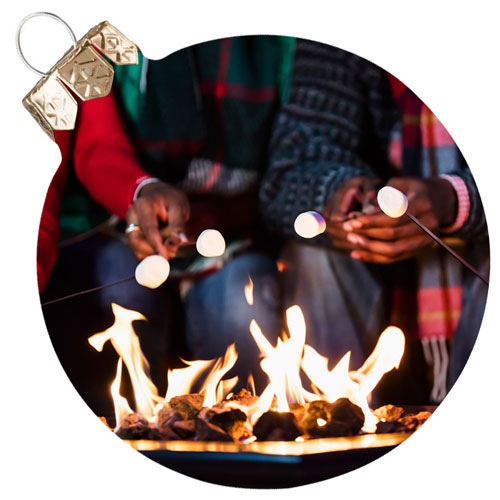 Chestnuts Roasting on an Open Fire
If you're lucky enough to have decent weather around the holidays, a fire pit or patio heater can make it more comfortable to sit outside and enjoy eggnog, cider, or hot cocoa with family. Blast the holiday music over your Bluetooth speakers, and let those sleigh bells ring! Don't forget the chocolate, marshmallows, and graham crackers; no fire pit gathering is complete without some tasty s'mores.
---
No matter what your plans for the holidays may be, always be safe. Exercise pool safety at all times, and follow state and local guidelines to help fight the spread of COVID-19. From all of us at Leslie's, we wish you a very happy and safe holiday season!
If you have any questions about maintaining your pool through the winter, we're happy to help. Feel free to visit with our friendly associates at your local Leslie's store.
Leslie's makes every effort to provide accurate recommendations based upon current ANSI/APSP/ICC-5 2011 (R2022) standards, but codes and regulations change, and Leslie's assumes no liability for any omissions or errors in this article or the outcome of any project. You must always exercise reasonable caution, carefully read the label on all products, follow all product directions, follow any current codes and regulations that may apply, and consult with a licensed professional if in doubt about any procedures. Leslie's assumes no legal responsibility for your reliance or interpretation of the data contained herein, and makes no representations or warranties of any kind concerning the quality, safety, or suitability of the information, whether express or implied, including, without limitation, any implied warranties of merchantability or fitness for a particular purpose.