Spa & Hot Tub Plumbing Fittings Explained
Spa and hot tub plumbing fittings are made of PVC or ABS, and are those bits of spa plumbing that are used to connect the sections of pipe running from the skimmer and drain, thru the pump, filter and heater, and back again through the spa jets, in just a matter of seconds.
Today I'll explain spa and hot tub plumbing fittings, with pictures and words, so that you can identify them, and know when to use them, on your next spa repair.
90's - The classic elbow fitting is available in 3 sizes. With SlipxSlip, aka "SocketxSocket", the pipe goes on the inside. SlipxSpigot has one side that glues into a union, adapter or coupling, and the SpigotxSpigot 90 degree elbow is 'slip male' on both sides.

45's - Half an elbow, the 45 degree elbow is used a lot on octagonal spas, and two 45's can be used in place of one 90° fitting, with less resistance. Like the 90's, they are available in 3 flavors, to suit almost any repair situation, where 1/2 an inch matters.

Air Intake Fittings - You'll find these connected to a pipe or hose that connects to an air intake valve. These versatile side outlet 90 with 3/4" side port are also used to direct water to smaller jet lines.

Sweep Elbows provide less resistance to the flow of water than regular 90 degree fittings, and are often found installed on the exit of the spa pump. Sweep elbows are SxS, or use the versatile street sweep 90, which glues directly into a pump or heater union.

Pump Unions are a half union really, just the tailpiece with o-ring and the lock nut. The most common size is 1.5", followed by 2", but larger and smaller are also available. A split nut union, shown below, is held in place by two small screws, after being screwed or placed into position. Union o-rings and locknuts are sold separately.

Pipe Couplings are used to join together sections of pipe or hose. SxS couplings are glued around the pipe, while insert 'pipe extender' fittings are glued inside of a pipe and inside of a coupling, for no-space repairs. Barbed fittings are primarily used inside of hose lines to connect them together.

Check Valves - one way flow valves that keep water (or air) traveling in only one direction. Check valves protect a spa blower, or prevent cycling of water in loops. They often fail under normal conditions.

Spa Valves or Hot Tub valves if you prefer, control the direction and flow rate of the spa water. Some valves handles turn left or right, some pull up and down or spin all the way around. Spa valves can fail over time, some can be serviced others are replaced whole.

Spa Unions or the complete union, as shown below right, join two sections of pipe, usually located on either side of spa equipment like the pump, heater or filter. Half unions, as shown left, are also called pump unions, and also used on spa heaters.

Spa Manifolds are some of the most interesting designs, used to split water or air into smaller branches, terminating at a spa jet or air bubble zone. Highly specialized, but many spa manufacturers use the same ones. We carry over 50 different spa plumbing manifolds.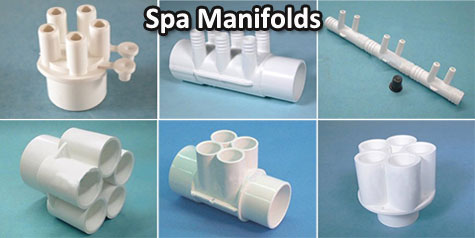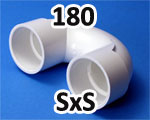 180 fittings are used in a spa blower plumbing, specifically for the Hartford Loop, employed on the air line attached to the blower, which takes a vertical run up 2 ft, then 180's and comes back down to connect to the pipe again. Used to help keep water out of the blower.
If you didn't have a 180° fitting, you could of course, use two 90 fittings, or four 45's, but spa builders like this handy fitting, which has really only one use.
We have other plumbing fittings besides these listed here for spa and hot tub plumbing. I hope you enjoyed reviewing these fittings, you are now more qualified to do your own spa plumbing repairs!
Leslie's makes every effort to provide accurate recommendations based upon current ANSI/APSP/ICC-5 2011 (R2022) standards, but codes and regulations change, and Leslie's assumes no liability for any omissions or errors in this article or the outcome of any project. You must always exercise reasonable caution, carefully read the label on all products, follow all product directions, follow any current codes and regulations that may apply, and consult with a licensed professional if in doubt about any procedures. Leslie's assumes no legal responsibility for your reliance or interpretation of the data contained herein, and makes no representations or warranties of any kind concerning the quality, safety, or suitability of the information, whether express or implied, including, without limitation, any implied warranties of merchantability or fitness for a particular purpose.