Spa & Hot Tub Owner's Manuals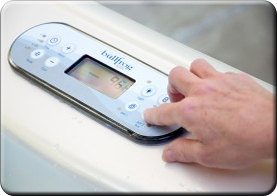 Your spa owner's manual is an important piece of literature, detailing safety information, installation instructions, and covering every aspect of use, care and maintenance for your spa or hot tub.
Spa manufacturers write some of the most detailed owner's manuals that I've ever read. I've been curating spa and hot tub owner's manuals for many years, but now they sit dusty on the shelf, as most manufacturers have their owner's manuals listed online.
Here's an extensive reference sheet on where to find owner's manuals for a spa. Use these as guides for use, care and troubleshooting information. They also usually contain the spa warranty policy, in the appendix of the owner's manual.
Dreammaker Spas Owners Manuals
Grecian Spas Installation Manual
Gulf Coast Spas Owner's Manuals
Hot Spring Spas Owner's Manual
HydroPool Hot Tubs Product Manuals
Jacuzzi Hot Tubs Owner's Manuals
PDC Spas Owner's and Installation Manual
Shoreline Spas Operator's Guide
Softub Manuals and Instructions
Spa-N-A-Box Installation Guide
Sweetwater Spas Installation & Owner's Manual
Tiger River Spas Owner's Manual
Wow! - that was quite a list of spa and hot tub owner's manuals - not the most attractive layout, but easy to find the spa owner's manual that you need. If you need help finding an owner's manual for your spa that is not listed here - it may not be available.
Leslie's makes every effort to provide accurate recommendations based upon current ANSI/APSP/ICC-5 2011 (R2022) standards, but codes and regulations change, and Leslie's assumes no liability for any omissions or errors in this article or the outcome of any project. You must always exercise reasonable caution, carefully read the label on all products, follow all product directions, follow any current codes and regulations that may apply, and consult with a licensed professional if in doubt about any procedures. Leslie's assumes no legal responsibility for your reliance or interpretation of the data contained herein, and makes no representations or warranties of any kind concerning the quality, safety, or suitability of the information, whether express or implied, including, without limitation, any implied warranties of merchantability or fitness for a particular purpose.