Spa Error Codes - Sn, SnS, Sn1, Sn2…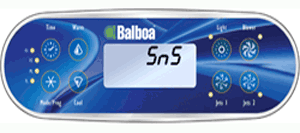 Continuing in my little series on spa and hot tub error codes or trouble codes, today we take a look at Sensor Errors.
These will present themselves in many forms on the display, such as Sn, Sn1, Sn2, and they refer to temperature sensors located on the heater manifold. The controller display is telling you that either the high limit or the temp sensor are open or shorted. There also could be a voltage problem, excessive voltage creates heat. Or, it could be a problem with the thermostat allowing the heater element overheat.
Like our previous discussions on spa error codes, FLO and OH, the sensor codes Sn, Sn1, Sn2... are very much water flow dependent. If water is not flowing through the heater chamber fast enough, it gets too hot, and the safety high temp sensors go into action - just doing their job.
Spa Error Codes: Sn, Sn1, HL, E2, E3, Prh
For these trouble codes, the high limit sensor is open or shorted. It could be a loose plug connection or bad wire, or it could be a problem related to water flow. Clean or replace your spa filter cartridge as a first step. Make sure that all jets are open, and nothing is blocking the spa drain cover flow. Underneath the spa, check that all valves are open (handles up). If the flow rate still seems less than normal with all jets and valves open, you may consider inspecting for broken valves (closed when they appear to be open), clogged impeller inside the pump wet end, or something stuck in the skimmer pipe. Of course, be sure that you don't have a pump air lock, and that the spa water level is filled high enough.
Spa Error Codes: Sn, Sn2, Sn3, EO, E1, Prr
With these spa sensor codes, the Temperature Sensor is open or shorted. The temp sensor and the high limit are usually located on the heater housing, with 1-2 small wires coming off and connecting to your controller. With the system powered off, you normally unscrew the sensors from the heater manifold, and unplug the wire from the panel. Inspect the wires for any heat or rodent damage, and the sensor face for corrosion or scaling. However, the usual cause for spa temp sensor error codes is that the water flow is insufficient, and when water moves too slowly through the heater, it doesn't remove the heat fast enough, which triggers all sorts of error codes for flow rate and overheating. HOT, OL, HL, FLO, Sn...
SPA TEMPERATURE SENSOR ERROR CODE FLOW CHART
Here's a Cal Spa troubleshooting chart for when your spa topside display shows a sensor error code Sn, Sn1, Sn2, Sn3... As you can see, it could be a nuisance tripping, or the wires could be absorbing excess heat, need calibration, or simply be faulty.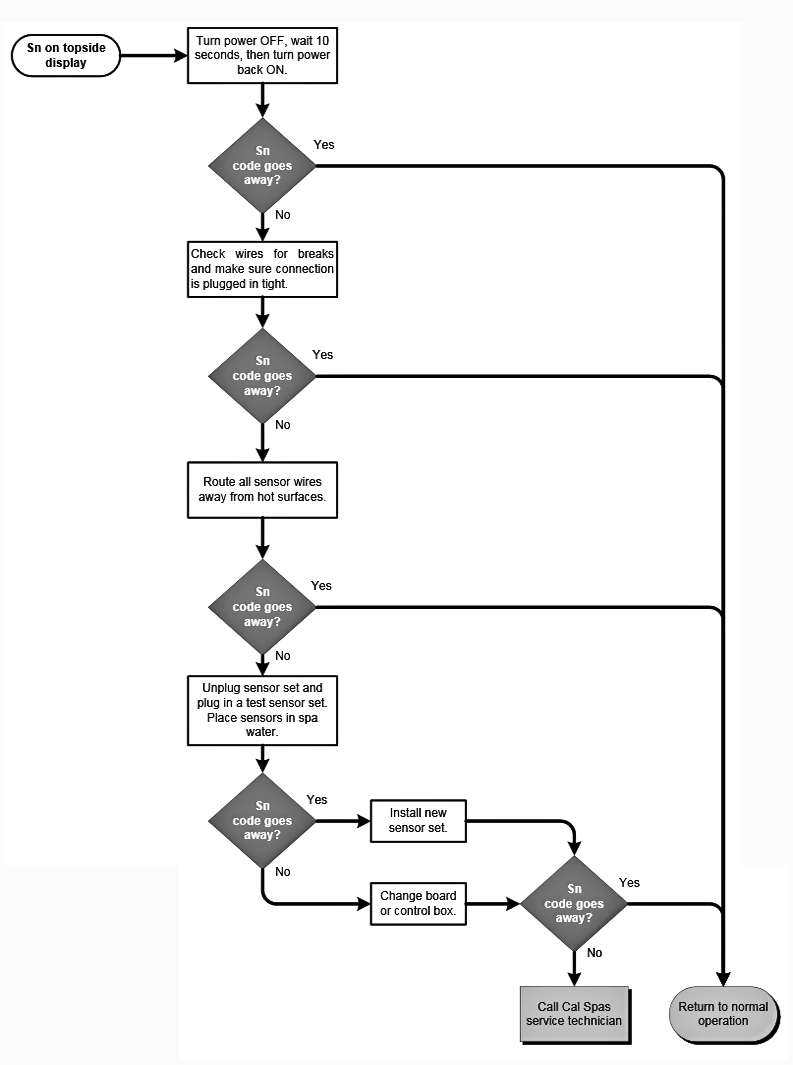 In addition to the Sn, Sn1, Sn2 type of error codes, other codes for Smart Sensor spas, such as SA, Sb, SnA, SnB error codes are used on many spas and hot tubs. These are similar to the Sn1 and Sn2 codes, signaled from the high limit or water temperature sensors.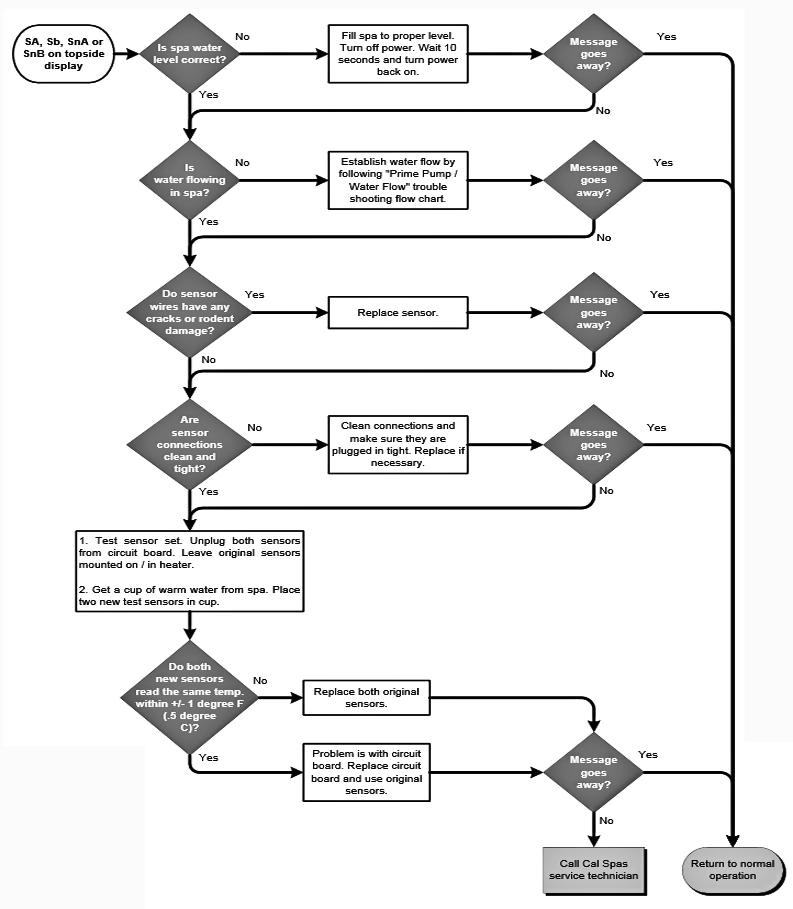 In summation; when you have spa trouble codes of Sn, SnA, Sn1, Sn2. Sn3, HL, EO, E2, E3, Prh, Prr - these all refer to the heat sensors that are usually attached to your heater manifold. Inspect the wire and plugs, check the spa water level, and make sure water is flowing free and fast. If you confirm all those things, and it still throws an Sn error at you, test the sensor as described above; it may be faulty.
Leslie's makes every effort to provide accurate recommendations based upon current ANSI/APSP/ICC-5 2011 (R2022) standards, but codes and regulations change, and Leslie's assumes no liability for any omissions or errors in this article or the outcome of any project. You must always exercise reasonable caution, carefully read the label on all products, follow all product directions, follow any current codes and regulations that may apply, and consult with a licensed professional if in doubt about any procedures. Leslie's assumes no legal responsibility for your reliance or interpretation of the data contained herein, and makes no representations or warranties of any kind concerning the quality, safety, or suitability of the information, whether express or implied, including, without limitation, any implied warranties of merchantability or fitness for a particular purpose.