Spa Cover Lifter Repairs
Broken spa cover lifter? Not to worry! Cover lifts can often be repaired if you have the time and inclination. Sure, a new hot tub cover lifter is only one to two hundred bucks. But if you're looking for a cheaper alternative or would prefer to just fix the broken piece, many damaged spa cover lifters can be repaired quickly and easily.
Damage to spa cover lifters can happen in any number of ways. It may result from water logged covers, improper use, acts of God, or general wear and tear from daily use. Spa cover lifter repairs usually involve the mounting system, the lift assist system, or the pivot arms that support the cover.
Bonafide replacement parts for spa cover lifters can be scarce or unavailable in some cases. When this happens, you may have no option but to replace the damaged spa cover lifter with a new one. Sometimes, you might even be able to find suitable replacements for basic parts at your local hardware or home store.
Spa Cover Lifter Mounting System Repairs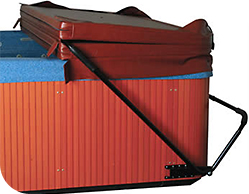 If you have an undermount spa cover lift – meaning one with a metal plate that slides under the spa – you complications that require a repair are rare. Spa cover lifters that screw into the spa cabinet via a mounting bracket are subject to more common issues. They can suffer broken brackets, stripped screws, or even cracked bushings. It's recommended to tighten spa cover lifter bracket bolts and check connections at least twice per year.
When the cabinet wood begins to rot and there are soft spots in that area, you'll need to get creative. Consider if you can remount the bracket on the opposite side of the spa. If so, you can empty and turn the spa to remount the brackets. If not, consider adding a mounting strip to the spa cabinet. Glue and screw a 2x4 piece of finished and stained wood or composite material from one end of the spa to the other. On either the top or side of the strip, remount your brackets according to the manufacturer's installation instructions. You might also consider replacing the cabinet skirt.
Broken or bent mounting brackets, bushings, or pivot points attached to the mounting system will put tubes out of alignment and create stress on attached parts. Some metal brackets can return to working shape with the help of a vice and a small torch to heat the metal. But if this isn't an option, replacement brackets are generally available online.
Fixing a Spa Cover Lift Assist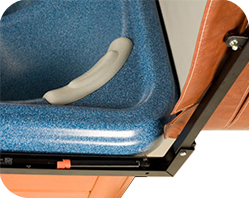 Many spa cover lifters utilize a gas shock, also known as a gas spring or gas prop. Although these may look the same as the one on your storm door or hatchback, they're not. Gas shocks come in many different diameters, lengths, and piston output forces, and they also have different end fitting types. Unfortunately, not all spa cover lift manufacturers use the same shock for their lift assist systems. Most are different, and are specific to the model of spa cover lifter.
Generally, you will need the exact OEM shock for your specific lift. But if you are having trouble finding the factory replacement gas shock for your spa cover lift, you could take the shock into an auto parts store to see if they can match it up exactly with another part. No matter where you find your gas shock replacement, they are usually sold in sets of two. If you're replacing one, you might as well replace both so that their piston force and size will match.
Other cover lifters may have lift assist in the form of a fulcrum device. Heavy winds or accidents can topple a cover while it's in the up position, which will often bend the bend of the fulcrum. Heavy wind or cover accidents can be especially hard on joints, pivot points, and fulcrums.
Spa Cover Lifter Arm Repairs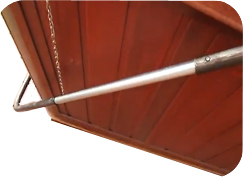 The arms of your spa cover lifter – those pieces that go alongside the spa and over the hinge/fold of your spa cover – can easily be the most fragile part of your spa cover lifter. Heavy, soggy spa covers cause the tubes to sag under the weight. Strong winds, as mentioned above, can also do damage, especially for covers that are stored in a vertical position above the spa.
If your tubing or spa cover lift arms become bent or crimped, you can sometimes find replacement parts directly from the manufacturer or the dealer you purchased it from. If you can't locate replacement parts and don't want to buy a new lift, some spa cover lifter arms can be replaced with steel or aluminum tubing of a very similar diameter. Steel or PVC electrical conduit of slightly smaller or larger diameter could be measured, cut, inserted, and screwed together to replace bent portions of the pivoting arms or connecting tubes.
---
Spa cover lifter repairs are usually successful, if you use the right materials and take your time. However, OEM (original equipment manufacturer) parts can be pricey, so you'll to weigh the costs of repair parts, vs. buying a new identical cover lift and using the old lift for future spare parts.
If you haven't been really satisfied with the performance of your current cover lifter and are facing a repair, maybe now is the best time to look at other cover lifter models. We have several spa cover lifts to choose from that will accommodate many spa shapes and cover thicknesses.
Leslie's makes every effort to provide accurate recommendations based upon current ANSI/APSP/ICC-5 2011 (R2022) standards, but codes and regulations change, and Leslie's assumes no liability for any omissions or errors in this article or the outcome of any project. You must always exercise reasonable caution, carefully read the label on all products, follow all product directions, follow any current codes and regulations that may apply, and consult with a licensed professional if in doubt about any procedures. Leslie's assumes no legal responsibility for your reliance or interpretation of the data contained herein, and makes no representations or warranties of any kind concerning the quality, safety, or suitability of the information, whether express or implied, including, without limitation, any implied warranties of merchantability or fitness for a particular purpose.