Replacing a Wet End on a Spa Pump
Wet End Replacement - a wet end is the part of your spa pump that gets wet - the volute halves, and inside, the impeller and shaft seal. It's sold as a complete unit, for quick field replacement, in the case of volute, impeller or seal failure.
Here's a quick change wet end for the 56 frame Ultramax spa pump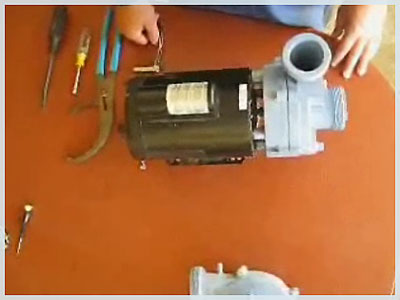 What you want to do is take all five bolts out of the volute, and remove the volute, or impeller housing from the front of the wet end. Some models may have only 4 bolts, some have six.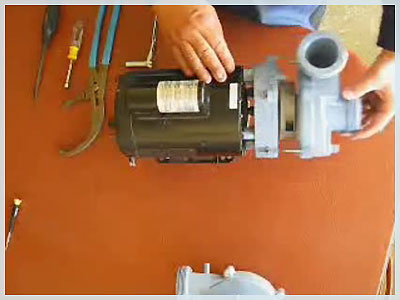 Take a slotted screwdriver, and insert it into the rear of the motor shaft (you may have to remove a cover plate), to hold the shaft stationary. Now spin off the impeller (counter clockwise). If it's stubborn, you can use a pair of large Channel Lock type pliers, to assist in removing the impeller from the shaft. It can also be helpful to have a second person hold the screwdriver (or wrench) on the rear of the motor shaft.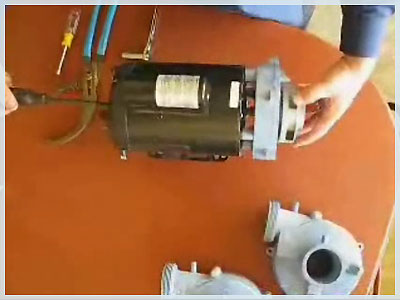 Once the impeller is removed, you need to take note of the color bands on the impeller, that dictates the horsepower of the impeller, which should match the motor hp, and match your new wet end as well.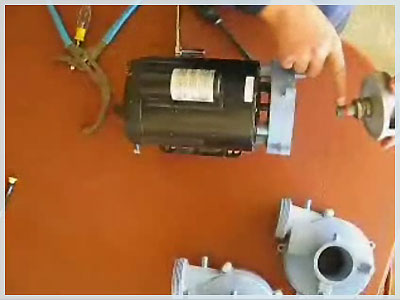 Now you want to remove all four motor bolts by loosening with a 5/16" nut driver and release the tank from the motor. If the motor shaft is rusty, dusty or crusty, clean it up with some sandpaper.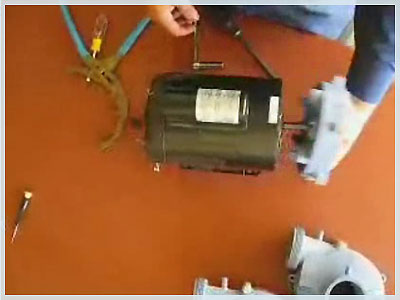 Your replacement seal will come already in place inside your new wet end - you want to make note that you have the right color bands, which will dictate the horsepower for this particular motor.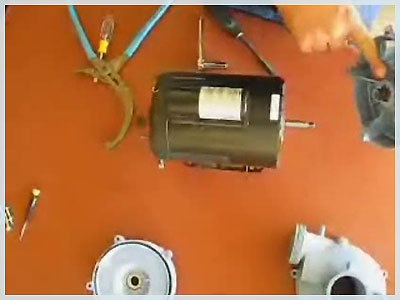 Position the new wet end over the shaft, in the same orientation as your previous wet end (pointing either up, or to the side).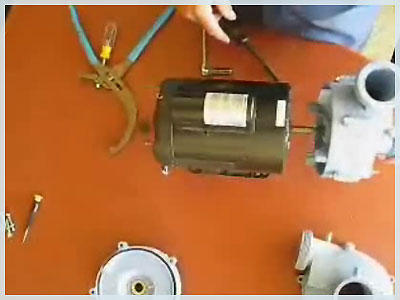 Use a slotted screwdriver on the back of the motor shaft and turn the shaft, pulling tight the new wet end against the motor, threading the shaft into the impeller and compressing the spring.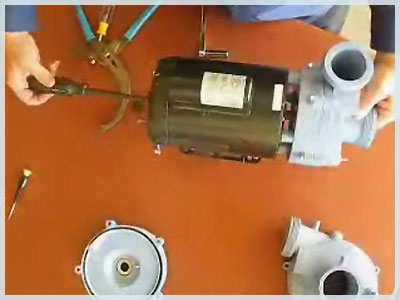 Insert the motor bolts and tighten them all the way by hand, and then use a 5/16" nut driver to tighten them up in a harmonic cross pattern. Now reach in the front of your new wet end, and be sure that the impeller spins freely.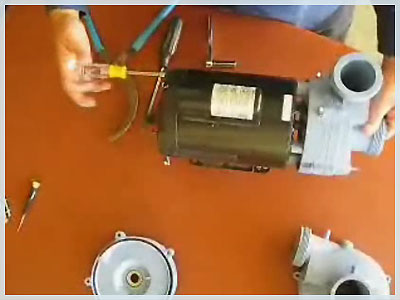 Reconnect the wiring and the union connectors, and your wet end replacement is complete!