Preventing Freeze Damage to a Spa or Hot Tub
Freeze damage is when water freezes and expands inside of spa pipes or spa equipment, like your filter, pump or heater. Water expands about 10% when it freezes. For pipes or equipment that have a small amount of water inside, unused space inside the pipe allows for some ice expansion.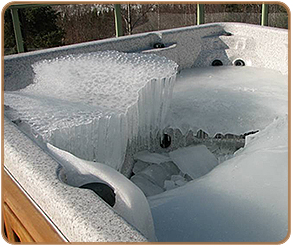 When pipes, pumps or filters are more than half full of water, there is little room for expansion, and even very thick materials can burst from the ice pressure inside.
Today's lesson centers on how to avoid freeze damage in a spa or hot tub, which can be a complicated and expensive spa repair, and in some cases, could 'total' the spa, with repair costs of thousands of dollars.
There are 3 ways to prevent freeze damage in a spa or hot tub.
1. Winterize the Spa
We don't recommend that you winterize your spa, unless you are sure that it won't be used for at least 3 months, or it cannot be maintained (at a vacation home, for example).
Winterizing the spa is a process that takes a few hours to drain all of the water from the spa, and use air to 'blow the lines', to force water from the pipes, hoses and equipment.
2. Use Freeze Protection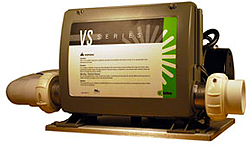 Modern spas packs will have a freeze protection mode on the spa that will turn on the circulation pump when temps get close to freezing. If you don't see this available in your control options for the spa, you may not have freeze protection.
Freeze protection works with an air temperature sensor that communicates with a controller, wired into the pump power circuit. Freeze protection is standard equipment on all of our Digital, Flex-Fit and Balboa spa packs, which is the simplest way of adding freeze protection for older spas with air activated spa packs.
3. Run the Pump
As long as water is moving through the pipes - all of the pipes, the water won't freeze. Open up all of your jets, if your spa has the ability to isolate banks of jets. Low speed can be used, as long as all pipes are utilized.
The water need not be hot, or even heated at all - in most cases. As long as it's moving through all of the pipes and equipment when temperatures are below 32 degrees. The heat from the spa pump, under a closed skirt, is also helpful to heat up the equipment. Of course, a spa cover should be used during winter to avoid ice forming on the spa surface.
During winter, it may be wise to operate your pump 24 hours per day in cold northern areas, or set the time clock to turn on the pump for 10 minutes every half hour.
Extra Tips to Prevent Freeze Damage:
Adding heat to your spa, a hot spa can give 24 hours of protection
Keeping a tight fitting spa cover in place and secure
Spa insulation - the more there is, the more protection you have
Hang a 100 watt shop light, under the skirt, next to the spa pack
Frozen Spa!
If you discover a spa or hot tub that is solid frozen, and maybe you spot some freeze damage already, the equipment needs to be thawed out. If there are cracked pipes, using electric space heaters could be unsafe, under the skirt.
If you have a camping tent large enough to place over the spa, you can thaw out a spa in a few hours. When I was servicing spas in Colorado, we had a tent we used whenever we'd get a 'frozen spa' call. If there was freeze damage, (and there usually was), we would drain it completely, make the repair and fill it back up.
Adding hot water to the spa is another old trick. With a small adapter, a garden hose can be attached to most sink faucets, to bring hot water to the spa, to raise the water temperature for a faster thaw. In some cases, you can gently wet frozen pipes with warm water - just don't spray any motors, electronics or controls.
Spa Power Failure!
If your power fails during winter, remember that a heated spa with a good fitting spa cover has enough warmth to prevent freeze damage for 24 hours or so, longer if it's very well insulated.
To maintain some heat under the spa skirt during a power failure, you could hang a 100 watt shop light in a location close to the spa pack. In some scenarios, a small space heater may be safe to use also, inside the spa cabinet, in a dry location, until power is restored.
Leslie's makes every effort to provide accurate recommendations based upon current ANSI/APSP/ICC-5 2011 (R2022) standards, but codes and regulations change, and Leslie's assumes no liability for any omissions or errors in this article or the outcome of any project. You must always exercise reasonable caution, carefully read the label on all products, follow all product directions, follow any current codes and regulations that may apply, and consult with a licensed professional if in doubt about any procedures. Leslie's assumes no legal responsibility for your reliance or interpretation of the data contained herein, and makes no representations or warranties of any kind concerning the quality, safety, or suitability of the information, whether express or implied, including, without limitation, any implied warranties of merchantability or fitness for a particular purpose.