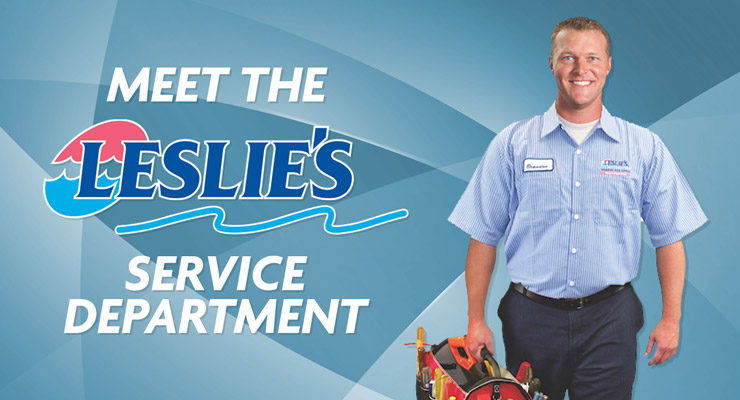 Meet The Leslie's Pool Service Department
We all need a little help sometimes, especially when maintaining something as complicated as a pool or spa. Most pool maintenance tasks like routine testing, adding chemicals, and cleaning are things you can do yourself. But when you need assistance with other maintenance tasks like troubleshooting, repairs, and installations, the Leslie's Service Department is here to help. Courteous and professionally trained, our service technicians are all qualified Leslie's employees and guarantee satisfaction.
Installation Services
Pools and spas involve quite a bit of complicated machinery. It's hard to know where to even begin! When your installation needs just become too overwhelming, a call to the Leslie's Service Department can answer all your questions and more. They're well-versed in the installation of every major pool and spa system and are happy to help.
For instance, pumps are perhaps the most essential part of every pool system, but installing them yourself is a pretty tall order. Pumps need to circulate your water and keep it clean and clear. Installing a pump incorrectly prompts algae, bacteria, and debris to quickly appear in your pool water. If you want your pump to run quietly and efficiently, pump installation should be handled by experts like the technicians in the Leslie's Pool Service Department.
Gas heaters are another great example. Especially in colder climates, heaters extend your swimming season by several weeks, and they also aid with swimming comfortably at night. But, as with pumps, heater installation can be very complicated. While energy efficient and environmentally friendly, gas heaters fail to heat your pool if installed incorrectly. The experts at Leslie's trained to handle tasks like these so that you wouldn't have to.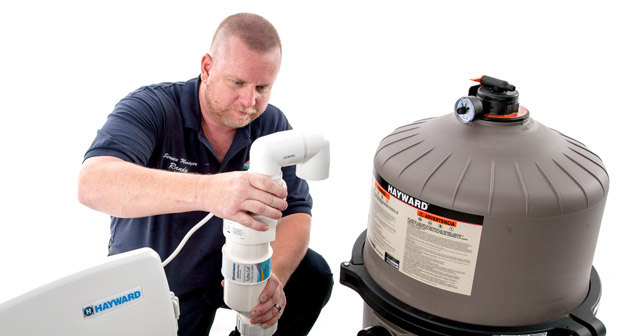 Repair & Pool Maintenance Services
Has your pump stopped running? Is your heater just not heating up your water? We know how frustrating it is when these things are malfunctioning, so the experts at Leslie's are always on-call to fix all major equipment. They're also skilled in a variety of other jobs to keep your pool in top shape.
Cleaning your pool sometimes calls for more than just skimming and filtering. If you notice that the water in your pool is slow to clear up, or won't clear up at all, it's possible that your plumbing lines are blocked or clogged. Leslie's clears those lines to keep your circulation system clean and efficient. We can even repair leaks in the plumbing, should they arise.
Our technicians can also help you in the all-important tasks of either opening your pool for summer, or closing it for the winter (also known as winterizing). These preventative chores are essential, but also time-consuming and complicated. The technicians at Leslie's will open and close your pool correctly and safely.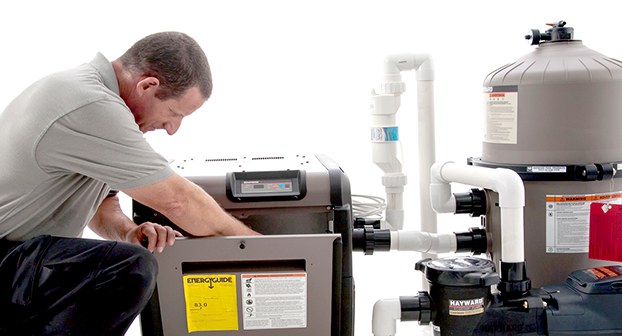 Commercial Pool Services
The experts at Leslie's aren't just here to help residential pool owners, but also much larger facilities. We work with accounts big and small, from the pools of Marriott hotels to the spa in your local apartment complex. We even manage some of the incredible water systems of the Las Vegas strip! Licensed and insured, our Commercial Service Technicians are available nationwide with just a phone call. Your company can trust Leslie's to get the job done right.
Always On Call
Our pool service technicians are trained experts in the installation and repair of major pool and spa equipment, old and new. If you need help, please send us your questions via the form on our services page or stop by your local Leslie's store to schedule one of our service professionals.
If you're a first time pool owner, you can even set up an appointment with one of our pool pros to introduce you to "Pool School." Our service technician will spend time with you in your backyard reviewing your pool's equipment and performance. They will identify and label key parts of your pool's system and explain to how the system works, and they'll cover the basics of how to maintain your pool.
No matter what you're looking for, the Leslie's Pool Service Department is always here to help.
Leslie's makes every effort to provide accurate recommendations based upon current ANSI/APSP/ICC-5 2011 (R2022) standards, but codes and regulations change, and Leslie's assumes no liability for any omissions or errors in this article or the outcome of any project. You must always exercise reasonable caution, carefully read the label on all products, follow all product directions, follow any current codes and regulations that may apply, and consult with a licensed professional if in doubt about any procedures. Leslie's assumes no legal responsibility for your reliance or interpretation of the data contained herein, and makes no representations or warranties of any kind concerning the quality, safety, or suitability of the information, whether express or implied, including, without limitation, any implied warranties of merchantability or fitness for a particular purpose.