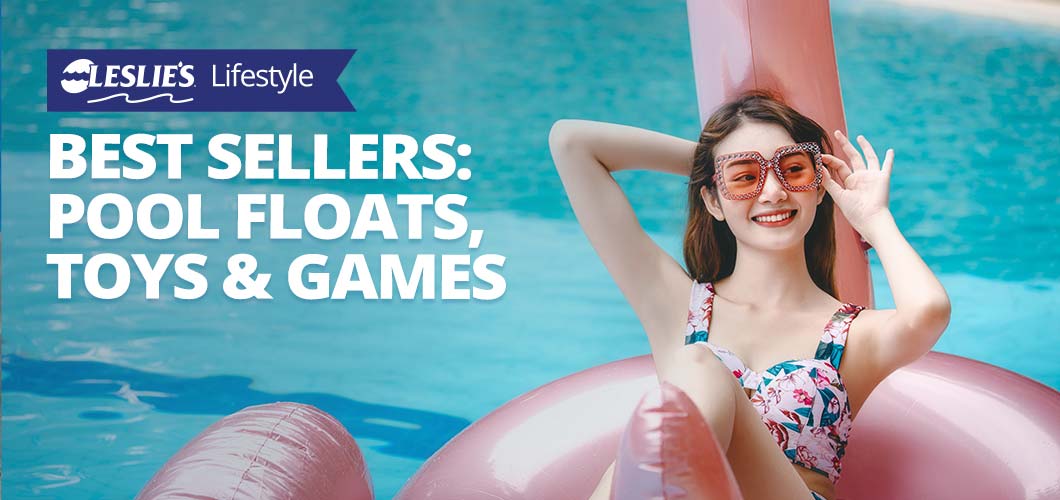 Leslie's Best Sellers: Pool Floats, Toys and Games
Summer is the time of year all pool owners look forward to the most. To get your pool ready for fun in the sun, you'll need to do a bit of pool area prep. And no, we're not talking about making sure your water chemistry is balanced (although that's important, too). We're talking about the fun kind of pool prep. To help you get the most enjoyment from your pool this year, we've assembled a list of our best-selling pool floats, games, and backyard accessories. Whether you're looking for pool floats, Bluetooth speakers, or a fire pit — Leslie's has you covered.
Pool Floats & Loungers
Nothing says "summer fun" quite like having oversized pool floats in your backyard! Grab your friends and take a ride on a giant black dragon, glittery pink flamingo, or a magical unicorn. These supersized floats can hold several people, and will make your pool the talk of the neighborhood.
Want a more peaceful, relaxing day at the pool? Look no further than our comfortable and supportive pool loungers. With the luxurious Baja Breeze foam float, you'll feel like you're floating at a tropical resort. Designed with closed-cell foam, this sturdy float will withstand the hot summer sun, and keep you comfortable all season long. For a seated lounging experience, check out the Texas Recreation foam lounge chair. Chat with friends, catch a tan, or sip on a refreshing drink in this upright lounge.
Motorized & Light-Up Pool Floats
Take to the high seas, or just your backyard pool, with the Splash Runner motorized lounger, by Pool Candy. This pool lounger features two propellers with two 66-watt motors, which allow it to not only turn and spin 360º, but also move forward and backward. With a wide seat, high backrest, lower back support and cup holder, you can spend your days sailing around your pool in comfort and style. Or, if you're looking for more adventure, take it to the lake for some wide-open excitement.
Don't let the fun stop when the sun goes down. Light up the night — and your pool water — with a Pool Candy illuminated tube. Program the lights to glow red, blue, green, or purple. You can also set the float to party mode and watch as the lights continuously change color. Watch the dazzling fireworks light up the sky on the Fourth of July with the LED-illuminated Pool Candy Stars & Stripes raft. Enjoy the cool night air as you float around the pool on this comfy raft.
Pool Games
Relaxing on a pool float isn't the only way to enjoy your swimming season. Embrace your competitive side with a few water games! Practice your passing with the Splash Pass floating football game. Channel your inner Tom Brady, and score aquatic touchdowns by throwing the waterproof football through the floating net.
More of a Lebron James fan? Give the Dunn-Rite Poola Hoop basketball set a try! Fill up the base with water and set this sturdy basketball hoop on the edge of your pool to practice your best dunks. This easy-to-assemble game features a regulation-size waterproof basketball.
Activities for Kids
Keep the little swimmers in your life amused this season with some of our favorite activities. Always remember to be safe, and have an adult watch the pool at all times when children are swimming. If you have a little one that needs extra assistance in the pool, take a look at some of our U.S. Coast Guard-approved life vests.
Turn your backyard into a prehistoric paradise with the Intex Dinosaur Inflatable Pool Center. This easy-to-assemble inflatable pool will keep kids cool and happy with its palm tree sprayer, waterfall, and volcano water slide.
Kids can practice their underwater swimming skills with our Shark's Cove Sunken Treasure Chest. Throw the gems and coins into your pool, divide your little pirates into two groups, and let the treasure hunt begin! Whichever team can collect all the treasure first, wins.
Backyard summer fun doesn't always have to take place in the swimming pool. For those who can't swim, or simply don't want to, there are still plenty of ways to enjoy the summer. Grab your garden hose and a bundle of Zuru Neon Splash balloons for an epic water balloon fight! These self-sealing balloons are fast and simple to fill up, so you can get back to the game in no time.
NOTE: Some items listed above require inflation before use. But don't worry, a pump can help! Add an electric pump to your online order, or grab one at your local Leslie's.
Pool Party Must-Haves
Throwing a great pool party is all about the entertainment, which might sound like an obvious statement. But it's not just about having the best floats and pool toys. Up your pool party game by adding cool gadgets and accessories to your gathering.
Keep your drinks cold and within arm's reach with a stars & stripes floating drink cooler. This handy cooler has space for ice and multiple drinks, keeping everyone hydrated and refreshed on a hot day.
Every good party needs great music, but it can be worrisome to have electronics around the pool. Never stress about getting your speaker wet again with the Super LifeJacket Jolt waterproof speaker. This durable, high-tech sound system from Altech pairs easily with Apple and Android products, and can last up to 30 hours on a single charge. With 5 LED light modes, you can set the colors to slowly change, flash to the beat of the music, or stay solid.
Create a swim-in movie theater with a portable projector screen. Measuring at 8ft x 7ft, the large screen is ideal for every movie fanatic. Lay back in a comfy pool lounge, grab a drink from your floating cooler, and turn on your favorite film! We don't recommend watching Jaws in the pool...
Backyard Lifestyle
While your pool might be the centerpiece of your backyard, don't forget to make the surrounding areas entertaining and inviting. Upgrade your patio furniture with elegant umbrellas, cozy sectionals, or chic storage bins.
Having enough storage outside is just as important as having enough storage inside your house. Keep your patio and backyard tidy with the Sumatra deck box. Boasting 135 gallons of storage space, this container is perfect for storing toys, tools, and other outdoor supplies. Toss your favorite cushion on it and use it as extra seating. With its durable design, it can hold up to two adults.
On those cool summer nights, break out the chocolate and graham crackers, and roast some marshmallows over a beautiful fire pit. When you're finished roasting, place the cover over the pit, and turn it into a stylish table. Not only is this fire pit fun and functional, it's an investment you can enjoy all year long.
This adjustable, multi-use cooler is perfect for barbecues and outdoor parties. Petite and elegant, this table/cooler combo is a must-have at your next backyard bash. Raise the lid to access the inner cooler section, or keep the lid down to use as a trendy table.
Let the Fun Begin!
Like the upcoming summer months, these products are HOT! Don't wait, or you might miss out on our best sellers of the season. Join our Pool Perks rewards program and get free shipping* on applicable items online, or head to your local Leslie's and browse our shelves in person. You may see something you like that's not listed online!
---
*Free ground shipping is offered to all Pool Perks members. Some exclusions and freight charges may apply.
Leslie's makes every effort to provide accurate recommendations based upon current ANSI/APSP/ICC-5 2011 (R2022) standards, but codes and regulations change, and Leslie's assumes no liability for any omissions or errors in this article or the outcome of any project. You must always exercise reasonable caution, carefully read the label on all products, follow all product directions, follow any current codes and regulations that may apply, and consult with a licensed professional if in doubt about any procedures. Leslie's assumes no legal responsibility for your reliance or interpretation of the data contained herein, and makes no representations or warranties of any kind concerning the quality, safety, or suitability of the information, whether express or implied, including, without limitation, any implied warranties of merchantability or fitness for a particular purpose.