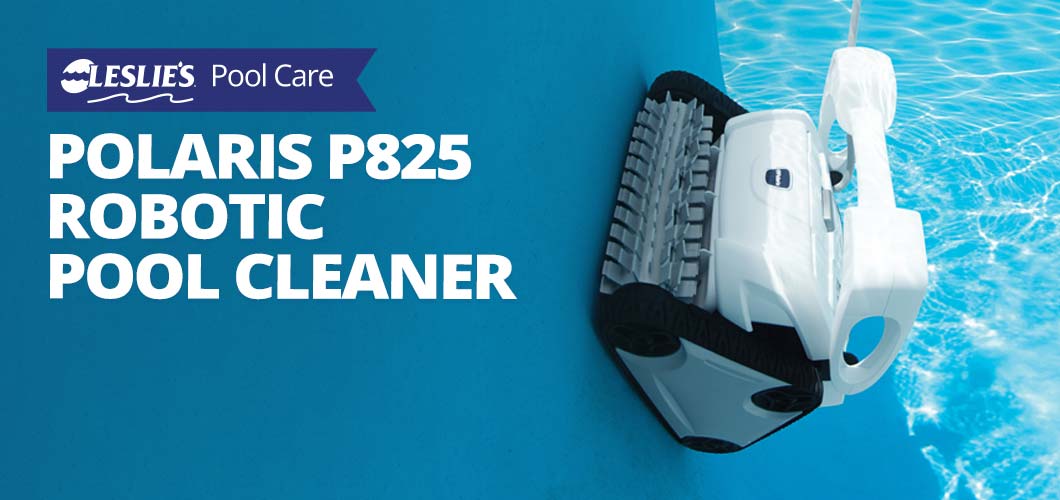 Review: Polaris P825 Robotic Pool Cleaner
At Leslie's, we test a lot of products, including robotic pool cleaners, to ensure our customers have access to the highest quality of supplies for their pool. When it comes to the Polaris P825, this pool cleaner exceeded expectations in every aspect of testing.
Three Key Criteria for New Robotic Pool Cleaners:
When judging the quality of a pool cleaner, we most often look at three key factors. These also play a role in comparing different models of cleaners to determine which one is right for you and your pool. The criteria for this review will include:
Durability
Performance
Ease of Use
Durability
The Polaris P825 is a solid cleaner, built to last. When picking up the P825, you'll immediately notice the cleaner looks and feels structurally sound and well designed. Strong and durable all-terrain tank treads flank both sides of the cleaner. The P825 is upgraded with a multi-surface rubber traction band, improving on previous designs we've seen from Polaris.
Performance
If you're looking for something that will thoroughly scrub the waterline, and reduce time spent on weekly manual brushing, the P825 is the pool cleaner for you. The automatic controls make this incredibly simple, including the option to clean your pool floor only, or both the pool floor and walls. When maneuvering throughout the pool, the P825 has an impressive ability to make good decisions based on the pool terrain it faces. When encountering problematic areas, such as pool steps or drains, the P825 makes the necessary adjustments to maneuver around the obstacle without disrupting the cleaning cycle. In addition, the five-level adjustable Surface Control System™ allows for optimal cleaning, no matter which type of surface you have in your pool.
Ease of Use
The filter canister has a clear lid, so you can see how much debris the cleaner has picked up — which is a feature that, for some, can be quite fulfilling. This is also helpful to see exactly when it's time to empty and clean the canister. Before the clear lid upgrade, it would be a guessing game and a hassle to remove the cleaner just to check the canister. Now you can monitor the debris level while the P825 stays in the pool during a cleaning cycle. Plus, with the Push'N'Go® filter canister, cleanup is a snap once the cleaning cycle is complete. Simply push the button, lift the canister out, and rinse it out with a hose. That's it!
As an added bonus, Polaris managed to develop a hose that does not become a tangled mess. Having tested dozens of robotic cleaners, we sometimes see the hose being difficult to untangle and straighten out before, after, or even during a cleaning cycle, but that's not the case with the P825.
Final Takeaway
We were impressed by how well the Polaris P825 did right out of the box. The overall construction seems superior and durable, and it cleaned our test pool without any faults. The cleaner's agility and versatility to address challenging areas of a pool, including the steps and pool drains, makes this a top-notch robotic pool cleaner. Considering the durability, performance, ease of use, and affordable price point, it's no surprise why this model of robotic cleaner is consistently one of our top sellers. Stop by your local Leslie's or shop online to get one of your very own!
Leslie's makes every effort to provide accurate recommendations based upon current ANSI/APSP/ICC-5 2011 (R2022) standards, but codes and regulations change, and Leslie's assumes no liability for any omissions or errors in this article or the outcome of any project. You must always exercise reasonable caution, carefully read the label on all products, follow all product directions, follow any current codes and regulations that may apply, and consult with a licensed professional if in doubt about any procedures. Leslie's assumes no legal responsibility for your reliance or interpretation of the data contained herein, and makes no representations or warranties of any kind concerning the quality, safety, or suitability of the information, whether express or implied, including, without limitation, any implied warranties of merchantability or fitness for a particular purpose.