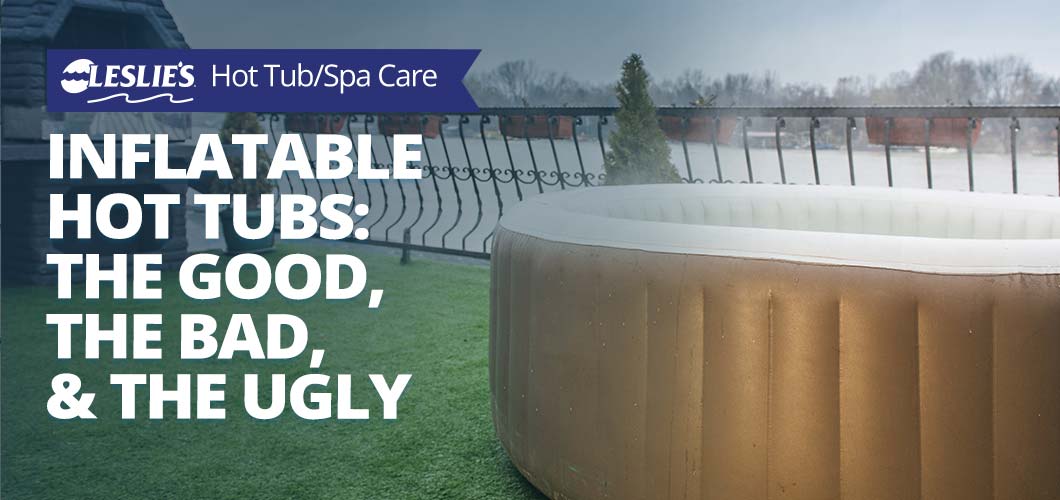 Inflatable Hot Tubs: The Good, The Bad, & The Ugly
The inflatable hot tub is a relatively new product on the market, and its popularity has skyrocketed over the past couple of years. Many people are buzzing about the features included with the newest models available. But why are inflatable hot tubs so popular?
Also known as a portable spa or portable hot tub, these units can be set up nearly anywhere. This is a huge part of its appeal, and its low cost makes it a perfect entry-level price point to test out a hot tub or spa and see if this lifestyle is right for you.
There are pros and cons to an inflatable hot tub, and we've gathered a list to help buyers out in this decision. So here it is — the good, the bad, and the ugly sides of owning an inflatable hot tub vs. a more traditional hard-sided portable spa.
THE GOOD
Lower Purchase Cost
Hands down, this is the No. 1 reason why people choose an inflatable hot tub over a hard shell portable spa. A traditional spa can cost upwards of $3,000–$15,000 or more. However, inflatable hot tubs are much more affordable, often in the range of $300–$1,200 depending on size and features. This lower upfront cost and affordability brings significant appeal to inflatable hot tubs.
BONUS TIP: Even though inflatable hot tubs are the least expensive option, they're still a significant investment. Take advantage of a free Leslie's Pool Perks membership, and earn 5% in Pool Perks rewards on every Leslie's purchase. Rewards earned when buying a new inflatable hot tub can be used toward any future purchases in-store or online. It's the easiest way to stretch your dollar further on hot tub and spa supplies!
Totally Portable
Even though hard-sided hot tubs still fall under the "portable" spa category, they're rather bulky and heavy, and require quite a bit of effort and planning to move around. That's not the case with an inflatable version. When you purchase your new inflatable hot tub, it comes in a box not much bigger than a microwave oven. Some models also come with a convenient carry bag, so you can take your "pop-up" inflatable hot tub to sporting events, camping or fishing trips, over to a friend's house, or even to the beach.
When empty, they're also very easy to move around your property. Some inflatable hot tub owners leave them outside in the summer, then bring them indoors during the cold winter months. You certainly can't do that with any other type of spa or hot tub!
Quick Setup
These hot tubs include an air blower, of course, which is used to quickly inflate the various chambers of the hot tub unit. After inflation, just drop a hose in the tub to fill it up. For most inflatable hot tubs, they can fill in under an hour. When ready, simply plug the electrical cord into any grounded outlet. Put the cover on, turn up the heater, and soon, your inflatable hot tub will be ready for you to start relaxing.
Sturdy and Durable
Many might think of a flimsy pool float or kiddie pool when you hear the word "inflatable." However, inflatable hot tubs are much more durable. Vertical I-beam type construction gives the walls rigidity. Reinforced vinyl material ranges in thickness from 30–50 mil, which is not puncture-proof, but is highly resistant to scrapes and punctures.
Softer With More Cushioning
Unlike the hard seats or benches provided by traditional hot tubs, inflatable hot tubs have much more cushion for your back and bottom.
Easy to Operate
The self-contained pump, filter, heater, and blower unit has digital controls that operate equipment, display temperatures, and show status lights. A standard lock-out feature prevents others from tampering with the settings.
Locking Spa Cover
Inflatable hot tubs include a cover to keep the spa clean, warm, and ready to use. Most covers also have a locking feature to keep unattended children or unwelcome neighbors out of the hot tub. However, some only come with a simple latching mechanism, as you'll learn more about below.
No Steps Necessary
Since inflatable hot tubs have a lower profile than their hard-sided counterparts, you won't have to worry about purchasing extra accessories like spa steps. Just swing a leg over the edge, and you're in the hot tub.
Perfect for a Party of Two
If you are looking for a healthy spa lifestyle option, the inflatable hot tub is a great backyard solution, especially for smaller groups.
INFLATABLE HOT TUB CARE TIP: Make sure your inflatable hot tub is completely clean and dry before packing it up for storage or transport. Also, don't overfill it, and avoid sitting on the tops of the sidewalls as much as possible.
THE BAD
Not As Deep
Unfortunately, inflatable hot tubs aren't as deep as you might imagine. Most models only allow for 22–24" maximum water depth. But if you are solo or a party of two, you can immerse yourself well.
Not As Large as They Appear
Most inflatable hot tubs are not as large as they seem in photos. You might see four adults sitting comfortably inside the hot tub. But in reality, they're pretty crowded — their legs are either folded up or touching their neighbor. If you plan on hosting multiple people at a time, just know that personal space may be hard to come by in an inflatable hot tub. So, if you are hosting a gathering, consider a hot tub sign up sheet so people can cycle in and out so all can enjoy.
No Seats
Inflatable hot tubs don't have molded seats or a bench-type platform for sitting. Instead, you're seated on the floor of the hot tub at ground level. Because of this, it may not be as comfortable for longer soaking sessions, and may also be difficult for some to get in and out.
Requires a Flat Ground-Level Surface
Despite its lightweight build, inflatable hot tubs still get remarkably heavy when full. Contrary to popular belief, they're not suitable for balconies, rooftops, or elevated floors that aren't properly reinforced to bear the extra weight. Full of water and people, inflatable hot tubs can easily weigh up to 2,500 lbs. It's best to set them up on a flat ground-level surface such as a concrete pad, lowest level floor (either basement or first level), or a flat spot in the yard.
Slow to Heat
The heater on these units is small. Although the water capacity is only around 200 gallons, it can still take a little while to heat up. If you keep the hot tub covered, and the outdoor temperature is between 70–90° F, expect a 2–3° F increase per hour. If ambient temperatures are colder, it will take even longer to heat the water to a desirable temperature
BONUS TIP: If you don't have a lot of time to wait on the heater, use other hot water sources to help it along. For example, you can fill the tub using hot water from your utility sink. Although your water heater probably isn't large enough to fill the entire hot tub, it will at least give your heater a higher temperature to start with, thus reducing the time it will take to heat the water to the desired temperature.
Fewer Therapy Jets
If you're looking for a hot tub with lots of powerful jet streams and fancy massage jets, a hard shell portable spa is more likely the better option. Inflatable hot tubs do have quite a few air jets, aka "bubblers," lining the bottom perimeter. But aside from the enjoyable sensation of bubbles flowing over your skin, these jets won't do much for relieving sore, tense muscles. Some of the more expensive inflatable hot tubs can include stronger massage jet features; however, they're usually spaced out so that there's only one jet per person.
It's important to know that the bubbling action of inflatable hot tubs are powered by fans that blow outside air into the hot tub, which with cooler outdoor temperatures, can cool the water down, too.
THE UGLY
Small Filter
If you regularly have four or five people in a 200–300 gallon hot tub, you'll be replacing the water a lot more frequently to keep it clean. A heavy bather load or frequent usage can quickly overwhelm the undersized spa filters that come standard on inflatable hot tubs. In other words, the water can get funky fast, even if everyone showers first. If there are only one or two people using the hot tub, or if it's used infrequently, you may not have to worry as much. Either way, maintaining proper water balance and sanitizer levels is the key to keeping your hot tub water clean and clear.
BONUS TIP: To get the most out of your hot tub water, you need to keep it clean. Add a capful of non-chlorine shock before and after each use, and keep the floater filled with bromine tablets. Run the filter daily according to manufacturer recommendations, and change the water monthly. If the hot tub sees daily use, you may need to change the water more often (every two weeks).
Not As Safe For Children
At only 28" tall, a toddler may be able to climb into an open hot tub. The latching cover should prevent most entry and reduce the risk of a drowning accident. However, young children may still be able to operate some types of cover strap clips. If you have children, make sure the hot tub you buy comes with a lockable hot tub cover.
Not As Energy Efficient
You'll find out fast that it's costly to keep this type of spa nice and hot, and it's nearly impossible to do so in very cold outdoor temperatures. In fact, when temps fall below 50° F, a 1 kW heater may not even get the water past lukewarm.
Disposable
Unfortunately, many inflatable hot tubs are neglected, abused, and thrown away after just a few years of service. They don't all end up that way, but in general, inflatable hot tubs tend to have a shorter lifespan. With proper care and maintenance, they can last five years or longer. If you're looking for a long-term solution, you might want to consider a hard-sided portable spa.
BONUS TIP: Did you know that it's possible to recycle a vinyl hot tub? When your inflatable hot tub reaches the end of its lifespan, contact your local recycling center or waste management company to see if vinyl recycling is available in your area.
---
So, there you have it! There are many pros to owning an inflatable hot tub, including a low upfront cost, easy installation, and complete portability. We hope you can appreciate our take on the good, the bad and the ugly of inflatable hot tubs. There are pros and cons to every choice we make. In the end, if you're ready to test the waters of the hot tub lifestyle, there is no better way to get started!
Leslie's makes every effort to provide accurate recommendations based upon current ANSI/APSP/ICC-5 2011 (R2022) standards, but codes and regulations change, and Leslie's assumes no liability for any omissions or errors in this article or the outcome of any project. You must always exercise reasonable caution, carefully read the label on all products, follow all product directions, follow any current codes and regulations that may apply, and consult with a licensed professional if in doubt about any procedures. Leslie's assumes no legal responsibility for your reliance or interpretation of the data contained herein, and makes no representations or warranties of any kind concerning the quality, safety, or suitability of the information, whether express or implied, including, without limitation, any implied warranties of merchantability or fitness for a particular purpose.