How to Spruce Up Your Hot Tub Area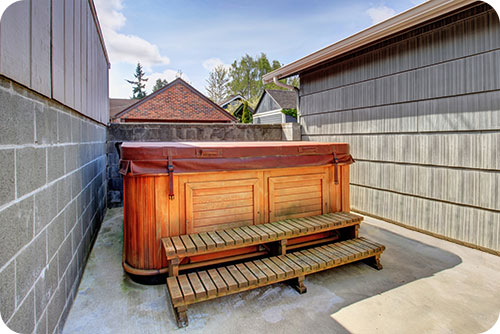 Take a good look at the area where you keep your spa or hot tub. Are you happy with the way it looks? Most importantly, is it a setting where you can truly feel relaxed? If you find yourself thinking about possible improvements and wishing things were different, then this article is for you!
A well-arranged, decorated and accessorized backyard, deck or patio area offers many benefits, including a sense of pride and general peace of mind. It's also a place to entertain guests and unwind at the end of the day. If your hot tub area is looking a little bare, there are many things you can do (large and small) to transform the space from "blah" to beautiful. Not sure where to start? Here are five easy ways to spruce up your hot tub area.
Cleaning & Maintenance
You can have the most beautiful, modern-looking hot tub area in your neighborhood. But if regular maintenance is neglected and the area isn't kept clean and tidy, it's just not going to look good. Keep chemicals and accessories stowed away when not in use. A stylish storage cube works great in these situations! Use a pressure washer to remove dirt and grime from concrete pads and/or stone walkways. Add a new coat of paint, stain or varnish to wooden decks and stairs. Regularly wipe down all surfaces in the area, including the hot tub and cover. If your spa skirt or cabinet is looking worn and weathered, consider restoring or replacing it. Use cover conditioner to keep your hot tub cover looking new, and replace the cover if it's starting to crack, sag or warp. Keep plants in the area properly pruned and watered. Just a little cleaning and maintenance can do quite a bit to spruce up and refresh your hot tub area.
Patio Furniture
Adding some outdoor furniture near the hot tub is the quickest and easiest way to make the area more appealing, both for you and your guests. Arrange a few comfortable chairs around a small fire pit, or set up a sofa and coffee table. If you'd rather lean back and relax, consider adding a couple of lounge chairs to the mix. If your hot tub sits in direct sunlight, a simple cantilever umbrella can help make your soaks be more enjoyable during the daytime. Place a stylish towel tree or hook near the spa to keep your towels contained.
Plants & Landscaping
Nothing adds character to a backyard quite like pretty landscaping. Make sure there's a good mix of plant life in the area - small, medium and large. If you plan on having flowers, make sure to keep a variety so you'll have blooms throughout the year. Also pay attention to the natural layout of your hot tub setting. You may be able to incorporate unique landscaping features like an artificial waterfall or large rocks. Let your imagination run wild as you create your own backyard oasis. Build a few planter boxes and weave vines through an elegant trellis for an added touch.
Lighting & Audio
Adding outdoor speakers and accent lighting to the spa area is a great way to help set the mood, whatever that mood may be. Make it vibrant and jazzy for a social gathering, calm and soothing for relaxation, or keep it soft and dim for a romantic date night. Battery-powered waterproof Bluetooth speakers are a popular choice for many hot tub owners because they're portable and don't require complicated installation. If your hot tub sits underneath a gazebo, pergola or a similar type of overhead cover, drape a string or two of decorative lights for quick and easy soft lighting. If the hot tub sits on (or near) a deck, you can also string lights along the railing, or add stair lights for increased safety at night. Most newer hot tubs come with their own color-changing lights installed within the tub - turn them on! Pick a color that suits your mood, and let the party begin. If your hot tub doesn't have interior lighting, you can also try a floating speaker and light show combo, which offers the best of both worlds in a small, affordable package. During the summer months, light some citronella candles or tiki torches to keep the mosquitoes, gnats, flies and other insects away.
Property Upgrades
This one's not exactly an "easy" option. However, in many cases, renovating your outdoor spa area can increase the overall value and appeal of your home. For example, you could incorporate the hot tub into a newly constructed wooden deck for the appearance of an in-ground spa. If you enjoy entertaining guests regularly, an outdoor fireplace, kitchen or grilling station might be exactly what you need. Constructing something around the spa, such as a gazebo, pergola or even a small bar with stools will also enhance your hot tub setup. On the simpler side of things, a decorative walkway to the hot tub made of carefully arranged bricks or flat stones will help keep your feet clean and make hot tub maintenance easier. It also won't cost as much as other more complicated renovation projects.
---
If you're still having trouble thinking of what to do around your spa or hot tub, don't worry! Inspiration photos are posted online on sites like Pinterest all the time. Find something you like, and start exploring how to make that idea become a reality for your own spa area.
Leslie's makes every effort to provide accurate recommendations based upon current ANSI/APSP/ICC-5 2011 (R2022) standards, but codes and regulations change, and Leslie's assumes no liability for any omissions or errors in this article or the outcome of any project. You must always exercise reasonable caution, carefully read the label on all products, follow all product directions, follow any current codes and regulations that may apply, and consult with a licensed professional if in doubt about any procedures. Leslie's assumes no legal responsibility for your reliance or interpretation of the data contained herein, and makes no representations or warranties of any kind concerning the quality, safety, or suitability of the information, whether express or implied, including, without limitation, any implied warranties of merchantability or fitness for a particular purpose.