How to Sell a Used Hot Tub

This content was previously featured on the Hot Tub Works website. Leslie's is proud to partner with Hot Tub Works to bring you this helpful content on lesliespool.com.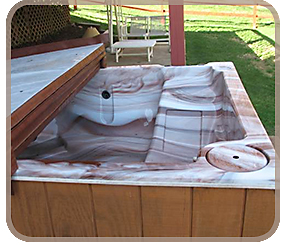 Buying a new hot tub and not sure what to do with your old tub? Selling a used hot tub is not much different than selling a used car, in many ways.
The reason that an automotive analogy works so well with spas is because they are so similar; with shiny surfaces, bucket seats, an engine, filter, heater, and lights. And like cars, some spa models have more features, or a more inspired design, or a bigger engine and more jets.
If your hot tub is an old clunker, chugging along with some fluid leaks and a few features that no longer work, there's not much value left. If your spa or tub has been sitting empty, and has major equipment or cosmetic problems, it has almost no value.
Continuing the used car analogy, let's assume that your lovingly-cared-for spa has not been sitting empty, but has been maintained continuously. It may have a scratch or two, but it heats up fully and the spa equipment all works (pumps, blower, light, heater, controls). Now you have some value, you have something to sell.
How To Sell a Used Spa
1. Trade it into a Spa Dealer: Like the trade-in value of a car, you'll get much less than if you sold it on your own. But for those looking for a turnkey solution, having them pluck out the old and slap a new one in place all in one day, is nice. Average trade in value for a 10 year old spa is $1000, and maybe only $500. Sometimes it's just Free removal, with no trade-in value, so be sure to check for all the details.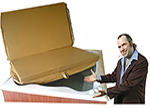 2. Sell it to Friends or Family: This can be a fast way to sell a tub, especially for friends or family that have enjoyed your tub in the past. However, you'll want to be nice on the price, won't you? The neighbor that's always commenting on the hot tub, he or she could be a good candidate. Pick 2 or 3 targets and approach them with an offer to join you and millions of other Hot Tub enthusiasts!
3. Sell it on Craigslist: Optimize your ad for best results. Put in spa gallons, size dimensions and equipment data, number of jets, features and accessories. Exact make and model information and Spa Pak Controller information. Age and condition of spa cover and cover lifter. Note any blemishes or leaks in the plumbing. Note any recent repairs or new equipment you've replaced. If you can offer delivery on a trailer for a fee, list that in the ad, otherwise tell them the spa / hot tub is Cash and Carry.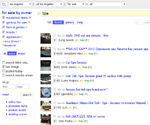 The more detail you put into the ad, the better response you'll get. If you can find the manufacturer model brochure or information online, you can post their specs, details and features. Images are also very important, post 6-8 images for best results, highlighting the best features of your spa. Be sure to include pictures of the spa pak (with good lighting). Shots of the entire spa from above (on a ladder or deck) make a good picture.
Be sure to polish everything before taking photos, especially underneath in the equipment area, use a wet rag to wipe down pipes and equipment. And it must be full of water and operating, if you want to get more than $100, so be sure the pictures show it full of water, hot and steamy.
If you've never uploaded photos before, connect your camera or smartphone to your PC's usb port. While on Craigslist, click the Add Image Button, on the second screen, which will open up your pictures folder (usually). Look left to My Computer and locate your device, listed as a Drive. Click on the link to the Camera, Phone, Tablet, and select the photo you want and click open.
How to Price a Used Spa
Unfortunately, there's no such thing as a KBB for spas and hot tubs.
Like automobiles, spas and hot tubs are sold to appeal to a wide demographic, so there are standard base model roadsters, and there are also luxury custom sedans. The spas at Hot Tub Works are priced like a Chevy, in the $4000-$7000 range. Recognized brand names like Jacuzzi, Hot Springs, Baja and others are sold at Cadillac prices, in the $8000-$12000 range.
It is best to know the original purchase price of the spa (not including delivery/installation). If you don't have records of the amount paid for the spa (and spa cover, if in good shape), you will have to use a different formula for pricing your used spa.
After you calculate the amount you think it's worth, cut that amount in half! Here's where spas are not like cars. Spas and hot tubs are more of personal item, you know what I mean? People don't want to pay a lot for a used spa.
Look on craigslist.org and search in the For Sale category for Spa or Hot Tub (click Owners to rule out for sale by Dealers), and you'll see how people in your area are pricing the spas. You'll see some real ugly spas out there!

I spent quite some time on Craigslist, searching from Coast to Coast, and found a wide variety of prices, From Free to $75, for non-working spas that needed a lot of TLC, up to $5000 for Luxury spas that are 5-10 years old. But most spas are priced in the $2500 range. Spas with some visible wear and tear, or with more mileage are selling in the $1500 range.
For most spas that I looked at (and I looked at hundreds today), I would estimate that people are asking between 25% to 33% of what they paid for the spa, if it's in full operational condition. Here's a nice spa for sale on Craigslist, listed for $3500.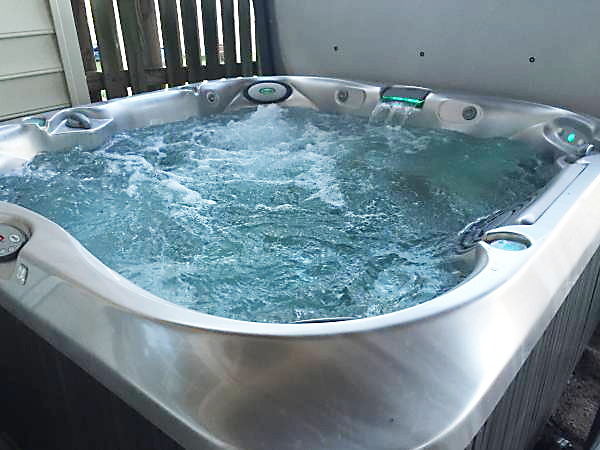 So don't expect a lot a money, when selling a used spa. Depreciation on spas and hot tubs is much faster and cuts deeper than automobile depreciation, and that's just the way it is.
- Jack