How to Replace a Spa Heater
Your Hot Tub or Spa will at some point have heating problems. There are two types of spa heater problems, not heating enough and not heating at all.
If your spa heater is not heating enough, but has lost some percentage of it's oomph, it's likely not a heater problem, but a water flow problem from a dirty filter or partially closed valves or clogged pipe or pump. It could be heat loss from your spa cover or around the spa. Some smaller spas may have trouble just keeping up, during very cold outside temperatures.
If your spa heater is not heating at all, but there are no error codes or tripped circuit breakers or GFCI outlets, or other faulty components, it's likely that the heater element has failed. Over time, even coated hot tub elements will succumb to the erosive effects of moving water, scale build-up and galvanic corrosion. After 8-10 years, most spa heater elements will one day stop working.
Testing Spa Heater Elements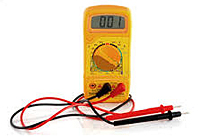 Using any handheld electric meter, you can test your spa heater element to determine if water has leaked through tiny fissures in the carbonized shell. With all spa power turned Off at the circuit breaker, first test for any incoming voltage, with the meter set to VAC 250 or greater. Then you'll set your test meter to the Ohms scale, 2K or greater.
RESISTANCE TEST: Place your meter leads onto the power leads on the heater body, or the heater element terminals, where the wires connect. You should see 0 volts, and if so, switch your meter to Ohms Ω (2000+) to measure resistance. A good spa heater element, up to 5.5 Kw (5500 watts) should have around 10 Ohms of resistance, or in the range of 8-12 on your meter. Larger spa heater elements of 11 Kw, are generally in the 20-24 Ohm range. If your spa heater element tested for resistance has zero Ohms, -or- goes off the chart to infinite ∞, then the heater element or the entire spa heater needs replacement.
TEST FOR SHORT CIRCUIT: For this test you'll have to remove the heater from the Spa Pak, to get your meter lead directly onto the heater element. Again with power completely Off, first test for any incoming power by setting your meter onto VAC 250. If no voltage is found, switch the meter to Ohms to test for a short circuit in the heater element. With one meter lead on one of the heater terminals, or element bulkhead nuts, touch the other lead to the surface of the heater element. Your meter should peg to infinite ∞, which is good. If you get an actual lower reading, the element is bad.
Replace the Heater Element or Replace the Heater Assembly?
There are two ways to replace a spa heater, you can replace the internal immersion element only, or replace the entire spa heater assembly, which includes the stainless steel heater chamber and the union ends.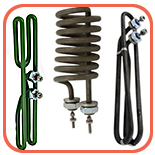 REPLACE THE HOT TUB HEATER ELEMENT: You can buy the spa heater elements alone for under $30, and save some money over buying the entire spa heater, which can cost $90 on average. Replacing the heater element only is more work, and more risk is involved. The new element must be installed carefully to avoid damage, and positioned exactly to not overheat.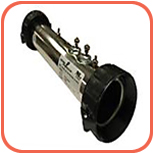 REPLACE THE COMPLETE HOT TUB HEATER: Replacing the complete spa heater assembly is the best route if your heater is over 8 years old, because of the galvanic corrosion that can occur to the stainless steel tube, which can develop pinhole leaks. Many complete heaters also include new sensors and it's much faster and easier to replace the entire hot tub heater, with much less chance of installation errors.
Ordering the Correct Spa Heater Replacement
Replacing with an exact duplicate spa heater is important, there are many variations in electrical size; volts, watts, amps, and in dimensional size as well - it has to fit. We often are asked "can you upsize the spa heater?", or install a heater with more 'oomph' than what is currently used. Unfortunately, No - the existing heater is matched to the Spa Pak electronics, and back to my first point, it's [very] important to replace a spa heater with an exact duplicate.
Installing the incorrect spa heater will just not work, at best, and at worst, it could burn out circuit boards, or even melt down into an electrical fire. Fortunately, we make things easy here at Hot Tub Works, and we have 3 ways to order new spa heaters, by Make/Model, by Most Popular, or by taking measurements of your existing heater and nameplate information.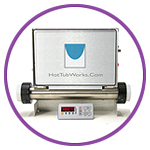 ORDER BY MAKE & MODEL: Order a new spa heater by the Brand of your Spa Pak. We list 17 top spa pak brands like Balboa, Brett, Gecko, HydroQuip. Select the Brand of your spa pak (the combination control unit and heater), and our database returns the available heater models, with electrical and dimensional specs. If you can't see it readily, you may have to stick your head in there with a flashlight.

ORDER BY MOST POPULAR: Isn't that how we make most of our decisions anyway? It turns out that listing our Top Ten Spa Heaters is a useful resource for our shoppers. That's because the majority of spa heaters that we sell complete, are one of six (6) different models, and the two (2) most popular hot tub heaters are the 4.0 Kw and 5.5 Kw Universal hot tub heaters. You'll still want to check your voltage (120/220V) and wattage (1.5/4.0/5.5/11Kw) to match your existing heater size.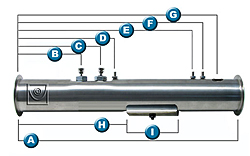 ORDER BY DIMENSIONS: To be really sure that a new spa heater fits exactly, both in electrical size and dimensional size, break out the measuring tape! Shut off all power first and close valves to prevent water loss (some water will spill). Remove the heater assembly by carefully removing and labeling all wires, and then loosening the union nuts fully on each end.
Remove the union nut ends, so you can measure from the flange end. Measure from the end to Point A, B, C, D and so on, writing each number down as you go. Measure all the way to letter I - very important, as there are spa heater tubes that are very similar, up until you get to the H and I measurements.
Take all 9 measurements, write them down, and refer to the hot tub heater replacement list or table. In addition to matching dimensions, also match the electrical size. Before you buy, check the label on your existing spa heater to match the voltage (120V or 240V) and watts (1.5 Kw/4Kw/5.5 Kw) to the new hot tub heater.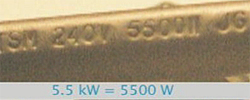 One more thing, it's a UL listing requirement that all heater elements are stamped with electrical identifiers. When the label is gone, faded or burned, you can always look on the element itself, and you should find tiny imprinted voltage and wattage information.
Installing a Replacement Spa Heater
We have instructions on replacing a hot tub heater element on the website. Replacing the complete hot tub heater manifold is much easier. After receiving the new heater, check it over carefully to be sure it is an exact duplicate to your existing heater, not just physical size, but also electrical size.
O-RINGS: Check that the union o-rings are still in place on both ends, and all sensors or switches are installed in the heater tube or chamber. Slide the new heater unit in position. Tighten up the union nuts very snug, but only hand tight (but very hand tight!).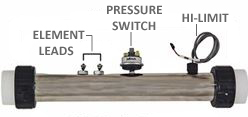 WIRES: Next, you can connect the power wires or element leads to the heater element terminals, also very snug, using the correct wrench size. Just like connecting a car battery.
SENSORS: Connect the wires of any safety switches; pressure switch and high limit switch and temp sensors. New hot tub heaters often include new sensors or switches. Make tight wire connections and tape loose wires to PVC pipes (not to heater body).
Fill the hot tub if necessary, and flood the water lines, remove any air lock by loosening pump or heater unions to allow air to escape, as water pushes the air out of dry pipes. With the tub full of water, loosen the pump union slightly, just until you begin to hear air hissing. Tighten the union quickly, just as water begins to leak. Then give the union another turn past hand tight, being sure ANY dripping subsides.
Leslie's makes every effort to provide accurate recommendations based upon current ANSI/APSP/ICC-5 2011 (R2022) standards, but codes and regulations change, and Leslie's assumes no liability for any omissions or errors in this article or the outcome of any project. You must always exercise reasonable caution, carefully read the label on all products, follow all product directions, follow any current codes and regulations that may apply, and consult with a licensed professional if in doubt about any procedures. Leslie's assumes no legal responsibility for your reliance or interpretation of the data contained herein, and makes no representations or warranties of any kind concerning the quality, safety, or suitability of the information, whether express or implied, including, without limitation, any implied warranties of merchantability or fitness for a particular purpose.