Hot Tub Tips for Rental Homes
The vacation rental and short term housing rental market is booming. One amenity that can help grow a rental home's popularity as well as fetch a higher rental price is a hot tub.
Hot tubs are fairly self-regulating, and require only minimal care in between tenants, but there are a few things to keep in mind, if you currently offer a hot tub or are thinking about adding a hot tub to your rental home.
Here are 5 Tips for owners/managers of vacation rentals with hot tubs.
Get it in Writing
For homes that are rented with a hot tub, we recommend a separate agreement be signed by the tenant, in addition to the usual agreement covering the home and other appliances. Having a separate agreement will help to reinforce important safety requirements, and help to protect your investment. After all, it may be the most expensive appliance in the home.
Though not an all-inclusive list of potential problems (check with your legal adviser), however, any good spa and hot tub addendum should include:
Minimum age for unsupervised use of the hot tub. (typically 14-18 yrs)
Minimum age for supervised use of the hot tub. (typically 5 yrs)
Maximum number of persons in spa (capacity).
Maximum safe spa temperature is 102° or less.
...must replace spa cover and latch cover clips after use.
...must add water if level drops below indicator on skimmer.
...must shower or bathe before use.
...no pets allowed at any time.
...no eating, no smoking, and only drink water from plastic cups only
...do not use spa if pregnant or hypertensive (high blood pressure)
...do not use spa if under the influence of drugs or alcohol
...do not use spa if water looks poor, smells bad, or without pump running
Notify management of any equipment failure or water problems
Use at your own risk. Tenant agrees to hold owner harmless for any injuries...
Responsibility for any damage to equipment, spa cover or spa surfaces...
Put it in Writing
The more instructions you give to your renter, the better. I'm often frustrated at rentals that don't have a master 'Operations Manual', where one can find answers to just about anything, including the spa and hot tub.
Hot Tub Guide: A 3-ring binder, with plastic inserts to display spa operation modes (jets, heating, filter), and basic functions. A sheet detailing safety and health requirements, and information on basic spa care tasks like adding water, shocking the spa, or refilling the bromine floater. A page on how to safely remove and reinstall the spa cover can help prevent spa cover damage. Finally, insert the spa owners manual for those that want to really delve into spa functions.
Service Log Book: Even if you do all of the maintenance on the spa yourself, keeping detailed records of spa chemical readings, filter cleanings, equipment replacement, etc, could be required in your area. And even if it's not required, you may be called upon to defend your spa maintenance practices, if a renter developed a rash or suffered physical injury in your hot tub. If you have a service company maintain the spa, require that they fill out the log book on each visit. Keep it in a dry location with the other supplies.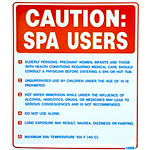 Hot Tub Signs: I'm a big fan of signs, and in my mind it's well worth it to pay for professional and durable printed signs that help to protect spa users and also your spa. The obligatory Spa Rules sign can be used, but you can also find premade signs for No Food/Drink, No Smoking or No Glass. Ideas for custom signs may include age limits, temperature limits, time in tub limits, or reminders to check water level, replace the spa cover, or turn down the temperature on check-out.
Get Hot Tub Help
If you live nearby and generally manage the entire guest experience, you may want to manage the spa/hot tub as well. Or you can sub-contract spa care to a local spa company or rental assistance company that caters to the rental industry. Depending on your location, weekly hot tub service calls cost $60-$90.
You can also ask your guests to help maintain the spa. Asking them to balance the water, vacuum the spa and clean the cartridge may be a bit much, but you may want to consider asking for help with:
Shock the spa after each use (with specific directions).
Add water to spa if below the mid-skimmer mark.
Keep the spa cover installed and latched when not using spa.
Shower or bathe before using spa, for everyone's health.
Notify management of any hot tub problems.
Water Changes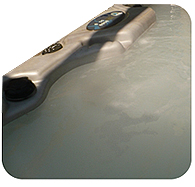 It's common practice among some rental homes with hot tubs to drain the water after each renter, after check-out. However, this can be difficult to do in one day, and have it hot again by check-in time; and it may not always be necessary.
A good look at the water quality, along with testing water balance and bromine or chlorine levels, can quickly tell you if the water needs to be changed. An option to a complete water change is a partial water change with complete balancing, shocking and cleaning the spa filter cartridge.
Most spas in a rental environment can go as long as 4-8 weeks between complete water changes, as long as filter cycles are lengthy and effective, and water balance and sanitizer levels are maintained properly. Other things can also help lengthen water life, see below.
Water Problems
Notwithstanding the above statements, if your tenants leave the spa or hot tub water in a cloudy, gray condition, it may be best to drain the tub. If you find that you have regular problems with water quality in your rental spa, or want to increase the length of time between water changes, here's some things to do:
Leslie's makes every effort to provide accurate recommendations based upon current ANSI/APSP/ICC-5 2011 (R2022) standards, but codes and regulations change, and Leslie's assumes no liability for any omissions or errors in this article or the outcome of any project. You must always exercise reasonable caution, carefully read the label on all products, follow all product directions, follow any current codes and regulations that may apply, and consult with a licensed professional if in doubt about any procedures. Leslie's assumes no legal responsibility for your reliance or interpretation of the data contained herein, and makes no representations or warranties of any kind concerning the quality, safety, or suitability of the information, whether express or implied, including, without limitation, any implied warranties of merchantability or fitness for a particular purpose.