Hot Tub Recycling or Hot Tub Graveyard?
If you have ever wondered what to do with an old, unused and probably non-working hot tub - this post is for you. The lifespan of a hot tub needn't be short, the shell and other parts can last a lifetime, with occasional equipment repair and replacement, or a few spa parts here and there.
And that's part of the problem, is that acrylic spas are built to last, and they aren't biodegradable, as a wooden hot tub can be. Plus, it's too big to fit in your blue recycle bin! If you call a local junk pickup service, they take the spa straight away to the landfill and just kick it off the truck. This is the least "green" option of getting rid of an old hot tub.
Trade-in your Hot Tub
If you are planning to buy a new spa, a slightly more green way to recycle a spa is to trade it in on a new model. Many spa dealers and manufacturers have a program to haul off your previous spa at no charge, and may even pay you something for it. Spa shops may then strip the spa of any usable parts, or they may sell it to a spa scrapper who may rebuild or refurbish the spa, to resell it as reconditioned. But most of the time, they just haul the tub around back to the spa graveyard.
Sell your used Hot Tub
You can sell it to a local spa scrapper / refurbisher, if you can find one. Check with friends and family. Post a listing on craigslist.com, or on freecycle.org. But don't offer it for Free, ask for at least $100, up to $500 or more if the spa is in operating condition. When you offer a spa for free, it doesn't seem that enticing, even if it holds water and heats up. If you can rent or borrow a truck and trailer, perhaps you may be able to deliver the spa (for a few hundred bucks more!).
Strip it Down and Recycle what you can
First, remove the spa pack and spa side controls, all of the equipment. You may have a better chance of selling the components. New spa packs can run over $1000, so you may be able to get some money for the equipment from a spa guy, or a fellow spa owner. At the very least, it can be useful for spare parts. After all of the electronics are removed, you can strip away the cabinet from the shell. Wood and plastic cabinets can be recycled. Next, cut off all of the PVC fittings, valves and pipes, which can also be recycled. Finally, the spa shell itself can be cut up into smaller pieces, using a reciprocating saw with a 9" blade. The acrylic spa shell is not recyclable, but a rotomolded (thermoplastic) spa shell can be recycled. The spa cover can also be recycled, separately into it's components - vinyl, foam, steel, nylon.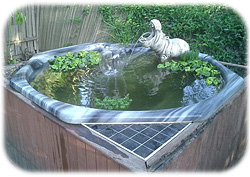 Turn it into a Backyard Pond or Water Feature
After stripping down the spa as described above, the spa shell can be placed into the ground, and covered with a vinyl or rubber pond membrane, and surrounded by rocks and plants. A small pump in the bottom can supply water for a 3-tier fountain, spouting frogs or urinating boy statue - whatever you want. Keep it sanitary with copper sulfate or other natural sanitizer. Or, stock it with Koi fish and use plants and circulation to keep it clear. Be sure to consider safety, and place the water feature behind a fence or within the fenced backyard.
Turn it into a Garden
After stripping down the spa and removing plumbing fittings, set it in the ground and fill it with dirt to make a very colorful box garden!
Choose a sunny spot in the yard, close to water and not too far of a walk, and you can grow your own summer and fall garden! An 8-person spa can hold a lot of vegetables!
Turn it into a Dog House
That's what this energetic dog owner did, and not only did he create a warm dog house by flipping the spa shell upside-down, but he also integrated a water fountain into the top!
Using a reciprocating saw, he cut out the doggie door and placed a utility light on the inside to provide heat during the winter.
So, you see there are many options for recycling or re-purposing an old spa or hot tub. The easiest thing to do is to just pick up the phone and call a junk removal service, but remember, the easiest way is also the least green way of dealing with an old, unwanted spa or hot tub.
Leslie's makes every effort to provide accurate recommendations based upon current ANSI/APSP/ICC-5 2011 (R2022) standards, but codes and regulations change, and Leslie's assumes no liability for any omissions or errors in this article or the outcome of any project. You must always exercise reasonable caution, carefully read the label on all products, follow all product directions, follow any current codes and regulations that may apply, and consult with a licensed professional if in doubt about any procedures. Leslie's assumes no legal responsibility for your reliance or interpretation of the data contained herein, and makes no representations or warranties of any kind concerning the quality, safety, or suitability of the information, whether express or implied, including, without limitation, any implied warranties of merchantability or fitness for a particular purpose.