Hot Tub Pros & Cons: In Ground vs. Above Ground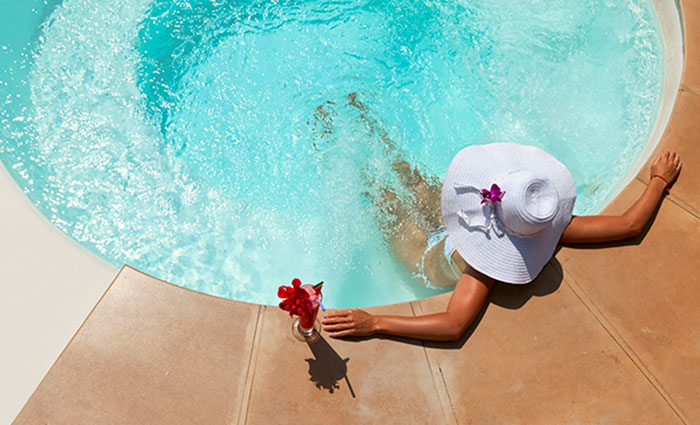 Looking to buy (or build) a new spa or hot tub? There are two basic types to choose from - in ground hot tubs and above ground hot tubs. Each type has its own set of advantages and disadvantages, and there are many styles to choose from within each category. To help decide which one will work best for you, we've put together a handy list of hot tub pros and cons.
In Ground Hot Tub
If you're considering an in ground spa or hot tub, chances are that you're either looking to purchase a house with one already installed, or you're thinking of installing one in your own backyard. These hot tubs can be attached to a pool as a pool-spa combo, or they can be completely independent of a pool. If you live in the snowbelt but would like to use your hot tub over the winter, avoid pool-spa combos that share the same pump and filter system or allow spa water to overflow into the pool.
Pros
Aesthetically pleasing addition to backyard. Perfectly complements any pool.
Permanent fixture - durable and built to last.
Can add value to home.
Easy maintenance if pool and spa share the same pump, filter and sanitizer system.
Hot tub doesn't have to be drained if sharing water with the pool.
Customizable design options - shape, seating, lighting, jet placement, water features, spillover into pool, building materials used, etc.
Easy to get into and out of spa.
Cons
Fewer hydrotherapy jets.
Concrete spas are more abrasive on skin and swimsuits.
Most have basic bench-type seating around the spa, which isn't as comfortable or accommodating.
Must be heated each time it's used, which consumes a lot of energy.
Expensive to install.
Excavation and construction process takes time - 2 weeks to 3 months (or longer).
If using a cover, it's more difficult to remove without a cover lift.
Above Ground Hot Tub
Also known as a portable spa, above ground hot tubs are a common choice for people purchasing a spa for their home. A portable spa doesn't require any special permits, construction or extra equipment - just set it on a flat surface, fill it up, plug it in, and it's ready to use! With a little creativity and planning, you can help it blend into your backyard setting and boost its visual appeal.
Pros
Comfortable ergonomic seats at varying levels to accommodate people of all heights.
Smooth acrylic finish is gentle on skin and easy to clean.
Many hydrotherapy jets with varying settings for a full body massage.
Lower purchase price, and costs less to operate and maintain.
Simple installation.
Building into a deck or other elevated landscaping can provide the illusion of an in ground spa.
Well-fitting spa cover conserves heat, keeps water cleaner and can be easily removed with a cover lift.
Always heated and ready to use; no waiting period for the water to warm up.
Most spas come with pre-installed extras - color-changing LED lights, water features, built-in stereos, etc.
Placement near home provides convenient winter access.
Can be moved to another location at any time.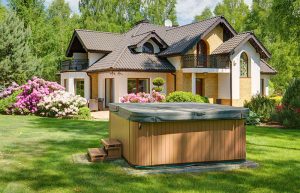 Cons
Does not blend into landscape as easily.
Must be drained every 3-4 months to maintain water quality.
Not customizable. Fewer options for size, shape and interior materials.
Must use steps to get into and out of the spa.
Requires extra care to make sure the cabinet and cover stay looking new.
Must use specifically labeled spa chemicals. Pool chemicals are stronger and will damage your tub.
Filter cartridges need regular cleaning, which equals twice the work if you also have a pool.
Which is Better?
There really is no clear winner here. Both styles have their own merits, so it all comes down to personal preference. If you want to add extra dimension to your backyard, enjoy hosting social events at your home, or you just want a relaxing soak every once in a while, an in ground hot tub will likely suit you best. On the other hand, if you place more value on comfortable seating, powerful hydrotherapy, relatively simple upkeep, and you plan on using it frequently, you might opt for an above ground spa instead.
Leslie's makes every effort to provide accurate recommendations based upon current ANSI/APSP/ICC-5 2011 (R2022) standards, but codes and regulations change, and Leslie's assumes no liability for any omissions or errors in this article or the outcome of any project. You must always exercise reasonable caution, carefully read the label on all products, follow all product directions, follow any current codes and regulations that may apply, and consult with a licensed professional if in doubt about any procedures. Leslie's assumes no legal responsibility for your reliance or interpretation of the data contained herein, and makes no representations or warranties of any kind concerning the quality, safety, or suitability of the information, whether express or implied, including, without limitation, any implied warranties of merchantability or fitness for a particular purpose.