Hot Tub Parts: Spa Jet Repair & Replacement

This content was previously featured on the Hot Tub Works website. Leslie's is proud to partner with Hot Tub Works to bring you this helpful content on lesliespool.com.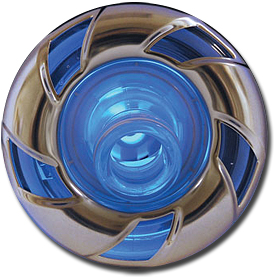 Spa and hot tub jets - the nozzles where the water and air comes out are really are for me, the distinction in a spa and a hot tub. The jets used in most traditional round wooden hot tubs are neither fancy or numerous. They may not even have a blower, and are more about the hot soak.
A spa on the other hand, can have dozens of spa jets. Some newer spas can have as many as 80 or 100 different jets. Even lighted spa jets, shown here. If you have that many jets, or even far less - eventually you're going to have some maintenance issue with a few of them.
Full disclosure; we carry over 100 different Spa Jets and over 250 Spa Jet Parts for names like Waterway, Hydro-Air, CMP and many others for easy spa jet repair by the spa owner. Shameless plug complete, moving on...
WHAT IS A SPA JET?
Most jets consist of a Jet Body, which seals up to the backside of the spa wall with a large lock nut ring and lots of silicone. It has the pipe connectors for air and water lines. The inside of the Jet Body houses a Jet Internal, which includes the diffuser insert, escutcheon (bezel or beauty ring) around the jet, and the nozzle or eyeball.
IDENTIFYING SPA JETS
As mentioned above, there are hundreds of spa jets, and newer spa jets come in endless configurations of jet type, eyeball type, size and color. Most modern spa jets will allow you to remove the Jet Internal, or Thread-In Jets, as Waterway calls them, by turning counter clockwise on the outer ring, and pulling outward. Inspect the Jet Insert for any part numbers or stampings that would indicate manufacturer. If you need help, give us a call.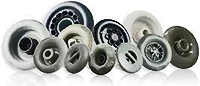 Most spa jets are identified by Make - Model - Jet Type - Hole Size - Pipe Size - Color, and other variances. Measuring the outside diameter of the bezel is sometimes sufficient on simple spa jets, while more information may be needed for more advanced jets.
If you don't know any of the manufacturer information on your spa jet, you could always browse our spa jet pictures to help you visually ID your spa jet. If you still don't see it, please call us or send a picture by email, with spa jet measurements, and any other information you have about the jet.
TROUBLESHOOTING SPA JETS
By my count, there are some 5 problems affecting spa jets today; and these are Low Flow, No Flow, Broken, Leaking and now a new one - No Lights.

LOW FLOW SPA JETS: Check that your pump is on high speed and the jet is not closed by a diverter valve. Many spas have knobs on top that allow you to change the flow between banks of jets. You also need to have air intakes open, especially for spinning jets. If you can remove the spa jet internal, pull it out to inspect the diffuser or mixer assembly for any obvious clogs, from hair or lint. Leaving the most obvious for last, make sure that your water level is high enough and your spa filter is clean.
NO FLOW SPA JETS: Same here, check that the jet pump is on high speed and the jet is not closed by a diverter valve or knob. If you have just drained the spa, and you have a no flow situation, you probably have an air lock in the plumbing system. This can be released by loosening a drain plug or union to allow air to escape. When water begins to leak, tighten up again and retry the tub.

LEAKING SPA JETS: If you have traced a wet spot under the spa as originating from one of your spa jets, there is a fix for that. It may need a new gasket, or sometimes just a dab of Boss silicone will fix it up. Repairs can be made in the front or rear of the jet, to keep water from getting in between the jet and the hole in the spa shell. Check that the ring on the back of the spa jet is very tight. You can use a strap wrench to tighten the lock nut ring on the back of the spa jet, but it's best to use a lock nut wrench,which also allows you to do the job without a helper.
BROKEN SPA JETS: The eyeball fitting on the inside can become damaged, or can pop out, or be unable to hold position. The threads on a insert spa jet could become stripped, or the bezel ring can become cracked. If you can't turn the eyeball to a direction you want, try twisting it first to loosen it. Some spa jets have particular methods of adjustment. If you can locate the owner's manual, in print or online, these can be a big help in some cases.

NO SPA JET LIGHTS: Spa jet lights not working? My, you really have some first world problems. These are LED and it's unlikely that the bulb has burned out. More likely to have a problem with the power wire, or the end connectors. Find the cord, and inspect for damage, and be sure that the end plugs are firmly seated, and in the correct spot.
SPA JET REMOVAL TOOLS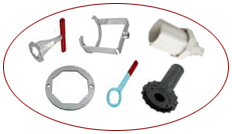 Removing and replacing the jet body from the shell of the spa, for resealing or replacement, can be accomplished with one specific wrench, made specifically for your spa or hot tub jet. Spa jet tools or spa wrenches are important to make removal easier, without damaging soft plastic edges. For installing a new jet, or resealing a leaking spa jet, they are absolutely essential, to give you the leverage to tightly fit the spa jet body against the spa wall.
Other Spa Jet Tools help you to remove eyeballs or retaining rings. It can be confusing to know which spa wrench to use on your particular spa jet, there are over 30 different tools, and each one works with specific spa jets. Please contact us if you need any help.
1000 words about spa jets. I hope this was helpful to whatever spa jet problem you are having. Most issues are small, and can be fixed quickly.
If you're having larger problems, and need help identifying which spa jet part or spa jet tool to use - please call our tech department, or send a photo/info by email. You'll find out team happy to assist in your spa jet repair.
- Jack