Hot Tub Cover Foam Replacement

This content was previously featured on the Hot Tub Works website. Leslie's is proud to partner with Hot Tub Works to bring you this helpful content on lesliespool.com.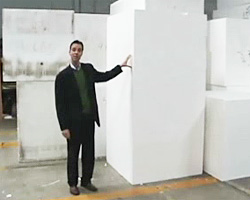 Q: Can the foam panels inside of a Hot Tub Works cover be replaced without buying the entire cover?
A: Yes! We sell replacement foam panels for our own Hot Tub Works spa covers.
The foam core panels of your spa cover are the "core" of any spa cover, providing a sturdy, yet lightweight barrier to heat loss, up to R-value = 30, when you buy the thickest 6" to 4" taper, in the strongest 2 lb. foam density.
Thickness and density, and the 20 gauge steel channel are what gives hot tub works foam panels their strength, and the vacuum shrunk vapor barrier, with heat sealed seams is what allows us to provide a 5-year warranty on our spa cover foam, even covering water absorption!
Why Buy New Spa Cover Foam Panels?
Although the outside vinyl on a spa top can crack and fade and eventually need to be replaced, it is the foam core panels that are the most important part of your spa cover. Panels can break or become waterlogged (or both), at the hands of these spa cover enemies:
Grandchildren, using the hot tub as a stage, or the cover as a fort.
Dogs, especially big dogs who enjoy the warmth.
Tree Branches falling on the cover.
High winds blowing the cover across the backyard.
Friends falling or stepping on your spa cover, when a cover lifter is not used.
Bears, who like the piquant and nutty flavor of spa cover foam.
How to Buy Replacement Spa Cover Foam Core Panels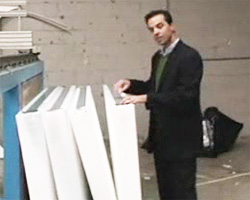 If you purchased your spa cover from Hot Tub Works, it's easy - just call us with some info, and we can pull up the measurements for your previous or current cover. If your cover is not a Hot Tub Works cover, we don't offer the service, as we have no way of fitting your vinyl bag exactly.
Center height and outer height or thickness, of the foam panel halves.
Foam density, if known - or the foam density desired. 1.0 lb., 1.5 lb., or 2.0 lb.
Panel shape - square, round, hex or octagon, rectangle with radius corners or wedge corners.
Perimeter measurements, radius or corner length and diameter of foam panels.
You can also order over the phone, with our helpful spa cover experts guiding your measurements.
Cost of Spa Cover Foam Panels
Probably more than you may think, panel replacements for spa covers can cost 60-70% of the cost of a new spa cover. They require technician time to design with the CAD program and cut with our laser cutting system. Then we have the 20 ga. steel channel installed on the thick side before it goes to be sealed in a 6 mil vapor barrier. We are one of the few spa cover manufacturers that vacuum shrinks a continuous PE sheet, and then heat seals the seams on both ends.
There are too many variables of thickness, density and size to quote any reliable prices here, but if you need a single cover panel, it can run a few hundred, and for a set of both foam panel halves, it can run several hundred. So.... if the entire spa cover costs $400, the foam panels alone will cost about $275 - almost the cost of a new cover.
Buying just one foam panel insert will cost the same in shipping as buying both foam panel halves, so most people buy both foam pieces, according to Alea Cozzi, our Customer Service Manager, who knows such things... She also notes that because our hot tub covers ship Free - buying just the foam panels and then paying for shipping makes the cost of buying just the foam panels come close to the cost of a complete spa cover.
Buying New Hot Tub Foam Pieces
Different spa cover manufacturers cut their foam panels differently, so we can only provide replacement panels for our own Hot Tub Works covers. Don't be discouraged that replacing the foam panels won't save as much money as you thought - if your spa cover is only a few years old, you can save at $100-$200 over the cost of buying a new spa cover. You do want to be careful to use only closed cell EPS foam (Expanded Polystyrene), and for outdoor covers, it must be beveled, or tapered, so that rain runs off the side. You also have to be careful to buy the correct size, length and height, to fit inside of your spa cover. If you bought your spa cover from Hot Tub Works, Call Us, and we'll make sure you get the correct foam panels, in the density that you desire. If you bought your spa top from some other company, contact them for a price on foam panels only.
How to Replace Spa Cover Foam Panels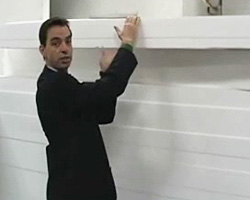 If you do decide to replace the foam core panels, the process of removing and replacing the foam panels is not hard. Fold the cover on its hinge, and unzip the two zippers their full length. Then simply pull out the foam panel, working it slowly from side to side, to remove it from the tight fitting vinyl "bag".
When inserting a new foam panel, take care not to rip the vapor barrier as you are pushing it into the cover - the corner may get snagged on the zipper. Also, if the temperature outside is very cold, you may find it easier to install new foam panels inside the house, where the warmth makes the vinyl bag more flexible and easier to work with.
So, if your HTW spa cover is fairly new, but the foam panels broke or became waterlogged, remove the foam panels and Give us a call for a price for Hot Tub Works replacement spa cover foam, and you can save some bucks!
Carolyn Mosby
Hot Tub Works